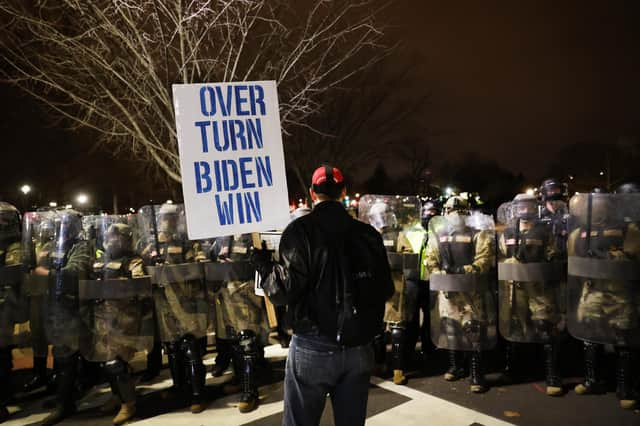 Yet all the same, on the morning after this week's traumatic events in Washington, I found myself drawn to listen again to the recent brilliant series of BBC Reith Lectures by the former Bank of England governor Mark Carney, the quiet Canadian who stepped down last March after seven years in the job.
Under the overall title How We Get What We Value, Carney analyses the three crises he says we now face – crises of credit, climate, and Covid – and demonstrates how each of them has been caused, at least in part, by the extreme market fundamentalism that has been the dominant western economic orthodoxy of the last 40 years.
"When we grant an entity infinite wisdom," says Carney, quoting a former Italian finance minister, "we enter the realm of faith"; and his aim, in these lectures, is to challenge and debate the unquestioning belief in markets, and in the idea that they "always know best", which has shaped elite decision-making and the development of the global economy since the 1980s.
When the history of this week's events in the United States comes to be written, much emphasis will obviously be laid on the character and conduct of Donald Trump, who has for months if not years been using the bully pulpit of the presidency – amplified by Twitter and other media – to sow seeds of doubt among his supporters about the integrity of the US electoral process; and who now, two months after the election, is still stamping and raging, denying that he was defeated, and inciting his supporters to rise up against this supposed injustice, as he did in Washington on Wednesday.
Historians will also note that the election of Trump, and his subsequent multiple abuses of his position as President, came at a time when large sections of the population – isolated by the breakdown of traditional communities, and often spending huge amounts of time gazing alone at their screens – were uniquely vulnerable to the kind of "fake news" about a deep-state conspiracy against him that Trump sought to generate.
Fake news is not a new phenomenon; but it has gained a new force, in a world where determined online actors can create whole parallel internet universes of conspiracy theory and paranoid fantasy, in which their followers spend many hours of each day. A poll this week, for example, shows that almost half of Republican voters – some 30 or 40 million people – believe Trump's claims that the election was rigged, and that Joe Biden is not a legitimate president.
Above all, though, it is to be hoped that historians – and contemporary analysts, too – will give some thought to the real situation of the people mobilised by online world of lies and conspiracy theories; people whose sense of distress and dispossession is as evident as their ill-directed anger, or their apparent growing willingness to commit violent or criminal acts.
And this is where Mark Carney's brilliant analysis of the last 40 years of economic policy enters the picture, with its forensic yet profoundly humane insight into the ways in which our societies have moved – as the title of his first lecture suggests, in a deliberate reference to Adam Smith – "from moral to market sentiments."
Over four lectures, he paints an all too recognisable picture of societies that, in pursuit of market freedoms, have steadily abandoned any structural recognition of the human values that make life worth living, including those networks of community connection and respect which allow people to judge and esteem themselves by measures other than financial ones.
Those who support Trump and other populist right-wing causes are often described, in other words, as being "left behind" by recent economic change. As Carney comprehensively shows, though, the society and economy that "left them behind" has itself been on a path so unsustainable, in human, moral and environmental terms, that the arrival of a shock like the Covid pandemic, reminding us in short order of what we truly value, and of how little our economic system reflects those values, had become almost inevitable. The western triumphalism of the Thatcher-Reagan years was based on the idea – accurate so far as it went – that democracy was incompatible with authoritarian communism
What they failed to grasp, though, is that democracy would also struggle to survive 40 years of policy that prioritised the economic freedom of the rich over the dignity of all citizens, and over the presumption of equality among them on which democratic discourse is based.
To deprive citizens of economic security, to brand them as failures in a brutally competitive system, and to deny them the basic healthcare and education they need to support real social mobility, is – as we learned in the 1930s – to undermine democratic culture, to make citizens vulnerable to vicious forms of populism, and to create the preconditions for fascism.
And although it is encouraging to note that uncritical support for neoliberal orthodoxy is now waning across the West, this week's events show how to close we are to having to learn once again, in blood, sweat and tears, that social justice is not a luxury, or a buzzword for do-gooders; but the essential binding element of a peaceful, productive and sustainable society, and one without which, as we have seen this week, things can begin to fall apart at a speed that would have seemed unthinkable, just a short half-decade ago.
A message from the Editor:
Thank you for reading this article. We're more reliant on your support than ever as the shift in consumer habits brought about by coronavirus impacts our advertisers.
If you haven't already, please consider supporting our trusted, fact-checked journalism by taking out a digital subscription.