They've been with people living with cancer – lifelong socialists – who are going private after their families have begged them to see a specialist because every week counts. With teachers who have a mental tally of which kids come into their classroom in the morning having not eaten since school lunch the day before. And with people in community services who used to help families with one-off expenses like prams and pushchairs and now need to provide them with nappies, food and soap.
Not a single one of these people has told me their lives would be improved by more divisive or distracting debates about the constitution – they are just desperate for the kind of change that only Labour governments deliver. All over Scotland, you'll hear the same story from volunteers, people in frontline public services and families themselves. Something's got to give.
Against that backdrop, it's hardly surprising that some people are tempted to take the emergency medicine marked independence. I think that's the wrong prescription but I can hardly challenge the diagnosis: there is something sickly about a situation where child poverty rates run at 70 per cent in some communities. Against that backdrop, change – real, sustained, transformational change – is an urgent moral imperative.
That's why those of us who work every day to change this country and passionately believe that the best way forward is bringing all parts of it together, not splitting it asunder, sometimes seem so agonised about whether to prioritise maintaining the Union or fighting for social justice. I think this is a strategic and political cul-de-sac. The two can – indeed, must – come together.
While voters in England have turned against the Conservative government because of its extremism and incompetence, the same has not yet been true of the SNP government in Scotland. Labour cannot wait for people to grow disillusioned by SNP's litany of policy mistakes and implementation failures. Instead, we should press home the advantage of Scottish Labour's revival under Anas Sarwar with an energetic, optimistic strategy to take votes from both of Scotland's governing parties. It would rest on three arguments.
Firstly, that it is only by remaining within the UK that we can get on with ending the austerity which has hollowed out local government and public services and led to the disgraceful new reality, confirmed recently, that the number of babies who don't see their first birthday is rising among Scotland's poorest families. That is not just a tragedy, it's an obscenity. The breadth of the UK tax base means an incoming Labour government could deliver a country without child poverty. It should pledge to do so.
Secondly, we can respond to the desire for more autonomy and control by improving the way the UK works. That means having a blueprint for the future of the country that is not about abstractions like "levelling up" but about the real redistribution of power away not just from the centre but from politicians altogether, so that we all have more control of what happens in our neighbourhoods and workplaces.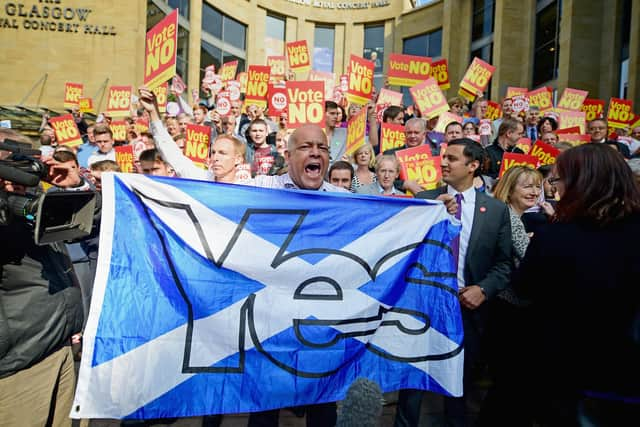 Over the last few months, I've been working with Gordon Brown and his pro-UK think tank Our Scottish Future. It strives to find a positive new way forward for Scotland in the UK based on cooperation, not conflict. That's the only way we are going to be able to rebuild our NHS, create both social care and child care services that are fit for purpose and create the jobs of the future.
Finally, we should invite people from all sides of our constitutional debate to leave behind the brittle binaries of the past and face the future instead. After all, the 2014 referendum in which I was an enthusiastic champion of the 'No' cause was not a generation ago – but it was a good while ago.
If Labour is to win again in Scotland we can't be defined by the battles of a different decade. Scottish Labour had a mini-recovery in 2017 because SNP voters stayed at home. No democrat can be much enthused by winning that way. Instead, we should seek to build the broadest possible electoral coalition to transform Scotland for the 2020s – going after people who haven't voted Labour before or for a while and showing them that we are not just on their side but by their side.
Labour is not, and never has been, a movement to defend the status quo. At our best, we've been the greatest fighting force for fairness this country has ever known. We need to recapture that moral zeal and vaulting ambition, building a future where each generation does better than the last. We need to show those SNP voters that we get it – that while we may not agree leaving the UK is the best, safest or only way to get the change we need, we absolutely do agree that they and their families deserve so much better than this.
We need to go deeper than just (rightly) saying a referendum is not our priority: we need to say what is. Here is mine: right now, children are being treated for malnutrition in Scottish hospitals. As long as that is true, none of us should sleep well.
It is more than possible, in one of the richest countries in the world, to ensure that every child is safe, warm and fed. We don't have to agree about everything, but we all want to find ways to agree about more. A national mission to end poverty is the place to start.
Kirsty McNeill is chair of think tank Our Scottish Future's advisory board, a former Downing Street adviser to Gordon Brown and a Labour activist