I'm part of the sandwich generation, squished between the kids and granny - Gaby Soutar
If I were a sandwich filling, I wonder what I'd be? Probably something forgettable, like cheddar or egg mayo. For one week, while on holiday, I experienced being the squeezed element of what's dubbed the sandwich generation. Those are middle-aged people who have children and ageing parents, or, in my case, a nephew, nieces and one remaining parent.
Apparently, they are one of the most stressed-out demographics.
I'm not usually part of that bap cohort. I don't have offspring and, thus, am more like a smørrebrød.
Kudos to those who choose to live in a three generation household permanently. It's not so common in the UK. I've got a few pals who have taken the plunge, mainly for practical caring reasons, but it's more customary in other parts of the world. The wealthier the country, the fewer who live under one roof. When you're not used to having so many age groups rattling around, it can be an intense but rewarding experience. All the people you love, in one place. Annoying and wonderful.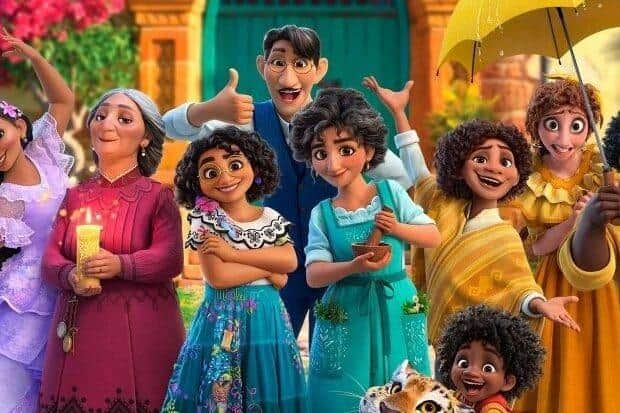 It's not as if we're all sharing the same bed like in Charlie and the Chocolate Factory, but the family dynamic feels trickier than that of the Madrigals in the Disney film, Encanto.
On our trip, the ones in the middle – my sister, husband and I – find ourselves being the mediators between the older and younger age-groups.
The smallest is three and the eldest is 87.
He wants to be constantly pushed on the swing, and she needs the occasional push in a wheelchair. While she is low-ish on energy, he's like the Duracell bunny swigging Red Bull. He battles to stay awake as late as possible every night, while granny retires early and naps throughout the day. (I'm not sure if she's actually sleeping, or just wants some peace). He already knows how to use a Kindle and laptop, and keeps wanting to play on my phone. In fact, I introduced him to Crazy Frog, and now I am a pariah. "Ding ding".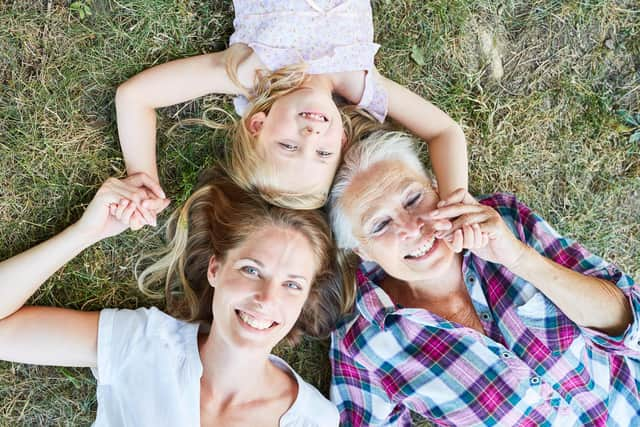 We've tried to teach mum over the years, but she still can't use a mobile or the internet. However, now that she understands the encyclopaedic information we have on tap, she uses us to Google ALL the questions.
Recent ones: how old is Arnold Schwarzenneger; who won the snooker; what time is the snooker, and how does a ferry stay afloat?
It seems that, at either extreme of a life, they both have a thirst for knowledge. Those in the middle don't want any more information, thanks.
Junior and senior regard each other curiously, but don't often communicate directly. What do you say that can bridge an 84 year gap?
They don't have much in common, apart from genes and big blue eyes.
It's up to us. The sandwich fillings and spokespeople for either party. We tell mum what the little one is whispering, as she looks down at him quizzically. None of the three kids speak loud enough for mum to hear them. It's funny because, when they're not talking to her, their voices boom like a supermarket Tannoy.
We are the ear trumpet budgies, who repeat whatever they say, though louder.
"HE ASKED IF YOU WANTED A CHOCOLATE, GRANNY".
We also relay what mum has said to him, as he appears to have selective hearing, when it comes to elders. "Granny says, could you put that in the bin, please".
I think the two extremes are slightly bewildered. That's fair enough. We come from a lineage who have reproduced later in life, so there are big gaps.
I remember feeling quite distant from the grandparents on my mother's side, who were Victorians. My grandfather had fought in both World Wars. Their house smelled like ginger nuts, and was full of dark wood furniture. He had a pure white moustache, and she wore a dogtooth wool pencil skirt and horn-rimmed specs.
I thought they were cooler than my friends' equivalents, but I don't really remember much interaction. We also had an eight decade or so gap.
While the Victorians, and my parents' Silent Generation, are the ones who carried on doing mainly grown-up stuff that their children had to fit around, it was us Generation Xers who adopted the whole 'helicopter parenting' thing, along with late Baby Boomers and Millennials.
We are the rods for our own backs. Small people are the focus of everything.
If she was in her own house, mum would probably switch the telly to the snooker. They'd have to like it or lump it. The middle generation would watch some Netflix drama. Instead, for most of the holiday, we're tuned to Blippi, for ages two to seven. If you haven't watched this programme, which features a manic helium-voiced man taking part in activities like trampolining, I urge you to. It's hilariously ridiculous.
"I'm actually quite gripped by this," said mum, as they all goggled at the telly, while Blippi over-enthusiastically fell off a climbing wall.
She also got quite into Paw Patrol.
At last, we have a united front. All needs are met.
There are other moments like this at dinner.
The sandwich generation are the ones to deliver the plates, but appetites vary. Granny wants less, the kids ask for triple helpings. My eldest niece eats 13 Yorkshire puddings in one sitting, and I feel proud.
They all enjoy the lasagne, and mum throws herself into eating the gyozas that the girls have made with their uncle.
It might be strange, all living in the same house, but we are most definitely related.
Comments
 0 comments
Want to join the conversation? Please or to comment on this article.