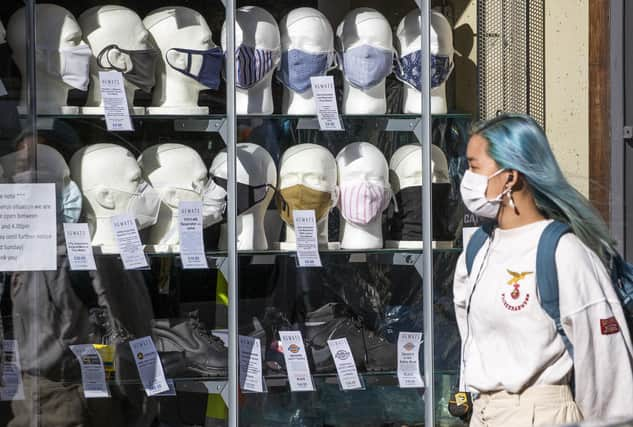 At one time when the virus was out of control, there was a sound argument for shutting down the country as one.
That time has passed. Most of mainland Scotland is comfortably below 50 cases per 100,000, where we are entitled to expect businesses, hairdressers and hospitality to reopen carefully. The issue is Greater Glasgow, which has always been the biggest challenge in this pandemic for the same reasons that have afflicted cities in England and elsewhere in the world.
In the country at large, we have all done our best to control the virus and it has worked. We also have excellent evidence of the vaccination dramatically reducing deaths in the oldest cohort of the population. Test and trace works well where cases can be quickly identified and followed up.
The politics may be uncomfortable for the First Minister but an honest assessment of the situation means that her target of identical measures for the whole country until the end of April is ludicrous – driven by politics not data.
She is the one who claims to follow the data. It is time she challenged her own patch to do better and let the rest of the country get back to life.
Such good news from Nicola Sturgeon that lockdown easing is to go ahead (Scotsman, March 12). Her new approach is a change of tune from the doom-laden warnings of just a couple of weeks ago which didn't seem to strike a chord with businesses or the public when compared to the reports of more optimistic plans south of the border.
No doubt the beginning of May will see an essential appearance by the First Minister for a broadcast in which she will promise to deliver us all from purgatory (should that be purgaTory?). But I become too cynical in my old age. No doubt she will go with the evidence – if she can find it!
Braid Hills Avenue, Edinburgh
With the student exchange programme, the Turing scheme, now open for applications, it should be noted that this is a pale reflection of its predecessor, the EU's Erasmus+ programme. The ending of Erasmus has crushed the hopes of many students who want to live, study and travel abroad. Unlike Erasmus, Turing will not pay tuition costs and living allowance have been slashed by a fifth.
While the European Commission paid travel costs of up to £1,315, now only students from the most disadvantaged backgrounds will receive help from the UK Government.
And, most significantly, free studies in any EU country, plus some others in Europe, has been replaced by pressure on universities and colleges to strike deals. The UK Government committed to helping disadvantaged students access study abroad opportunities, but without support to cover tuition fees this will be impossible for many.
To add to this, it is also scarcely credible to explain how a scheme costing only £100m could fund the travels of 35,000 student – working out at only £2,850 each. It is also unclear whether students will be funded to come to the UK, potentially depriving British universities of a significant source of income. Not doing so would "blow a hole" in the UK's economy worth £243m a year, a group of education and business leaders calculated last year.
The loss of Erasmus, which brings different countries and nationalities together and generates such massive cultural and educational benefits, is a huge blow and yet another example of the devastating impact of Brexit.
Marchmont Road, Edinburgh
Since 1801 there has been a census every ten years across the UK, except in 1941 due to the war. All the rest of the UK will be filling in their census returns on 21 March this year but the Scottish Government is unable to organise this "due to Covid" and aims to hold a survey next year. The survey for England, Wales and Northern Ireland can be completed online quite easily and it is all organised.
There is obviously ten years of notice for holding the next census and now Scottish figures will be out of kilter with the majority of the UK dataset, which gives difficulties for statistical projections.
This appears to be another instance of management inability rather like being unable to organise the administration of more than a small fraction of Scottish welfare system payments with the greatest bulk of these still having to be organised from England.
We are being told we might have some sort of referendum scratched together by the end of this year but we are unable to join in a UK-wide census prepared for some time. This does not demonstrate much organisational ability as the Covid situation is the same all across the UK.
Like many people I dislike the appearance of wind farms littering our countryside. I am also sympathetic to Graham Lang's suggestion (Letters, 12 March) that communities should be allowed to decide whether to accept giant turbines.
However, any community which rejects wind farms should at the same time commit to generating its own sustainable sources of power. To say that we want clean energy but only if other communities are affected is the height of nimbyism and hypocrisy.
As an Irishman (Northern) I feel I must correct the misinformation written by Dr Francis Roberts, who claims that Ireland's living standards improved after leaving the Union (Letters, 12 March).
This is quite wrong. Ireland left the Union in 1921 and this was followed by a civil war. For decades after that, the Republic was way poorer than the North. I recall the poor state of the roads when we crossed the border, or, more seriously, the lack of welfare provision. My southern cousins had to pay, in part at least, for education and healthcare. Prices were much higher and the Eire economy depended heavily on emigrés who left the country in droves to work in England.
Things did improve after Eire joined the EU and the country was, for a time, so successful that Alex Salmond used the famous Celtic Tiger example in his independence campaign here.
But following the 2008 crash it all turned sour again, with many young Irish people coming here for work. I understand that currently prices are well above those here – as much as €12 for a G&T in a Dublin pub, according to Google!
Belmont Gardens, Edinburgh
I have never taken much interest in the Royal Family and their interactions with the British public, but they do provide the tabloids with material for gossip and hypocritical denunciations from their readers, when they're deemed to fall short of what's expected of them.
Alas, this has been the fate of Prince Harry and Meghan, and the impact on the former has been greatly magnified by his fear of history repeating itself. I still remember the footage of Harry and William walking behind their mother's hearse in full view of the public, for whom she was an icon, not a human being. He was just 12 years old, and he was an angry child, his grief made more complex as a result.
Who can blame him for wanting to protect his wife from the hungry wolves circling them, looking for opportunities to make money and enhance reputations by capturing them on film? Wealth and status are no protectors against the psychological damage sustained by traumatic life events – or by casual racism.
Gagiebank, Wellbank, Broughty Ferry
It appears to be the opinion of Professor Sir Geoff Palmer that remarks made by David Hume in 1753 have caused present day racial problems. He claims of Hume's words "this was the statement that killed George Floyd" (Scotsman, 11 March).
It is utterly incredible that a few lines buried in an obscure footnote should be held responsible for this and other tragedies. This absurd assertion must call into question Professor Palmer's ability to chair Edinburgh City Council's Review Group on Slavery and Colonialism. This group will have to consider complex historical issues. Might I suggest that a professor of history would have been a more appropriate appointment rather than a professor of brewing, however distInguished?
I note that some of the odder and more self-important Christian denominations, as well as a few mainstream churches, are demanding the right to be excluded from Covid restrictions on the grounds that it infringes their human rights not to be allowed to gather in large numbers for worship.
Big congregations were not a requirement of the founder of their faith. If they know their Bible they should know that Jesus said "Where two or three gather together in my name, I am with them" (Matthew 18::20). Surely if it is good enough for Jesus . . .
I disagree with so many of Jim Sillars' opinions, particularly on the break-up of the UK, it is for me a great occasion when I find myself in total agreement with something he has to say.
However, when he claims that with the enactment of Mr Humza's Hate Bill ''we will enter a new but darker Scotland where instead of age old rights ... we must close down the critical faculties that comes with our minds'' I find myself in total agreement. It is eerily reminiscent of Tam Dalyell's prophesy for the path Scotland would take under devolution.
We welcome your thoughts. Write to [email protected] including name, address and phone number. Keep letters under 300 words, with no attachments, and avoid Letters to the Editor in your subject line.
A message from the Editor
Thank you for reading this article. We're more reliant on your support than ever as the shift in consumer habits brought about by coronavirus impacts our advertisers.
If you haven't already, please consider supporting our trusted, fact-checked journalism by taking out a digital subscription.