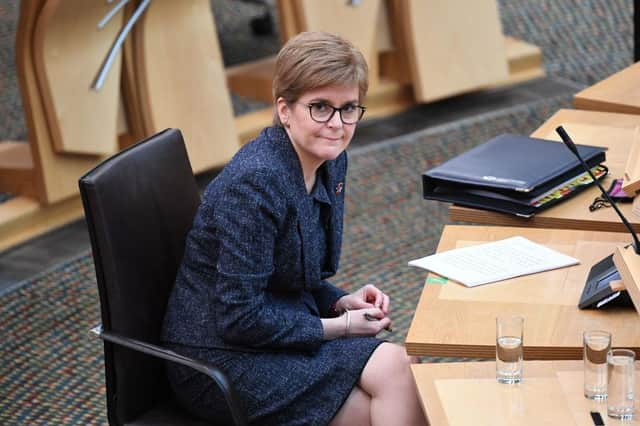 Almost immediately she went straight to the conclusion of the report, stating "...it does not find statistical evidence that hospital discharges were associated with care home outbreaks".
Ms Sturgeon noted that the report was "a tough read as there were a lot of statistics within it" and in effect insinuated that the masses would find it difficult to understand. Yet again she moves that there is no blame to attach to her policy.
W e are told she cannot remember when she first knew about positive Covid-19 patients being discharged into care homes, but in the same breath she tells us that she takes responsibility for the policy at the time that these patients were being discharged from hospital. She further hides behind these statistics, that outbreaks in care homes may also have depended on the size of the care home and the number of residents within the care home.
As she is so keen to rely on "statistics ", she will have no difficulty in reading the facts that 113 patients with a positive test and over 3,000 patients with no test at all were discharged into care homes and the consequences are there for all to see. No amount of forgetfulness on her part or the fog of statistical evidence will detract from such an appalling policy for which she and her Health Secretary –notable for her absence at the daily briefing – were responsible.
Richard Allison, Braehead Loan, Edinburgh
Nicola Sturgeon's remark that releasing infected Covid patients into care homes was not statistically significant is yet another government distortion.
The government is correct that the size of care homes which were full of vulnerable patients is "statistically significant " but the idea that putting infected people into such vulnerable populations was not significant simply does not stack up. It's like saying an arsonist was not statistically significant in the deaths of people in a tenement, the statistical relevance being the number of people in the tenement. This is appalling misdirection.
Iain Beattie, Palmerston Road, Edinburgh
In reference to the Public Health Scotland report into hospital discharges into care homes during the Covid-19 pandemic, Nicola Sturgeon stated on Wednesday that "hospital discharges were not found to have a significantly higher risk of an outbreak". According to the report this includes hospital discharges of any kind, i.e. patients who have tested positive.
If Nicola Sturgeon seems to be satisfied with the conclusion that the return of Covid-positive care home residents into their communities doesn't carry a significant infection risk, it needs to be asked why she otherwise bans us from normal human contact such as seeing friends and family at home?
Regina Erich, Willow Row, Stonehaven
Opposition politicians should note that the same hospital discharge policy was followed in Labour-run Wales and in Tory England, as in the early stages of the pandemic all four nations acted on UK-wide Public Health England guidance.
On March 19, this guidance said that "unless required to be in hospital, patients must not remain in an NHS bed" but no clinician would discharge a patient unless they thought it is safe to do so. This policy was implemented to free up hospital beds in advance of an expected tsunami of coronavirus patients. On April 2, UK Dept of Health and Social Care rules on discharging to care homes were clarified, saying "negative tests are not required prior to transfers or admissions into the care home… as they can be safely cared for in a care home". The Public Health Scotland report pointed out that 45.2 per cent of privately owned homes had a Covid outbreak compared to 27.9 per cent in local authority homes and 12.5 per cent in the voluntary sector.
A similar independent report in Wales found that discharging patients from hospital into care homes did not increase the risk of coronavirus outbreaks among residents and also found that the size of home was a contributing factor.
Also, a leaked unpublished Public Health England study found that agency workers, often employed on zero-hours contracts, unwittingly spread the infection in care homes as the pandemic grew.
Rather than political point scoring we all should support plans for a national care service where patients and staff will be treated with dignity.
Mary Thomas, Watson Crescent, Edinburgh
Reports of the betrayal of our elderly and most vulnerable at the height of the Covid crisis makes horrifying reading.
Among many other causes, the First Minister's predilection towards appointing only those supporting her party into positions of authority must be taken into account. It is very mindful of Margaret Thatcher and her famous ''Are they one of us?'' question whenever the question of new appointments arose.
Thus we get an earlier top adviser on the virus tweeting that those Scots preferring the UK remain intact are "anti-Scottish". In the meantime, non-nationalist leaning, world-renowned experts are ignored.
If it were only cheap political points making that was at stake, then it could be laughed at, but in these dark days decisions on health are crucial and the only qualification required should be medical expertise.
Alexander McKay, New Cut Rigg, Edinburgh
It is increasingly difficult for political leaders with no background in the field to follow that alarmist spectre "the science". The Great Barrington Declaration, supported by a wide range of epidemiologists, economists and public health scientists made it clear that many professionals don't agree with the "experts" whose opinions have found favour with the Prime Minister and the First Minister.
Now a new group called Recovery asks governments to take a "rational and cautious" approach to CD19. Senior scientists, business leaders and NHS staff joined forces to warn that the daily dose of TV hysteria is worse than the pandemic. The extreme measures taken to curb the virus are having a seriously detrimental effect on the treatment of mental health, cancer and other deadly diseases.
The NHS exists to treat all ailments, not just one, and hope must be on the agenda. We need a focus on recovery rather than doom – no matter how much politicians want to be seen to be "in control". They should show humanity and stop needlessly curbing the freedom of so many. Treatment for other conditions must not be endlessly postponed and above all, the economy needs to get moving.
(Rev Dr) John Cameron, Howard Place, St Andrews
We keep reading about favourite candidates to become the next BBC Chair and Richard Sharp, a former investment banker at Goldman Sachs, is only one of the latest. However reading that he donated £400,000 to the Tory Party ought surely to put him out of the ring – not because like anyone else he is free to support a political party, but a sizeable donor hardly suggests impartiality.
The BBC must be seen to be above party politics if it is to retain any image of serving listeners, viewers and the public. The BBC's decision to clamp down on its presenters doing work or speaking engagements for outside companies is surely a sign the perils of conflict of interest are at last being recognised.
Jim Craigen, Downie Grove, Edinburgh
Nicola Sturgeon keeps telling us that she wants a fair society, but it seems that the society she wants is one which is fair to her and her supporters, and of course, employees in the public sector. Whereas the 2008 economic downturn hit the private sector very hard, and many employees lost their jobs, the public sector was almost untouched in terms of jobs, salaries and pensions.
Likewise, as the Covid19 pandemic wrought havoc among private sector employees, even allowing for the government's furlough scheme, employees in the public sector remain unscathed. Surely the fair thing to do would be for employees in the public sector to accept some of the pain by agreeing a reduction in salary and pension to help the private sector weather the storm.
Don't hold your breath, however, as the cry from the public sector will be the same as in 2008 – "it wisn'y me".
James Macintyre, Clarendon Road Linlithgow
I am one of approximately 30 per cent of the population who are left-handed. I protest against the institutional bias of our language, whereby teachers say that I got something right, or I am told that I have right before the law, or,when asking directions, I am told to keep right on to the end of the road.
Not only that, but I may be told that I am gauche or sinister and that I have been left behind. I demand that language be more ambisinistrous or even-handed.
Colin McAllister, South Street, St Andrews
In a particularly entertaining chapter of 44 Scotland Street (The Scotsman, 28 October) there was mention of characters meeting at a Jimmy Shand tribute concert.
That rang quite true as I was reminded of an English friend who would repeatedly state that his favourite Scottish group was The Jimi Shand Experience.
Jim Douglas, Rullion Road, Penicuik
We welcome your thoughts. Write to [email protected] including name, address and phone number. Keep letters under 300 words, with no attachments, and avoid Letters to the Editor in your subject line.
A message from the Editor
Thank you for reading this article. We're more reliant on your support than ever as the shift in consumer habits brought about by coronavirus impacts our advertisers.
If you haven't already, please consider supporting our trusted, fact-checked journalism by taking out a digital subscription.