Rishi Sunak promised to restore trust in politics but Rwanda failure shows he campaigns on words not policy
Immigrant scheme is expensive, embarrassing and something the prime minister has defended all the way
Of all the things that threaten to deny Rishi Sunak a return to Downing Street at the next election, the things he says might be the biggest.
Having come in to "restore trust in politics", the Prime Minister has since made a series of pledges he can't deliver, or vowed to espouse one quality while very visibly doing the opposite.Supposedly a serious politician after two sad clowns, Mr Sunak has instead shown great instincts when it comes to garnering headlines, and the political competence of a dying lettuce when it comes to delivery.
Nowhere is this clearer than the Rwanda scheme, a proposal announced by Boris Johnson, bringing with it the total lack of connection with reality he was known for. An impossibly cruel system that would have sent people, known by the former home secretary as "hurricanes" to Rwanda for processing, a country where journalists are unlawfully detained, the UN has raised issues about fair trials, and writers who criticise the Government disappear.The idea seemed absolutely absurd, a point made by human rights lawyers, human rights charities, opposition MPs and even foreign governments. Deciding they were a bunch of lefties, Mr Sunak defended the idea, happy for £140 million of taxpayers money to go to Rwanda. Spending even more on legal battles for the numerous challenges they lost, the UK Government is now in the embarrassing position of having sent more journalists to write about Rwanda than actual asylum seekers, and spent more money on it than they have on domestic abuse refuges for women and children.It's expensive, it's embarrassing and it's something Mr Sunak has defended all the way. He has repeatedly insisted this is the right approach, and continues to do so, leaving him promising something that won't happen, undermining the very trust he promised to restore.What's worse is that this isn't an outlier of his premiership, but the mean. Mr Sunak cannot help himself, perennially doubling down when his words will only come back to haunt him.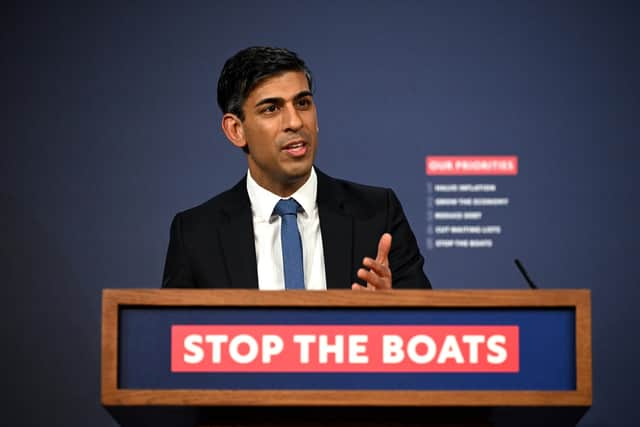 After cancelling HS2, a project he had previously supported, the Prime Minister announced £36 billion in alternative transport funding, only for it to revealed most of the projects already existed or had been cancelled. He's framing failure as investment, chasing a headline instead of reality.
At that same Tory conference, the Prime Minister pledged to be the candidate for change who could make a clean break from the years of stagnation that came before. Within a month, he'd brought David Cameron in as Foreign Secretary, a man who'd previously been leader of the Tories for 11 years.
This stuff matters. Initially trusted on issues like the economy, the Prime Minister's popularity and the public's faith in the party has plummeted since he became leader, with the population hearing his constant resets and learning not to believe them.
Polling published on Friday by Redfield & Wilton Strategies show Labour are now more trusted on every issue. The economy, NHS, housing, even Ukraine. At PMQs Mr Sunak accused Sir Keir Starmer of never voting for tighter borders. He's right, and the Labour leader is still more trusted on immigration.
Fear not, though, the Prime Minister has promised to make the Rwanda scheme work, so that's that sorted and he's looking forward to the next poll.
Comments
 0 comments
Want to join the conversation? Please or to comment on this article.