Sir Keir Starmer's sacking of Rebecca Long-Bailey shows up PM - Euan McColm
Is there anyone more pitifully Pooterish than the great British revolutionary?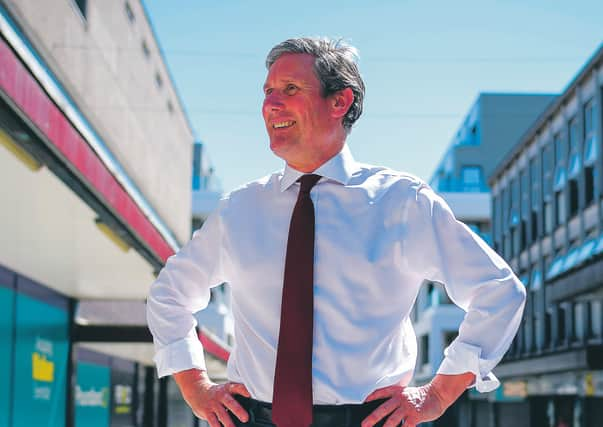 Take the radicals who signed up to the Jeremy Corbyn project, for example. When they had control of the Labour Party, they were going to change the world with their new kind of politics.
Now the Corbyn era is over, these would-be insurgents reveal themselves as perfectly, comically petty.
Opposition leader Sir Keir Starmer was absolutely right to sack his one-time competitor for the Labour leadership, Rebecca Long-Bailey, from the shadow cabinet last week. Her decision to retweet approvingly an interview with the actor Maxine Peake in which she repeated an antisemitic trope was an outrage.
Under Corbyn, the Labour Party became a cesspit of antisemitism. When Starmer won the contest to replace Corbyn last year, he promised to deal with the problem. There would, he said, be zero tolerance of antisemitism.
So how could he have done anything but fire his shadow education secretary?
Just a few months ago, the assorted cranks, Stalinists, and antisemites who populated the upper echelons of the Labour Party reckoned they were on course for power. Now? Well, now they are reduced to organising a petition asking that Long-Bailey be reinstated.
Now, I enjoy a piece of beautifully crafted pathos as much as the next man, but this was too much. A petition?
The Socialist Campaign Group of Labour MPs demanded a meeting with Starmer during which they insisted on Long Bailey's unsacking. Of course, he said no.
The group – Corbynista conspiracists, one and all – then issued a statement which illustrated the extent of the problem Labour has.
During the meeting, the group explained, "the imminent annexation of the West Bank by Israel's government" was discussed.
One of their own is sacked for sharing an article in which the false claim that the Israelis taught American police the knee-on-the-neck hold used by the officer who killed George Floyd, and they reckon that the best response is to say "yeah, well, that last reason to hate Israel was wrong so here's another one". These people are idiots. Hateful idiots.
A senior member of Long-Bailey's leadership campaign team spoke out to criticise Starmer for turning the matter into a major news story, completely missing the point that Starmer's intention was to turn it into a major news story.
Starmer has said the right things about antisemitism in his party, Long-Bailey allowed him to show he means what he says.
Wasn't Starmer's approach utterly refreshing? Remember the grim days of Corbyn when he'd equivocate, refuse to get involved, and bullshit about process? There was always a reason that the leader could not show leadership.
Starmer has not solved Labour's problem with antisemitism. The reaction of some of Long-Bailey's colleagues is ample evidence of that. But he has shown he recognises that this is a real problem requiring serious action.
Starmer's action last week didn't only play a part in rebuilding the horribly tarnished Labour brand, it reintroduced the long absent concept of accountability to our politics.
Nostalgists will recall the days when a politician or public figure was expected to take personal responsibility when things went wrong on their watch or they were found to have bent or broken the rules. This was an unwritten code to which all parties adhered.
The political sacking has always been an important part of maintaining faith in power. We need to know that those whose decisions affect our lives are acting without fear or favour and in our best interests, When there is any doubt that this is so, they simply have to go.
Except, more often than not, these days, they don't.
The Prime Minister's weird adviser, Dominic Cummings, flouted lockdown guidance to travel from London to Durham. While the vast majority of us played by the rules, no matter how hard that may have been, Cummings applied a different standard to himself. He laughed at questions about his actions.
For a supposed political mystic with the power to see into the minds of the ordinary voter, Cummings failed to predict quite how many people considered him an unconscionable shit who should resign.
Boris Johnson's failure to sack Cummings even when a clear majority of voters believed he should may yet come to be the defining moment of his premiership. Without question, the scandal showed him hopelessly out of touch with the people whose dreams he claims to understand.
And then there's Robert Jenrick, the housing secretary accused of rushing through a planning decision to save a Tory donor tens of millions of pounds in tax.
Jenrick overruled both Tower Hamlets council and a planning inspector to give billionaire Richard Desmond's proposed 1,500-home development at Westferry Printworks the go-ahead in January of this year.
He subsequently reversed the ruling following legal action by the council, admitting that what he had done was "unlawful by reason of apparent bias".
Jenrick and Desmond had met and discussed the matter informally and days later the businessman made a donation to the Conservative Party.
The Prime Minister informs us that he considers that there is nothing to see here and the matter is closed.
This is a far from satisfactory position on something so serious.
The Jenrick story is not going away. And, as was the case with Cummings, every minute Johnson stands by his man damages trust in politics.
Spin doctors talk about the loyalty of leaders who don't sack errant colleagues. They say it just shows they won't be bullied by the press.
But it is not the press that requires these sackings, it is our democracy.
We need to be able to believe that those who abuse their positions or fail to live up to the standards they espouse will pay a price. If this is not so, if politicians may do whatever the hell they want without fear of the consequences, we are in a dangerous plans.
Sir Keir Starmer didn't only live up to his commitment to tackle antisemitism, last week, he also brought back the concept of accountability to our increasingly immoral politics.
For that, we should all be obliged.
Comments
 0 comments
Want to join the conversation? Please or to comment on this article.