Spare: Harry, Prince of Privacy, appears to determined to reveal all his secrets with little regard for the privacy of others – Aidan Smith
Here in Scotland, where Prince Harry is the Earl of Dumbarton, "spare" is a far more resourceful word than in the rest of the English-speaking world. It's more than "extra", more than "held in reserve" – indeed more than "surplus to requirements". It's also used to describe someone who's a bit of a fool.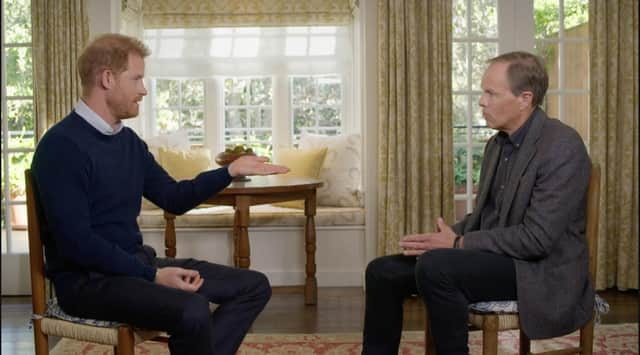 Maybe not an out-and-out berk but certainly a clot. What, you think that's insulting? Well, here's what he says about my profession: " … a dreadful mob of dweebs and crones and cut-rate criminals and clinically-diagnosable sadists of Fleet Street feeling the need to get their jollies and plump their profits and work out their personal issues by tormenting one very large, very ancient and very dysfunctional family".
Harry referenced the press a lot in his ITV interview. As he hammered away, it seemed as if there was a mention for each of the 416 pages of his autobiography, Spare, published today. Every one of them was disparaging. But don't feel sorry for journalists. Most are big enough and ugly enough to take the slaggings (though not Tom Bradby, Sunday night's hunky and polite interrogator). Save your sympathy for the King and especially Prince William for having to endure this latest onslaught. When is it going to end?
Yes, it seems like Charles was a bit stiff and cold – a bit royal, indeed – when Harry was screaming inside following the death of his mother. And no doubt William – or Willy – will have occasionally behaved as big brothers are wont to do and lorded it over the lad who was always going to be consigned to the bottom bunk, in the bedroom and in life, though of course when home is a palace that's both figurative and relative.
But do they deserve this great steaming pile of dirty laundry plonked on the doorstep, trapping footmen and leaving a couple of dogs unaccounted for? After a lifetime of being straightjacketed by "never complain, never explain", Harry with this book has coined a new motto all for himself: "Never edit, never omit."
It's all in there: the lipgloss incident, the dog bowl imbroglio, the beard brouhaha, the "baby brain" blurt, the necklace tragedy – and for an encore a new version of an old standard, the Nazi fancy-dress outrage. William must be spontaneously combusting: "Harold, what the F-F-F-Frogmore?! … "
Spare hits the bookstores in a month when prestigious literary titles are traditionally held back, leaving the way clear for lots of new year/new me guides to self-help. But, while I've only read the Spanish-translated snippets, it seems to be akin to an act of self-disembowelment. Involving absolutely no self-awareness. And after the Oprah interview and six hours of Netflix alongside his wife, simply more of the same emotional self-indulgence.
He will surely come to regret the book and its excruciating, embarrassing detail. For how is the splurge of deeply personal revelation going to aid his desire for reconciliation with his father and brother and the apology he seeks for Meghan?
Or is it his intention to blow up the monarchy, possibly once he's detonated the press, who he vaguely blamed for many of the country's present ills on Sunday night? He insists not, and reiterated this to a visibly weary Bradby at the end of their conversation – but all the evidence would appear to be to the contrary.
Harry bangs on about privacy. A lot. And yet he's just ransacked the privacy of his family. He expresses the hope that the reconciliation, if and when it comes, should be "in private". The irony of him voicing this, to a journalist, on national television, while plugging a book for which he's reportedly been paid $20 million, and which finds room for the confession that during a bad mushroom trip he hallucinated that a pedal bin was talking to him, will not have been lost on those watching.
This passionate advocate of confidentiality would seem to have left nothing out – not even the grim details of his first sexual experience. The admission of losing his virginity in a field behind a Wiltshire pub has been rated by some the most shocking in Spare – and immediately sparked a hunt for the mystery horse-loving older woman. A 44-year-old mother-of-two told how her boyfriend had to answer the door to a reporter keen to establish if she had been the equestrian "mounted" by the prince, and who afterwards had "spanked" the royal bahookie.
Two things occur here: did he not have any consideration for the privacy of the other party in this encounter? Surely as the country's leading self-styled press watchdog he could have anticipated interest in her identity, in the manner of Prince Andrew's claim he didn't sweat prompting picture editors to hurry to their files for an archive shot of Harry's uncle with wet patches under the arms. The other thing? It's the word "mounted". What an odd, risible, Jilly Cooper-esque term for a supposedly modern prince to use when he's supposedly pushing back fences and helping drag his family into the 21st century.
I guess this could be seen as evidence that the royals are just as awkward when discussing sex as their loyal subjects, a very British trait whatever one's breeding. But you and I have probably just returned from family get-togethers over Christmas where brother joshed with brother and ancient squabbles where laughed about, both acknowledging they've too much in common and life is too short for them to be allowed to fester, far less appear in the most-hyped book of this or any other year.
There is of course another meaning for its title. We must assume – no, devoutly hope – that the palace playrooms and horsey gatherings are all out of secrets now. Please, Harry, spare us any more!
Comments
 0 comments
Want to join the conversation? Please or to comment on this article.