Whoever wins SNP leadership, the race has done profound damage to the party
We are into day 1000 of the SNP leadership contest, a race that at times seem like unionist party propaganda.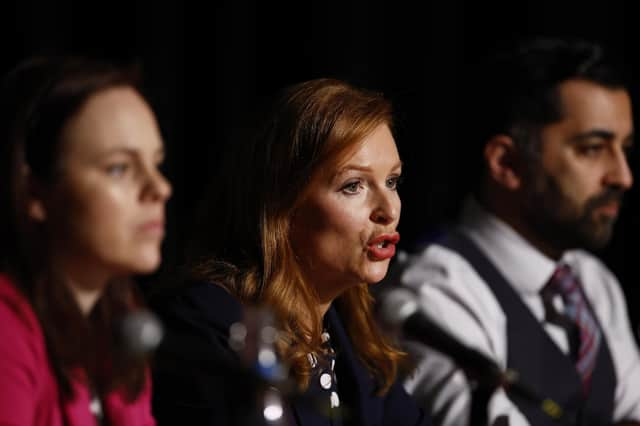 It's not a surprise there are divisions in the independence movement, but in the battle to replace Nicola Sturgeon, the political has become personal, less arguments over ideas and more attacks on character.
A party that has maintained relentless discipline has finally seen the chains come off, with candidates freely criticising each others record in Government, perhaps not quite realising they are in turn, attacking the SNP itself.
That's not to say some introspection is unwelcome. Holyrood rarely sees harsh questions, let alone criticism of the SNP from its own MSPs, with the cause always coming first. Westminster is a regular free-for-all with parties eating themselves, but Ms Sturgeon's colleagues never seemed inclined to ask about ferries, NHS waiting times, the attainment gap, or why support for independence isn't actually growing.
Until now, with all those quiet bottled up concerns exploding with more vigour and negativity than Douglas Ross delivering a retirement tribute to an opposition figure.
Make no mistake, this race has not been good for the SNP, these debates have hurt the party, hurt the cause, and left the party exposed to quotes from the candidates being on opposition leaflets for years to come.
The problem started with Kate Forbes, a favourite for the leadership well before Ms Sturgeon resigned. She used her first interviews to question gay marriage and criticise Gender Recognition Reform. Her views horrified those who had endorsed her, the Westminster leadership, and saw many Yes voters say they would leave the party if she won.
Even if Ms Forbes wins, questions will remain over how progressive the SNP really can be if someone with those views are the face of it.
Perhaps due to the disastrous start, she has taken to relentlessly trashing her own Government's record, telling Humza Yousaf "more of the same is not a manifesto, it is an acceptance of mediocrity". Negative campaigning can win leadership elections, but this is not debate, it is outright trashing the credibility of a fellow cabinet minister.
As for Mr Yousaf, the race has seen his record come under great scrutiny, to which he has not always had answers beyond the SNPs electoral success.
It has also seen him perform one of the great election gaffes, asking a group of Ukrainian women "where are all the men?", when there is a literal war happening. It's not as embarrassing as the video of him falling off a scooter widely shared by SNP MPs on Whatsapp, but it's not far off.
Then there is Ash Regan, a candidate who thinks Scotland can just use sterling for a bit, and suggested an independence thermometer, making the Ed stone look quiet and restrained.
Leadership races are a chance for a reset, introspection to find out what the party will be going forward, and what ideas can take it to the next level.
Watching this race, you can understand why Ms Sturgeon was so valued as a communicator. It is not debates on policy going forward that has dominated the contest, but candidates records, and their personal views.
This race has seen candidates more focused on winning than governing, causing collateral damage to their party as a result.
Comments
 0 comments
Want to join the conversation? Please or to comment on this article.