Aboyne Games seeks women competitors
Four athletic events are being held as female-only at this year's traditional Aboyne Highland Games in a bid to boost participation by women.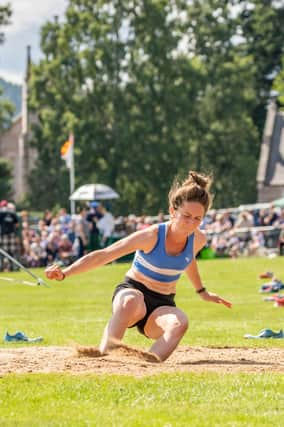 Previously mixed events open to men and women, the 100 yards race, 220 yards race 440 yards race and the high jump will be split into male and female categories this year for the first time, in a move to tackle the dwindling numbers of women taking part each year.
"The number of women in these events has fallen steadily in the last few years, and we're keen to reverse this trend," explains Coralie Arthur, of the Aboyne Games Committee, herself a cross triathlete who has competed for Great Britain. "Lining up at the start of a race next to a large gathering of men can be intimidating for many women – as can the experience of tailing them down the track and following them across the finish line.
"By separating out the sexes, we hope to create a more inclusive and empowering environment for all the great women out there who are just waiting to take part but need that little bit more encouragement. Once the exclusive preserve of men, nowadays the Aboyne Games is about encouraging and celebrating all athletic talent irrespective of gender, so we feel it's important to do all we can to increase the accessibility of our events."
Founded in 1867, the Games returns to the Aboyne green on the first Saturday of August with tickets now available online at www.aboynegames.com. Celebrating Scottish culture and heritage, the much-loved event has been wowing audiences for over 150 years and is a highlight of the Highland Games calendar.  The day features around 102 traditional events including Highland Dancing, solo piping and fiddle competitions, pipes bands, athletic events, tug o' war, and a hill race, attracting locals and visitors alike.
An 'Early Bird' ticket is available for visitors buying online at £11.50 for adults and £3.00 for children aged 5-15. No booking fee will be added to tickets purchased before 30 June. Tickets will also be available at the gates on the day, with debit card or cash payments accepted. Entry prices on games day will be £13 for adults and £4 for children over the age of five. 
Aboyne Highland Games is a traditional Scottish Highland Games held annually on the first Saturday in August.  The Aberdeenshire event, held under the patronage of Granville Gordon, the 13th Marquis of Huntly, attracts crowds of up to 10,000 people each year.  Further information on Aboyne Highland Games can be found at www.aboynegames.com.