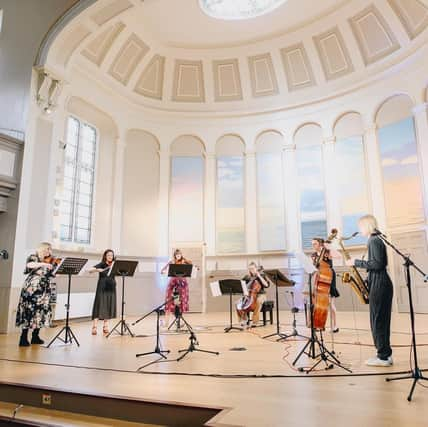 The music symbolises rebirth, springtime, hope and optimism and was inspired by Seonaid's own personal journey and the healing power of nature following a serious accident in recent years.
Through jazz, classical and folk idioms, the suite – which was commissioned for the Edinburgh Jazz Festival in 2021 – allows a cross-genre line-up of musicians celebrates living life to the fullest.
The Seonaid Aitken Ensemble will also perform standards from the Great American Songbook with intricate and stunning new arrangements.
Seonaid Aitken is a renowned composer from Fife, and was classically trained at London's Guildhall School of Music and Drama. For 19 years she has performed with Scottish Opera. Seonaid was awarded 'Best Vocalist' at the 2017 and 2018 Scottish Jazz Awards.
Specialising in Gypsy Jazz, she performs extensively with her band Rose Room and as a guest with the Tim Kliphuis Sextet, Tokyo Django Collective, Swing 2020 and top jazz fingerstyle virtuoso, and former guitarist of Stephane Grappelli, Martin Taylor MBE.
As a busy session musician, playing in classical/folk/country/jazz styles, Seonaid has recently appeared with Scottish artists Deacon Blue, Carol Kidd MBE, Hamish Stuart (Average White Band), Blue Rose Code, The GRIT Orchestra, James Grant and Eddi Reader and played violin/viola in the 2019-2020 touring production of Disney's 'The Lion King'.
Seonaid said: "I've heard great things from other musicians about this venue and am very much looking forward to bringing my ensemble to St. Margaret's to perform my original music. The cherry blossom season is beginning so it will be perfect timing to present my suite 'Chasing Sakura'.
"And we can't wait to 'swing' the audience into the night with our homage to The First Lady of Song - Ella Fitzgerald!"