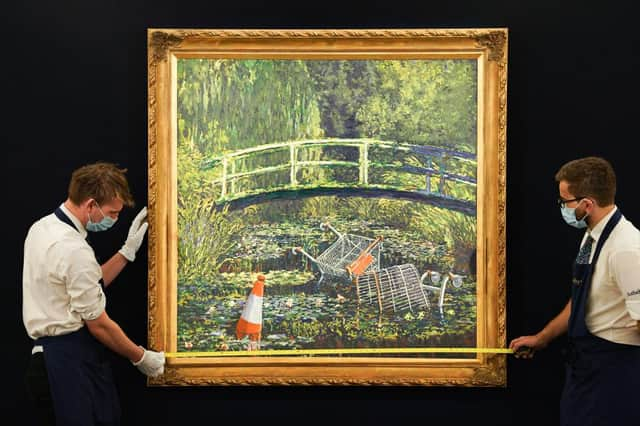 Banksy's reimagining of Claude Monet's Water Lillies has sold for £7.5m at auction.
Created in 2005 Show Me The Monet features shopping trolleys and street cones against one of the impressionist painter's idyllic and iconic backdrops.
Show Me The Monet was one in a series of works known as Crude Oil in which the secretive artist "remixed" famous works, including Vincent Van Gogh's Sunflowers and Andy Warhol's Marilyn Monroe.
The work was expected to fetch between £3.5m and £5m but far exceeded the estimation with one bidder parting with £7,551,600.
Auction house Sotheby's in London said there was a nine-minute battle for the piece between five bidders.
The work is the second most expensive piece of work sold by Banksy at auction.
What are the most expensive Banksy artworks sold at auction?
Devolved Parliament, £9.9m
In October 2019 an oil on canvas painting depicting the House of Commons populated by chimpanzees sold for a record £9.9m.
Originally titled Question Time, the work was first purchased by a private collector in 2012 before resurfacing in 2019.
Upon its return Banksy commented: "Laugh now, but one day no-one will be in charge".
Banksy's latest listing exceeded expectations but still fell £2m short of his record sale
Forgive Us Our Trespassing, £6.3m
Painted in 2011, this work depicts a 7m tall, stained-glass window daubed with multi-coloured graffiti.
The artist enlisted the help of 100 students from the Los Angeles' City of Angels school to tag the vast piece of work. It was sold to an unknown bidder in 2020.
Mediterranean Sea View 2017, £2.2m
Banksy's commentary on the European migrant crisis sold at Sotheby's in 2020 for £2.2m. All proceeds were donated to Bethlehem Arab Society for Rehabilitation.
Created in 2004, Monkey Poison features a chimpanzee drinking a toxic substance against the backdrop of a classic pastoral scene.
The work is a commentary on excessive fossil fuel use and animal cruelty.
This work featuring a maid lifting up a polka dot backdrop to sweep under it was a collaboration between Banksy and Damien Hirst.
The identity of Banksy is unknown, though over the years some have suggested that he is Damien Hirst – a theory discredited by many.
Banksy's reaction to the 2016 EU Referendum features a heart-shaped balloon over a UKIP banner calling on the UK public to vote Leave.
Vote To Love was sold to an American Banker for twice it's estimation price in 2019.
Love is in the Bin, £1.04m
Banksy pulled off one of his most high profile stunts in 2019 when he shredded his Girl With A Balloon work just after it had been sold at auction.
Following the stunt the work was renamed Love is in the Bin and Sotheby's auctioneer Alex Branczik commented: "It appears we just got Banksy-ed".
Girl with Balloon – Colour AP (Purple), £791,250
At a 2019 online auction titled: "Banksy: I can't believe you morons actually buy this sh*t", Banksy print Girl with Balloon – Colour AP (Purple) fetched twice it's estimate price.
Leonardo Da Vinci's Mona Lisa was reimagined by Banksy as an AK47 touting freedom fighter in this spray painted work. The piece sold at auction for £731,250 in 2019.