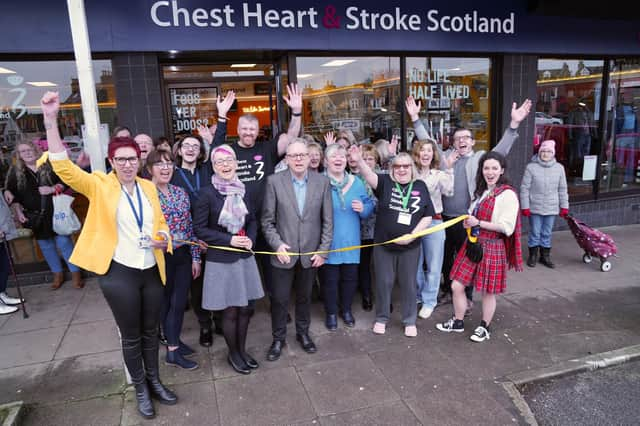 The store, located at 1 North Street, was officially opened by Chest, Heart & Stroke Chair, Amy Anderson and Trevor Hart, chair of Exercise After Stroke Inverurie, a CHSS peer support group.
The opening was also attended by other members Exercise After Stroke Inverurie, as well as members of another local CHSS peer support group, 'Foos Yer Doos' Sing Song club. CHSS staff and volunteers were also in attendance.
Chest, Heart & Stroke Scotland staff have been overwhelmed by the support and generosity from the local community who have gifted their high-quality items as well as their time in the run up to the store opening, with almost 30 local volunteers already recruited.
Chair of Chest, Heart & Stroke Amy Anderson said: "It is fantastic to be here for the opening of our latest Chest, Heart & Stroke Scotland store in Inverurie.
"Our retail stores are hugely important in raising funds for our charity, allowing us to support the one in five people in Scotland living with chest, heart and stroke conditions to live their lives to the full."
The design of the new shop reflects the signature style of the CHSS stores, with a nod to the local area including the 'Fit Like Inverurie' neon light feature and pieces designed by Westhill furniture upcycler Carol Gordon, who runs 'Repurposed by Georgie'.
Carole Edmonds, Head of Retail Field Operations at Chest Heart & Stroke Scotland, said: "The support we have received from the local community so far has been fantastic.
"We have been blown away by the quality of donations and by the number of people signing up to volunteer in our new store.
"Chest, Heart & Stroke Scotland looks forward to bringing our unique shopping experience to the people of Inverurie, offering sustainable shopping with a range of high-quality, pre-loved items available. We hope everyone in the town loves the store as much as we do."
Donations can be dropped off at the store Monday – Friday between 10am and 5pm at 1 North Street, Inverurie, AB15 5RJ. Anyone interested in volunteering can also visit the store during these times or call 01467 466002.