Chelsea footballer Billy Gilmour donates signed shirt to £100k fundraising campaign for Fife boy, 5, to get 'life-changing' surgery and care
Chelsea footballer Billy Gilmour will donate a signed shirt as part of a fundraising campaign to help a five-year-old Fife boy get a potentially "life-changing" operation and the therapy he needs to help him walk one day.
Little Cameron Gilmour, known as Cammy, from Anstruther was born 15 weeks premature in December 2015 and only weighed in at 1lb 13 oz.
After enduring various operations and procedures and numerous blood transfusions, he was diagnosed with quadriplegic cerebral palsy.
The condition means he has difficulty with muscle control and coordination. He also has spasticity in his limbs which means he can not do the things that other children take for granted like crawling, standing and walking - and he also needs to be fed with a liquid diet during the night.
Due to the severity of his condition this treatment is not available on the NHS - but it is available at The St Louis Children's Hospital in the US.
But this comes at a considerable cost – not only for the surgery itself but also for therapy and specialist equipment that will be required to get the full benefits of it.
Speaking on Sunday, Camy's father Jim Gilmour said the family have been "overwhelmed" by the generosity from members of the public, with about £28,000 raised so far.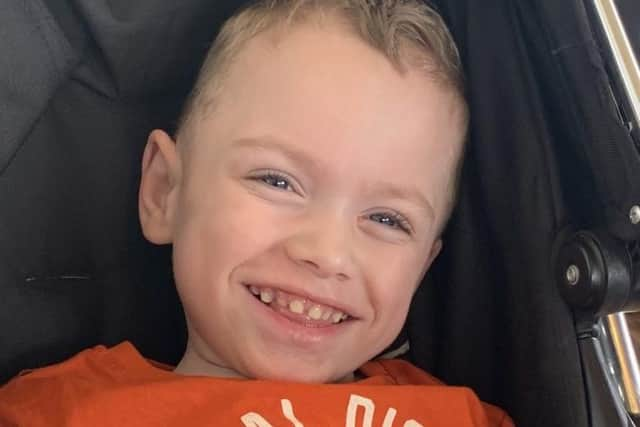 He said: "We have seen so much generosity from people. People have been giving us donations of £250 anonymously - I think it's just incredible."
Jim recently decided to put out calls to various footballers and clubs on Twitter for signed shirts which could help raise cash at auction.
On Sunday, 19-year-old Chelsea midfielder Billy Gilmour (not a relation) responded to say: "Hi Jim, I'll send you a signed shirt! Best wishes to you, Cameron and the rest of your family."
Scotsman Gilmour, who made a big impact last season in his first few games for Chelsea, has been touted as a major emerging talent in the game and compared to the likes of Barcelona legend Andres Iniesta.
Jim, who is a big football fan, said he also received a signed shirt over the weekend from Rangers first team coach, Michael Beale.
The 54-year-old, who is originally from Livingston, said the operation itself for Cammy would be a 20-minute spinal surgery but, at the moment, he is not strong enough and needs physio to build up his core muscles.
He continued: "Because of Cameron's condition, as soon as he does anything with his arms and legs they stiffen up. The operation would be like cutting an elastic band and would allow him to work his muscles. It will give him the chance to possibly walk, whereas at the moment he has no chance. It's all about improving his quality of life."
Jim says medics are keen to carry out the procedure on children between the ages of four and seven for best results.
He also thanked Cammy's 15-year-old sister, Erin, and his brother Scott, 11, who he says have been "fantastic" with their sibling and helping massively with his care.
A message from the Editor:
Thank you for reading this article. We're more reliant on your support than ever as the shift in consumer habits brought about by coronavirus impacts our advertisers.