Children's charity founders join forces to launch Kayleigh's Wee Stars Barra 10K
Local charity, Kayleigh's Wee Stars (KWS), which provides financial support for families where a child has a terminal illness, is set to host its 6th fundraising running race later this month.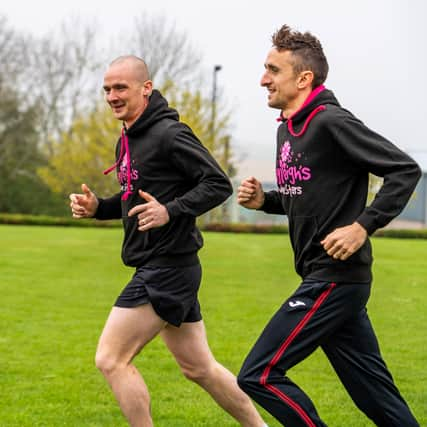 Kayleigh's dad and co-founder of the charity, Jonathan Cordiner, paired up with fellow runner and co-founder of the Gathimba Edwards Foundation, Myles Edwards, for a practice run to launch this year's race.
A fixture in the North-east running calendar, the Barra 10K takes place on Saturday, May 27 in Oldmeldrum. The popular race unfolds across a challenging multi-terrain trail over Barra Hill. It's a family friendly occasion, with Active Schools organising junior races which take place before the main event.
Myles – a 1500m Scottish champion - will be lining up with hundreds of local runners to run the Barra 10K. Myles and Gideon Gathimba founded their charity in 2014, with the aim of supporting children and their families across Kenya to enjoy the same start in life that many of us take for granted.
Fiona Heinonen, CEO of KWS, said: "We raised £8,000 from the Barra 10K last year, but with increased capacity for more runners this year, we are aiming to smash that total! We are very grateful to Myles, who in addition to working hard for the Gathimba Edwards Foundation, also finds time to support the fundraising efforts of KWS. We're very much looking forward to seeing what time he crosses the line in!"
KWS was set up in 2012 by Jonathan and Anna Cordiner after losing their 2-year-old daughter Kayleigh to a terminal brain tumour.
Jonathan said: "The KWS Barra 10K is an important date in our fundraising calendar, and we are delighted to welcome it back for the 6th time this year. There's no other race locally quite like it – where else can you run up a hill with hundreds of others, to be greeted by a piper at the top?!
"We are hugely grateful for the support of our sponsors. Their contributions mean that absolutely all of the money raised from this event's entry fee will be going directly to families where there is a child with a terminal diagnosis.
"We would also like to thank our army of marshals and volunteers – the charity can only do what it does thanks to the incredible support we receive from the local community, and of course we're grateful to Myles for giving up his time to support KWS. Their outstanding efforts help Team KWS to support children and families when they need us the most. Please sign up if you haven't already!"
Myles Edwards added: "I am really looking forward racing the Barra 10K as I've heard great things about it. It's been a pleasure to support KWS in a small way over the years, having first learned about their amazing work through Tammy Wilson and Jog Scotland Kintore. Having attended their recent fundraising dinner, and hearing from the families they have helped really cemented my desire to do as much as I can to help them reach more families in need."
For further information about the Barra 10K visit kayleighsweestars.co.uk.