Local Borders farmer mixed with sporting star in tribute to George Wilson Weir, although it's as Doddie that he's known throughout the land.
This nickname was included within brackets on the cover of the memorial service sheet, which also included a photograph of Weir standing with folded arms in front of a Fordson Dexta tractor. A stunning magenta Borders sky is streaked out behind him.
The area could not deliver such benign conditions yesterday. It was six days before Christmas after all. "O Little Town of Bethlehem" was one of the hymns.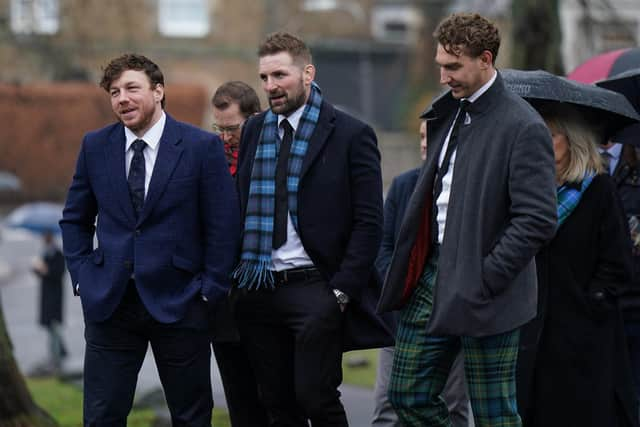 Mercifully, it was warmer than it had been. But rain fell throughout the day and puddles formed around The Greenyards, where tartan was the order of the day. Cauliflower ears were an optional but popular accessory.
The rugby community was out in force, naturally. Martin Johnson, a former England and British Lions captain, spoke of Weir "warming the room" whenever he walked in. "Whenever I think of him, I smile," he said. Another former England skipper Bill Beaumont, now the chairman of World Rugby, had also made the pilgrimage to the Greenyards, the only Borders rugby ground where he said he hadn't played.
Other spheres were also represented. McCoist was still shaking the Middle East sand from his shoes as he entered the church after hot footing it from the greatest World Cup final of all time. He landed back in Scotland at 11.45am and was at the service by just after 1pm. Sir Chris Hoy was also present.
Nearly 500 packed into the pews. But down the slope, at the rugby ground which forms such a centre point of Melrose, hundreds more sat in the main stand. They heard Doddie's three sons, Hamish, Angus and Ben, all sporting a style of loud tartan suit made famous by their father, each declaim a few lines from a poem entitled Requiem for Doddie (the Mad Giraffe), written by Timmy Douglas.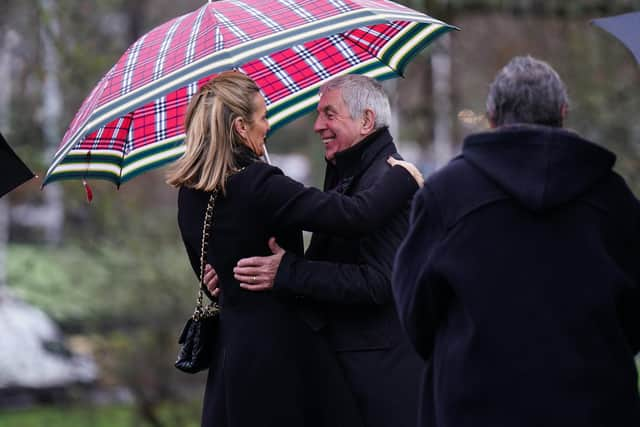 The Mad Giraffe was Doddie's other nickname, dating to when he was merely a rugby player and coined by fellow Borders legend Bill McLaren. Weir became so much more than a 61-times capped Scotland lock. He was better known latterly as a renowned fundraiser for Motor Neurone Disease (MND) until his death at the age of 52 last month, after a six-year battle with the condition.
Weir was only laid to rest as recently as last week in nearby Stow. And while the grief was still raw yesterday, there was also plenty of laughter.
The inclement weather meant Rob Wainwright, unofficial laird of Coll and former Scotland rugby skipper, had ferry issues ahead of his return journey to the inner Hebridean island. He was not unduly troubled. It would mean staying an extra night among friends in Melrose, clinking glasses to the only toast heard in the bars of the Borders town yesterday: 'to Doddie!' Several shops were bedecked in tartan. Martin Baird, the local butcher, catered for the influx with 900 pies.
Wainwright delivered one of three extensive tributes. He swapped the back row for the pulpit. "The honour of my life," he remarked later.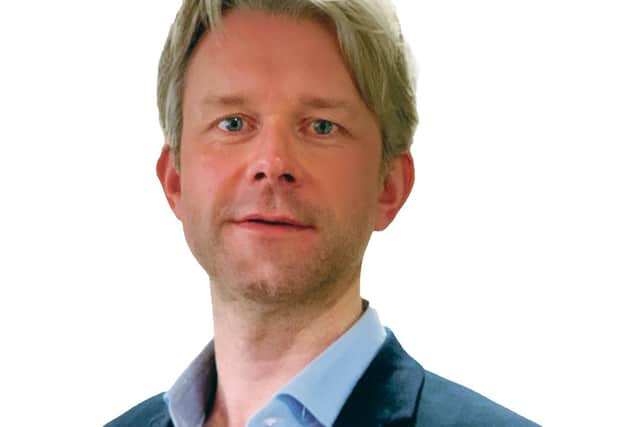 "It was no accident that he featured so heavily in the Lions' documentary (Living with the Lions) in 1997," he said. "Doddie was one of the big characters on that tour. The camera crew were just part of the team in Doddie's eyes. That warmth of character and common touch never faded.
"Whisky, as well as rugby, has formed the background of my relationship with Doddie. It started when we found ourselves travelling on a summer tour and we were in first class for the first time ever. Over the next few hours, once we'd finished all the champagne, we moved on to sample the whisky on offer.
"The Row 19 whisky club was formed. Its ranks expanded over the years, where a few of us would meet quietly the night before the internationals and try a new malt each time.
"Doddie being Doddie, he was on first-name terms with the entire staff at the Dalmahoy hotel where we used to stay," he continued. "When the buses left to go back into town, he and I would usually be carrying a couple of bottles of malt with us, which we'd jammed down our kilts.
"After we'd done that a couple of times, Doddie wanted to take it a step further. For the next match, he got optics as well. He put optics on the bottles and put the bottles upside down underneath his kilt. I remember him walking up and down the bus asking people what malt they'd like – then he'd reach underneath his kilt…!"
One of Weir's best friends from his early days playing at Melrose, Carl Hogg, delivered the eulogy. John Jeffrey, a Scotland teammate when he first broke into the side, made a passionate vow to Weir to continue pushing for a cure.
Jeffrey is a trustee of the My Name'5 Doddie Foundation. "We will not let you down," he said.
Doddie, of course, couldn't resist having the last word. He couldn't bear failing to take advantage of the captive audience he knew was guaranteed at his own memorial service. It was his dying wish that MND fund-raising activities must continue without him.
"So that's my A-Z of life and how to live it," he writes on the back page of the service sheet. "I hope you've had a bit of a laugh, maybe a wee cry and have taken on some of my positive thinking. Whatever your situation, make the most you can of each and every day, be nice to people and laugh as much as possible.
"And when life gives you lemons, pop them into a large G & T. I have my own gin now, you know …Cheers!"
As we left The Greenyards, a strange, celestial light seemed to illuminate the previously gloomy sky. It's just the floodlights, someone suggested. Maybe.