The BBC appears to have pulled Football Focus from its schedule, with Bargain Hunt showing in its place.
Pundits have also pulled out of presenting the Final Score programme according to reports by the BBC.
Alex Scott tweeted about her decision not to front today's show writing: "I made a decision last night that even though I love my show and we have had an incredible week winning an SJA for Football Focus that it doesn't feel right for me to go ahead with the show today," the former Lioness says.
"Hopefully I will be back in the chair next week…" she adds.
Sports presenter Kelly Somers also confirmed she would not be on the BBC today after reports linked her to a move to replace Scott on Football Focus.
"Just to confirm I won't be on BBC television today," she wrote on a tweet.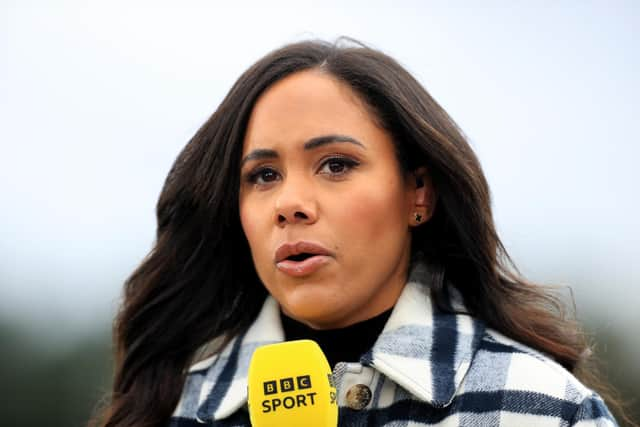 Jason Mohammad said he will not be presenting the BBC's Final Score programme on Saturday.
He tweeted: "As you know, Final Score is a TV show very close to my heart.
"However – I have this morning informed the BBC that I will not be presenting the show this afternoon on BBC One."
Pundits Alan Shearer and Ian Wright announced on Friday their boycott of this weekend's highlights programme after the BBC said it had "decided" Lineker would take a break from presenting the show until an "agreed and clear position" on his use of social media had been reached.
Sports reporter Marc Webber tweeted: "As Final Score reporters, we have decided to stand down from our duties today in solidarity with Gary Lineker. As a result, no Final Score will be broadcast today.
"We all love the BBC and are proud to work for such a great broadcaster.
"More importantly, we consider it an absolute honour to keep people up to date on football on a Saturday at 3pm. A lot of work had already gone into today's show. Many of us are freelancers -only paid per game. We have made a salary sacrifice today.
"But I can't stand by and see a colleague unsupported like this for a personal opinion which did not break BBC Editorial Guidelines. Please also be kind to other BBC Sport colleagues who will still be working because they will not have the luxury of choice we have."