Football's first world superstar Pele was laid to rest on Tuesday after thousands turned out to pay their final respects. Edson Arantes do Nascimento, who was known throughout his career as Pele, had lain in state for 24 hours in an open coffin draped with both Brazil and Santos flags on the pitch at the stadium in the city's Vila Belmiro neighbourhood to allow fans and dignitaries to file past.
However, the FIFA president was criticised after posing for a selfie metres from Pele's open casket.
A photo, released by the Reuters news agency, showed the most powerful man in world football holding up a mobile phone as he stood next to some of the Brazilian great's former team-mates, including Lima.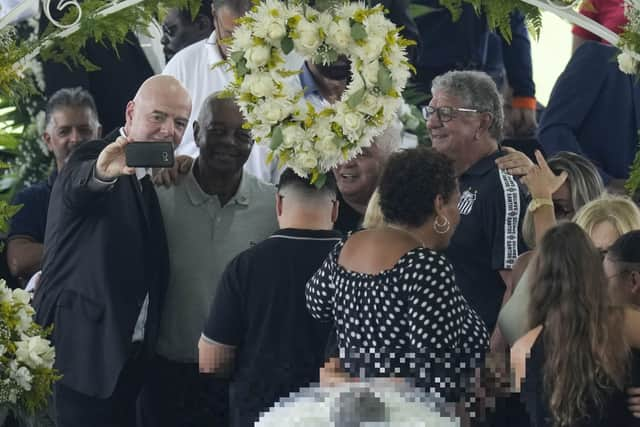 Following the picture, the head of FIFA was labelled by some Twitter users as "classless", a "disgrace", "horrible" and "disgusting" with one user writing: "Thought it couldn't get any worse than Blatter. He's fifty times worse"
In an Instagram post, Infantino said family members and former team-mates of Pele had asked him for a photograph and he was happy to oblige.
He added: "I have so much respect and admiration for Pele and for that ceremony yesterday that I would never do anything that would be disrespectful in any way whatsoever.
"I hope that those who published or said things without knowing and without seeking information could have the decency and courage to admit they were wrong and correct what they said."
Infantino, who has urged each of FIFA's 211 member associations to name a venue after the former Brazil striker, revealed that the pitch at the governing body's headquarters in Switzerland would now be known as 'Estadio Pele – FIFA Zurich'.