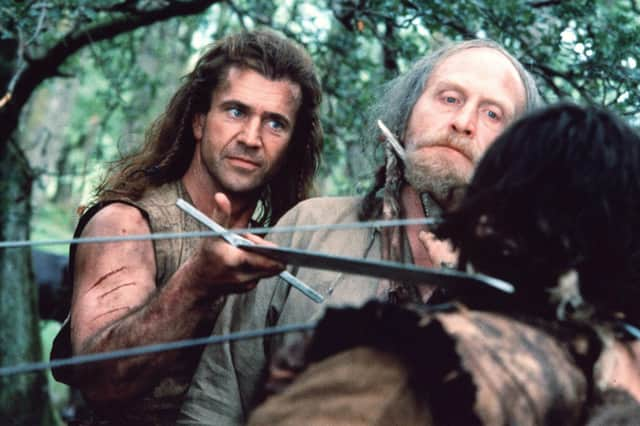 Cosmo, 75, starred in Mel Gibson's 1995 Oscar-winning epic about William Wallace, playing the freedom fighter's right-hand man, Campbell.
The movie features some of the most bloody and dramatic battle scenes ever shot, including Wallace's greatest victory in Stirling in 1297, which featured thousands of sword and axe-wielding extras.
But Cosmo said some "gory" footage was cut from the film, which had a 15 certificate in the UK.
He said: "Mel wanted to give people the impression of how bloody and terrifying it was in hand-to-hand combat and the charge of the heavy horses.
"I remember him saying that the final edit was gory but it was nothing compared to the stuff that they left on the cutting room table. They thought, 'we can't put this in, it's just too much' -- an awful lot more evisceration of people.
"I think if they'd made it even more graphic, they might have diminished the audience slightly and younger kids couldn't go to see it."
Cosmo recently unveiled a new floodlighting system at Stirling's historic "Old Brig" -- the 500-year-old footbridge that crosses over the River Forth at the site of the 1297 Battle of Stirling Bridge.
The iconic crossing is now permanently illuminated after dark to highlight the significance of the surrounding landscape where Wallace and his co-commander Andrew de Moray joined forces to defeat a vast English army.
In the battle, Wallace and Moray allowed part of the English army to cross the then-wooden bridge before launching their attack. But the bridge that was pivotal to their historic victory was a glaring omission from Braveheart.
Cosmo said: "I was aware of the reality -- it was called the Battle of Stirling Bridge for an obvious reason -- but it was a complex battle.
"It wasn't just two sides lining up, but almost a guerilla battle -- wait until they're at their weakest and attack. It was very very clever but it would have been a lot more difficult and time-consuming (to film).
"I think from the very get-go they just wanted a big battle and they got it. To tell the story of the Battle of Stirling Bridge you could almost make a movie about that itself."
Cosmo hailed the impact of Braveheart and insists the film -- which won five Oscars including Best Picture at the 68th Academy Awards -- and its incredible battle scenes have stood the test of time.
He said: "I remember sitting with (Braveheart scriptwriter) Randall Wallace. We were having a pint and I said to him 'I think this is going to have a tremendous effect in Scotland' and he said 'Nah James, it's just a movie, just a story' but boy was I proved right.
"The reaction when we had the premiere in Stirling was quite extraordinary. I've never been to anything like that where when the lights went up after the film I turned around and everyone was in tears.
"People -- even young kids -- still say to me 'I've just watched Braveheart'. There's not many films you can say are as fresh today as they were 30 years ago.
"I have a theory about that because, in the big battle scenes, we had 3500 extras and there is something special about the fact that all those people were real people. CGI is not the same."