An unexploded ordnance was discovered on Wednesday morning at Castle Terrace, Invergordon, with three streets also closed as a result of the discovery.
Explosive Ordnance Disposal are currently at the scene which has seen Invergordon Academy, which has more than 730 pupils closed – with the public urged to stay away from the area as emergency services deal with the incident.
A Royal Navy spokesman described the ordnance as historic and said bomb disposal experts were at the scene.
A navy spokesman said: "We can confirm that Charlie Squadron from the Faslane-based Diving Threat and Exploitation Group are attending the incident in Invergordon.
"They have dispatched a Royal Navy bomb disposal officer to the scene and are liaising with Police Scotland to deal with an item of historic ordnance which was found by a metal detectorist."
The ordnance was discovered on Tuesday evening by a group of metal detectorists,
Ryan Junor who was trying out metal detecting for the first time with the group said they were made aware that it could be a mortar bomb after posting an image of the find on a metal detectorist social media pages.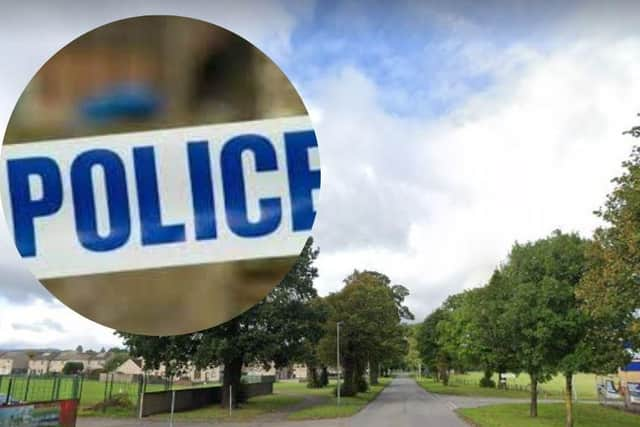 He told the BBC: "It was my first time doing it. We went up to the old bomb shelter in Invergordon and we quickly came across something, dug round it and we took it and took some photos of it.
"We didn't know what it was, it looked like an old heavy bottle, maybe an old shell. I posted some pictures onto a metal detecting page on Facebook and then quickly people were replying back telling us it was perhaps a Stokes Mortar bomb and just to leave it and contact the police."
A Police Scotland spokesperson said: "Emergency services are in attendance at Castle Terrace, Invergordon after an unexploded ordnance was found.
"Police in Invergordon are currently dealing with an incident at Castle Avenue and as a result a portion of the road between the junctions of Gordon Terrace and Academy Road is shut.
"Davidson Drive is also shut with no vehicular or pedestrian traffic permitted.
"Invergordon Academy will be closed until this incident reaches a conclusion.