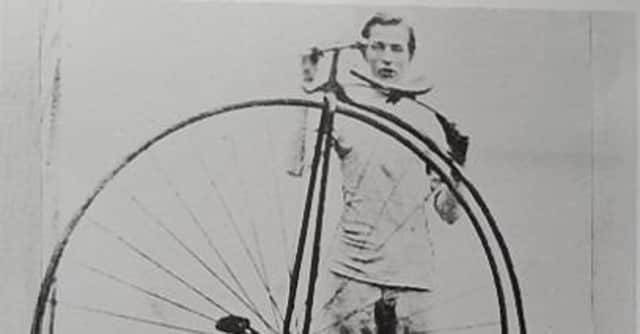 Mark Fraser, the owner of the Pedal Power cycling shop in Inverurie, was made aware of an online article that detailed the story of Mr Keith-Falconer, who was born in Edinburgh but brought up between family homes in Keithhall and Brighton.
Mark, who himself is a keen cyclist, and brought up and attended school in Inverurie, said it was a fascinating connection to the Garioch town.
He said: "Having just had the opening stage of last year's Tour of Britain come through the centre of Inverurie and with the biggest ever World Championship cycling event in history coming to Glasgow and across Scotland later this year, it is amazing that there is a link to Keithhall and Inverurie, through the achievements of Mr Keith-Falconer. By all accounts he was a very skilled rider and one of the best cyclists of that time, as in addition to his racing exploits, he completed the famous Lands End to John O'Groats route in 13 days in 1882, an amazing feat considering the types of bicycles available at that time."
Follow up work by Museum and Cycle Aberdeenshire staff from Live Life Aberdeenshire, has revealed two books that shine a greater light on his cycling achievements, with the first being a biography of Keith-Falconer's life written in 1890 by the Reverend Robert Sinker, who was a Librarian at Trinity College in Cambridge. In his book, the Reverend Sinker details Mr Keith- Falconer's early life at Keithhall and Inverurie, his time at university and his later life where he was a missionary and Arabic scholar, prior to his early death aged thirty-two in Aden from malaria.
Cycle Aberdeenshire, who have been researching the background of Mr Keith-Falconer's cycling career, have now highlighted accounts from the 1890 publication by the Reverend Sinker, of his early life at Keithhall where he would often frequent Inverurie. His future work as a missionary appeared to have shown some early indications during his time in the Garioch, through accounts from the children's nurse at the Keithhall estate recalling the young Keith-Falconer using his pocket money to buy ginger snaps from a shop in Inverurie and then, despite his own fondness for the treat, giving them to a hungry child he met on his way back to Keithhall.
It was to be at Cambridge, where Keith-Falconer would balance his studies alongside his cycling achievements, and during this time he secured the unofficial title of World Cycling Champion, after winning a two mile race at Stamford Bridge in 1878 organised by the National Union of Cyclists. Until the creation of the Union Cycliste Internationale (UCI), the National Union of Cyclists events were considered to be the unofficial championships of the world.
With the UCI now about to see the 2023 World Cycling Championships in Glasgow and across Scotland between August 3 and 13, the discovery of the Keith-Falconer story brings an inspirational link to Inverurie and Aberdeenshire, which has seen world class cycling events on its roads through the Tour of Britain's visits in 2021 and 2022.
Renowned cycling historian and author Jim McGurn, in his book 'The Illustrated History of Cycling' confirms that Mr Keith-Falconer was the eminent rider of the time, although he stayed as an amateur throughout his racing career and his education was very much his focus, with cycling providing a release from those studies.
He said: "He was six foot three inches tall, an exceptional height for the period, even for an aristocrat of well-nourished stock. He could master a very high machine which gave him a competitive advantage. Although he may have been the fastest cyclist in the world, his cycling interests were of secondary importance to him. So amateurish was his attitude that on at least two occasions he forgot about his racing engagements and turned up at short notice to win in heroic style. Despite his show of dilettantism, Keith-Falconer was virtually impossible to beat."
The current Earl of Kintore, Jamie Keith said: "I am delighted to see this story from my families past, being brought into today's perspective ahead of the major cycling events taking place in Glasgow and across Scotland later this year. Ion's achievements as a cyclist, as recorded by those present at the time and later authors, stand up well to modern day racing cyclists given the changes in technology and bicycle design since his time, and it is fitting that his unofficial title as the world's best cyclist of that time, has been highlighted before the worlds current best cyclists arrive in our country this August to stake their claim for similar titles."
Councillor Judy Whyte, Provost of Aberdeenshire, who was brought up on her family's farm on the Keithhall Estate, was delighted to hear of Mr Keith-Falconer's status as a cyclist: "As someone who was brought up on the Keithhall Estate and as a passionate follower of the history of Inverurie, I was thrilled to hear that Mark had been made aware of the story of Mr Keith-Falconer. Whilst the times he competed in as a cyclist were quite different to the world we know now, it has been fascinating to read, thanks to the further research by Live Life Aberdeenshire staff, not only of his cycling exploits but also his early upbringing at Keithhall and Inverurie, his further education and his work as a missionary."