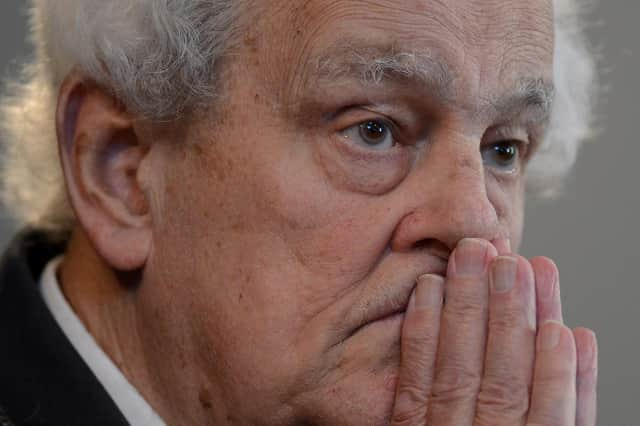 Others include former SNP leader Gordon Wilson, High Court judge Lord McCluskey, legendary Celtic footballer Tommy Gemmell and Bletchley Park code-breaker Ethel Houston.
The dictionary, which runs to 60 volumes, now contains life stories of 64,071 people who died in or before 2017.
Tam Dalyell (1932-2017), who was MP for West Lothian, 1962-83, and then Linlithgow, 1983-2005, is described as "an unusual, independent, and often idiosyncratic figure in the Labour Party". He was a baronet and therefore officially "Sir" Tam, but the dictionary notes he "rarely used the title".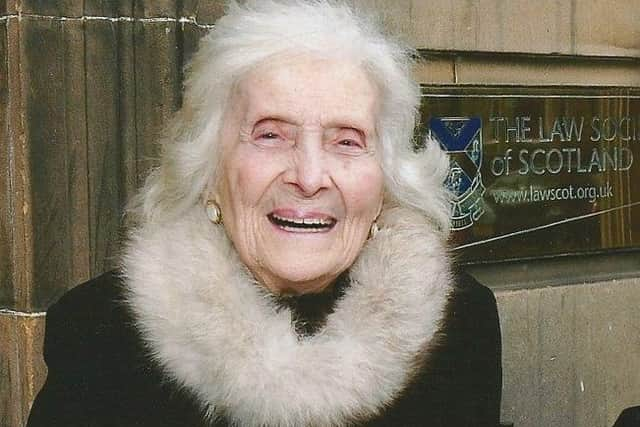 "He was an implacable enemy of government secrecy and foreign intervention, a dogged investigator of cover-ups, a scourge of Margaret Thatcher, and a fierce opponent of devolution."
His entry highlights his famous "West Lothian question" about devolution meaning Scottish MPs were able to vote on purely English matters but not vice versa.
And it quotes the late Tony Benn's comment that Mr Dalyell made "good points" but "always raises them at the wrong time".
Lord (John) McCluskey (1929-2017), who came from a Labour family, went to Edinburgh's Holy Cross Academy and Edinburgh University, and qualified as a lawyer.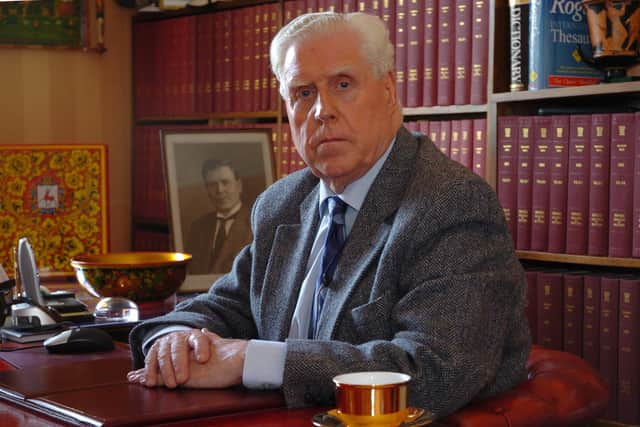 The dictionary says his most famous case in 1973 was successfully defending Paul McCartney on drugs charges.
He was solicitor-general for Scotland in the Labour government from 1974 to 1979 and was made a life peer in 1976 to steer devolution legislation through the House of Lords. He served as a High Court judge from 1984 to 2004 and in retirement he chaired two reviews for the Scottish Parliament, on appeals from Scotland to the Supreme Court, and on the implementation of the Leveson report on the conduct of the press.
Gordon Wilson (1938-2017), who was as MP for Dundee East from 1974 to 1987 and leader of the SNP from 1979 to 1990, joined the party on leaving Edinburgh University.
The dictionary says: "For a while he masterminded the clandestine Radio Free Scotland, and in the early 1970s his research on the North Sea oil industry led to the 'It's Scotland's Oil' campaign and a dramatic uplift in support for the party."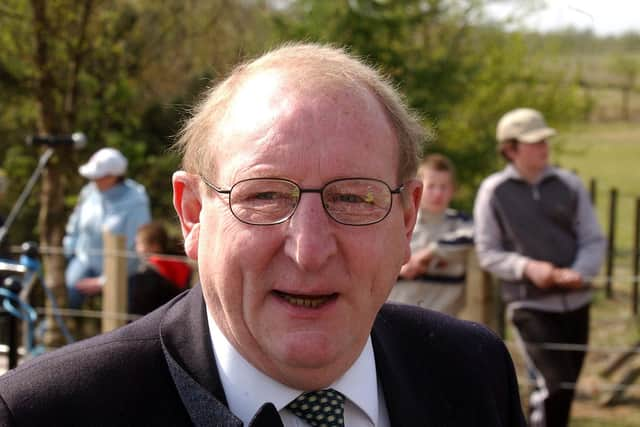 And it says his leadership in the bitter Thatcher years and following the failed devolution referendum "ensured the party's unity and survival and arguably positioned it for its electoral success of the 1990s onwards under Alex Salmond".
It adds: "A devout Christian and member of the Free Church, he later found himself out of step with SNP policy on LGBT rights but was listened to with respect by party members."
Canon Kenyon Wright (1932-2017), who led the cross-party Scottish Constitutional Convention, which drew up the blueprint for the Scottish Parliament, spent more than a decade as a Methodist missionary in India before returning to the UK and re-licensing as an Anglican priest in order to serve as Coventry Cathedral's first director of international ministry. He returned to Scotland as general secretary of the Scottish Churches Council.
The dictionary describes him as "a Christian socialist, appalled by Thatcherism" and notes his own bid to become a Lib Dem MSP came to naught, and in 2014 he urged Scots to vote Yes to independence.
Footballer Tommy Gemmell (1943-2017), one of the legendary Celtic 'Lisbon Lions' who won the European Cup in 1967, was born in Motherwell and, despite being a Protestant, signed for the club in 1961.
But the dictionary notes he was still an electrician's apprentice when he made his first-team début in 1963.
"In total he spent 10 seasons with the club, making 418 appearances and netting 63 goals (including 31 from 34 attempts from the penalty spot). He was also capped for Scotland 18 times.
"He later played for Dundee, whom he led to victory in the 1973 League Cup final and where he later became manager (steering the club back into the Scottish Premier League in 1978-9). For several years he ran the Commercial Hotel in Errol."
Outspoken Tory MP Sir Teddy Taylor (1937-2017) joined the party at Glasgow University and represented the Progressives on Glasgow Corporation before becoming MP for Glasgow Cathcart in 1964, at the time the youngest MP.
"His political views on Rhodesia and later South Africa, on Europe, and on other issues placed him on the right of his party."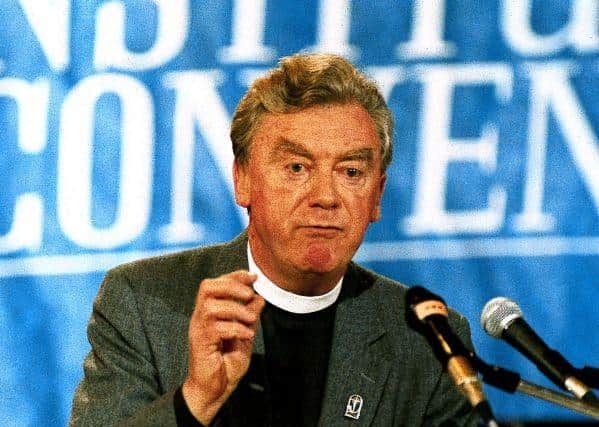 He lost his seat in 1979, just as the Tories came to power under Margaret Thatcher, but a year later was elected MP for Southend in a by-election.
"He was one of the Maastricht rebels against John Major, campaigned against devolution, and voted in favour of the invasion of Iraq. Her regarded the vote for Brexit in 2016 as a vindication of his stance."
Trade union leader Sir Gavin Laird (1933-2017), who was born in Clydebank and left school at 14 to take up an engineering apprenticeship, quickly became involved in the Amalgamated Engineering Union. He was appointed a full-time official in 1972 and general secretary of the now-renamed Amalgamated Union of Engineering Workers in 1982.
" By then he had long left behind his youthful Communism, and he was one of the leading modernisers in the trade union movement. Fast-talking, eloquent, and combative, he clashed with Arthur Scargill over the miners' strike and with other unions over single-union agreements."
Wartime codebreaker Ethel Houston (1924-2017), was born in Edinburgh, the daughter of Scottish missionaries, and read law at Edinburgh University, graduating at the age of 19.
"Her apprenticeship at Balfour & Manson was interrupted by call-up for war service, and for 18 months she worked as a cryptanalyst at Bletchley Park."
After helping to break Nazi encryptions she returned to Edinburgh. "She rejoined Balfour & Manson, and remained there until her retirement in 1994, becoming the first woman senior partner in a Scottish law firm. She was well known for her support of charities, her public service, and her busy social life."
Headmaster Sir Roger Young (1923-2017) was also the son of missionaries. Born in India, he was educated in England and was 17 before his parents retired to Edinburgh. "He was marked out as a high-flier while teaching at Manchester Grammar School. In 1958 he became headmaster of George Watson's College, Edinburgh. Turning down the headship of Westminster School among others, he remained at George Watson's for 37 years, overseeing the amalgamation with George Watson's Ladies' College and proving an outstanding leader of the independent schools sector."
Former Radio Forth boss Richard Findlay (1943-2017) was born Dietrich Rudolf Barth in Berlin and moved to Edinburgh aged three when his widowed mother married a Scottish army captain. "After working for the pirate Radio Scotland, the BBC, and the Ministry of Overseas Development, in 1974 he returned to Scotland as programme controller and then managing director of Radio Forth, and was a key figure in the growth of Scottish Radio Holdings, sold in 2004 for £394 million. A passionate supporter of the arts, he was involved in many Scottish arts organisations, notably as founding chair of the National Theatre of Scotland, and as chair of STV and Creative Scotland."
Pioneering female publisher Stephanie Wolfe Murray (1941-2017), who founded Canongate, was born in England into a well-connected family. The dictionary notes she was a débutante and was featured on the cover of Vogue. "But after her marriage to Angus Wolfe Murray, scion of an ancient Scottish family, she adopted Scotland as her homeland. Her singular contribution was Canongate Books, publisher of Sorley MacLean's collected Gaelic poems, Alasdair Grey's novel Lanark, and Fireside Tales of the Traveller Children, among many other successes."
Artist Philip Reeves (1931-2017) made his home in Scotland after joining the staff of Glasgow School of Art in 1954. "He was an important presence on the Scottish art scene, as an active founder member of Edinburgh Printmakers and Glasgow Print Studio. His own art, much of it inspired by the cliffs and landscapes of north-east Scotland, is represented in many Scottish public collections."
Sir Ewen Fergusson (1932-2017) represented Scotland as a lock forward in five rugby internationals, but according to the dictionary he was described by a team mate as "too nice" to succeed in the game and instead made his name as a diplomat.
He became British ambassador to France. And the dictionary says: "It was while staying with him in 1990 that Margaret Thatcher learned she had failed to win enough votes in the Conservative leadership contest to avoid a second round."
Top civil servant Sir John Blelloch (1930-2017) was born in Edinburgh, the son of a colonial official. "He joined the civil service on graduation from Cambridge, serving for most of his career in the War Office and its successor, the Ministry of Defence. "He also served as deputy secretary at the Northern Ireland Office during the hunger strikes of the early 1980s, and later permanent secretary from 1988 to 1990, laying the foundations for a more concerted security strategy aimed at defeating terrorism."
A message from the Editor:
Thank you for reading this article. We're more reliant on your support than ever as the shift in consumer habits brought about by coronavirus impacts our advertisers.
If you haven't already, please consider supporting our trusted, fact-checked journalism by taking out a digital subscription.