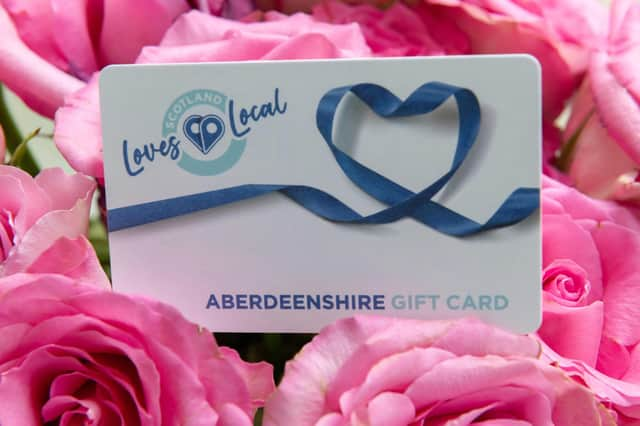 Aberdeenshire Council introduced the gift card - which is supported by Scottish Government – as an effort to power the region's economic fightback from the Covid pandemic.
Scotland's Towns Partnership (STP) - the organisation spearheading the Scotland Loves Local Campaign – delivers the gift card scheme in partnership with Perth-based fintech specialist Miconex.
Businesses which have signed up are enjoying the benefits of the initiative across Aberdeenshire, ranging from clothing retailers to convenience stores, cafes and restaurants to health and wellbeing services. The council is actively promoting the scheme to shops, services and attractions in villages and towns across the region.
The gift card can be used in any of the participating stores across Aberdeenshire and can also be used online at participating retailers, provided that retailer has a physical presence in the region.
Aberdeenshire Council recently announced that more than 11,300 households will soon be in receipt of a £100 pre-paid gift card later this month to support households with the challenges around the cost of living which is being financed by the Scottish Government's Local Authority Covid Economic Recovery Fund (LACER).
There is no limit to the number of transactions or shops the card can be used in, as long there are funds on the card. The instructions on how to check the balance on the gift card are written on the reverse of the card.
There is no restriction on the type of goods which can be bought using the card other than the standard age-restricted products which apply to any purchases.
Cllr John Crawley, chair of the council's Infrastructure Services Committee, said: "It's heartening to see an ever-increasing take-up of the Aberdeenshire Loves Local Gift Card and it continues to be the perfect way for people across the north-east to show their support for their local businesses in these challenging economic times. More and more businesses – whether they be in some of our smaller villages or larger towns – are beginning to appreciate that the gift card is a quick, efficient and cost-free way to encourage customer spending and that can only help drive sales within our retail and service sectors."
Vice-chair Cllr Isobel Davidson added: "We are fortunate here in Aberdeenshire to have such an abundance of both independent stores and national chains and the Scotland Loves Local Aberdeenshire Gift Card provides both our communities and visitors opportunities to support them all - whether that's buying groceries, eating out or making use of services such as our beauty salons, florists or opticians.
"This is a perfect way of supporting our wonderful businesses and I would encourage other businesses to join the initiative without delay."
For more information go to www.lovelocal.scot/giftcard