MPs and MSPs urge new First Minister to address major issues facing north-east
North-east MPs and MSPs have urged new First Minister Humza Yousaf to perform a "hard reset" of his party's relationship with the north-east and address major issues facing the region.
The north-east Scottish Conservative group wrote to the new SNP leader following his election at Holyrood.
In their letter, they congratulated Mr Yousaf as the first person of a minority ethnic background in the First Minister's office, following Prime Minister Rishi Sunak's similar distinction at the UK Parliament.
But they have identified a "raft" of policy changes the SNP must consider to benefit north-east residents.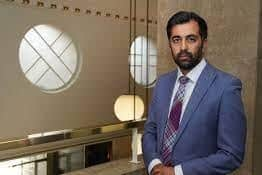 And the continuing Bute House agreement with the Scottish Greens has caused a "dysfunctional shift" between Mr Yousaf's party and an area yet to benefit from the "just transition" as promised.
In the letter, they say: "We know, as you do, that this is an incredible bugbear for your northern colleagues at Holyrood and at Westminster, and has caused a dysfunctional shift in government accountability, to the extent that your fellow SNP leadership contenders were quickly able to reel off failures and forgotten pledges from the past 16 years of leadership.
"As an aid to memory, we have recounted a raft of six areas in which the SNP government must perform a hard reset of policy.
"The tenacious refusal to do anything at all on vital arterial routes the A96, A9 and A90 north of Aberdeen haunts your local representatives while the number of fatal and serious accidents increases each week.
"The SNP/Green coalition so far has been hostile to North Sea oil and gas, alarming the 70,000 Scots who work in the industry who rightly feel worried about the future.
"There is a dearth of teachers in rural Aberdeenshire in particular, and central government has paid little attention to helping new starts our way.
"And there are pressing demands for rural broadband to be rolled out in a more timely manner.
"We would appreciate any insight into your government's plans to solve these issues to the benefit of people who live and work across our constituencies."