No 10 raised the prospect that the talks could produce a breakthrough moment after months of negotiations with Brussels about fixing the protocol.
The Conservative Party leader, following on from his discussions with the EU chief, is planning to brief his Cabinet before potentially announcing to voters and MPs the details of any agreed deal.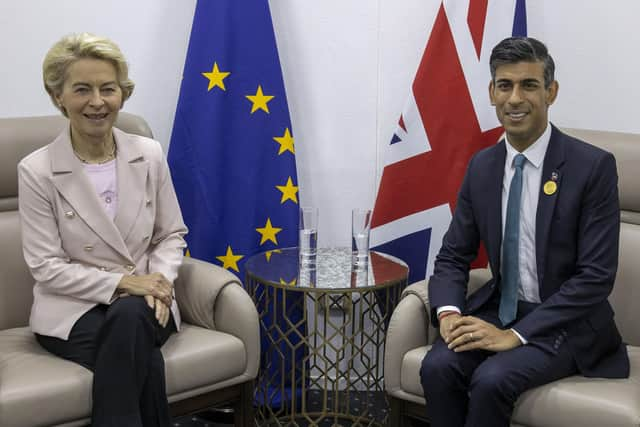 Mr Sunak told the Express.co.uk that should he shake hands with Ms von der Leyen on a pact that "works for all", it would "show that Brexit truly works and will finish the job".
He added: "This deal will work better for business and communities and get goods moving.
"It will resolve the issues so we can all move forward. This will give Northern Ireland control of their own destiny. This is something very positive."
But the protocol D-Day comes fraught with risks for the Prime Minister.
Tory former Cabinet minister Jacob Rees-Mogg said Rishi Sunak may not have done enough to persuade the Democratic Unionist Party to return to powersharing in Stormont.
He told ITV's Good Morning Britain: "From what I've heard, he (Rishi Sunak) has done very well, but I'm not sure he has achieved the objective of getting the DUP (Democratic Unionist Party) back into powersharing, which is the fundamental point of it."
Downing Street has not fully committed to giving Parliament a vote on the agreement, as demanded by the European Research Group (ERG), made up of Eurosceptic Tory MPs.
The Times, however, reported that Cabinet ministers had briefed MPs that they could expect to have their say on at least "part of the deal".
The protocol, signed by former prime minister Boris Johnson in 2020, was designed to prevent a hard border with Ireland after Brexit, with Northern Ireland continuing to follow EU rules on goods to prevent checks being needed when crossing into the Republic.
But the trade barriers between Northern Ireland and Great Britain created by the treaty has created Unionist tension, with the DUP collapsing powersharing in Stormont last year in protest at its impact.
DUP leader Sir Jeffrey Donaldson has issued seven tests that Mr Sunak's new pact will have to meet in order to win the party's backing, including addressing what he calls the "democratic deficit" of Northern Ireland being subject to EU rules while not having a say on them.
No 10 officials said Mr Sunak would be entering into the talks with Ms von der Leyen looking to "return sovereignty to the people of Northern Ireland".
"The Prime Minister wants to ensure any deal fixes the practical problems on the ground, ensures trade flows freely within the whole of the UK, safeguards Northern Ireland's place in our Union and returns sovereignty to the people of Northern Ireland," Downing Street officials said.
He will speak with the EU leader at lunchtime before holding a virtual Cabinet session from Windsor to brief them on what he has managed to secure.
Those most closely involved, including Foreign Secretary James Cleverly — who has met regularly in recent weeks with commission vice-president Maros Sefcovic — and Northern Ireland Secretary Chris Heaton-Harris, are expected to join him in person.
Should London and Brussels sign-off on a protocol revision, Mr Sunak and Ms von der Leyen will hold a joint press conference.
Mr Sunak plans to travel to Westminster afterwards to give a statement in the House of Commons.
If an agreement is announced on Monday, it is not known whether Downing Street plans to revisit the idea of the German politician meeting Charles.
No 10 was reportedly keen, had a protocol solution been unveiled on Saturday, to brand it the "Windsor Agreement".
The cancelled plans were seized upon by critics, with the Prime Minister accused by DUP MP Sammy Wilson of "dragging the King into a hugely controversial political issue".
There has been little detail from No 10 on what is currently on the table in terms of a fresh pact but Deputy Prime Minister Dominic Raab appeared to hint at what might be in a new deal during interviews on Sunday.
Mr Raab indicated that reports of check-free lanes for goods coming from Great Britain into Northern Ireland were correct and that efforts had been made to give Belfast a role in approving new EU laws that would apply to the province.
The Leave campaigner said the reduction in trade red tape would lead to a "substantial scaling back" of the role of the European Court of Justice (ECJ), but he refused to rule out it having a say on future legal cases.
A Government source quoted by The Times said the Prime Minister had obtained "far-reaching" concessions from the EU.
The newspaper said that Northern Ireland may still have to follow future EU rules but that they would only be imposed "after consultation with London and Belfast".