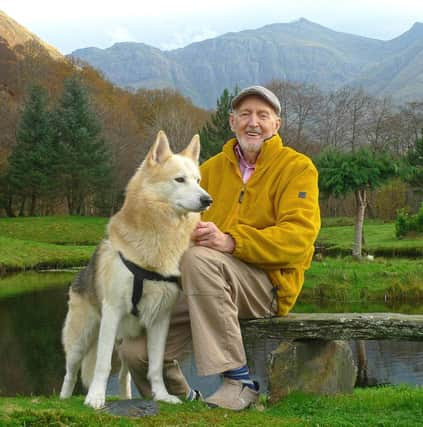 Hamish MacInnes was a world-renowned mountaineer well known for his association with Glencoe, whose mountainous landscape he loved and where he lived for more than 60 years till his recent death.
A veteran of 20 international expeditions including four to Mount Everest and the Himalayas, he also climbed in the Alps, the Caucasus, South America, New Zealand and throughout Scotland. He was at the forefront of mountain rescue as founder of the Glencoe Mountain Rescue Team in 1961, which he served with distinction as leader for over three decades. Hamish wrote the International Mountain Rescue Handbook in 1972, the standard global manual on the subject – it has been translated into ten languages and continues to be in print.
Keen to improve mountain safety, he was also a technical innovator whose invention of an all-metal ice axe and a lightweight folding stretcher for rescues – which became known as the "MacInnes stretcher" – were landmark developments that were widely used and much lauded. Author of 26 books on mountaineering topics, including fiction, Hamish became heavily involved in film and documentary work, which included making his own programmes and acting as safety and location adviser, climbing double and stunt man. Films he worked on included The Eiger Sanction, Highlander and Monty Pytho n and the Holy Grail.
Hamish MacInnes was born in Gatehouse of Fleet, Kirkcudbrightshire, the youngest of five children born to Katie (nee Macdonald) from Skye and Duncan from Fort William. His father had been in the Chinese police in Shanghai before serving in the British and Canadian armies during the First World War, after which he settled in Gatehouse and ran a store. It was not until the family moved to Greenock towards the end of the Second World War that Hamish's involvement in mountaineering began.
That interest was sparked by neighbour Bill Hargreaves, a tax inspector during the week and enthusiastic weekend mountaineer. He began taking Hamish with him on excursions on his motorbike laden with equipment and soon Hamish had climbed the Cobbler at Arrochar, in plimsolls. Aged 16, during a trip to Switzerland, he climbed the Matterhorn, by which time his serious mountaineering career was gathering momentum, and National Service spent in Austria afforded further opportunities for climbing.
One lesson Hargreaves instilled in Hamish was the importance of safety, which he never forgot, earning him the nickname of "MacPiton", given his regular use of pitons. Competence led to increased confidence as far as Hamish was concerned, as he began testing himself on difficult Glencoe mountains, often cycling there and back. Climbs there included the well- known peak of Buachaille Etive Mor, where he was involved in the first ascents of Crowberry Ridge Direct, Agag's Groove and Raven's Gully. He also completed the first winter ascent of Zero Gully on Ben Nevis, the scene of earlier fatalities, and the first winter crossing of the Cuillin Ridge in Skye with colleague Tom Patey.
He was tenacious and focused on improvement, taking inspiration from the words and deeds of Scottish mountaineers such as WH Murray, Ben Humble and Tom Weir.
In 1953, with colleague John Cunningham, Hamish went on an audacious and unauthorised attempt to climb Mount Everest, only to discover at base camp that Hillary had beaten them to it. Undeterred, they went up nearby Pumori, a 23,000ft peak previously unclimbed, but were defeated by extreme weather 1,000ft short of the summit. In 1972 another Everest expedition was thwarted by extreme weather, but in 1975 the south west face ascent, with Hamish as deputy leader to Chris Bonington, succeeded, albeit an avalanche prevented Hamish reaching the top. Other achievements included climbing the Bonatti Pillar of the Dru, Mont Blanc, despite suffering a fractured skull in a rockfall, and the ascent of the overhanging prow of Mount Roraima on the borders of Brazil, Venezuela and Guyana, with the dangers of its 1,300ft cliffs and scorpions, tarantulas and vipers.
Having worked as a metallurgist and engineer in the Glasgow area, Hamish determined to convert his climbing enthusiasm into a way of life, and by the late 1950s he had settled in Glencoe, where he would remain, latterly designing and building his own house just outside Glencoe village. He set up his own climbing school with the focus on winter mountaineering and was an inspiring leader of the local Mountain Rescue Team, which came to the aid of countless climbers. In his book about the Rescue Team, Call Out, Hamish wrote: "There is nothing more satisfying than the successful evacuation of a critically injured person…it is on a grand scale a game of chance in which nature holds most of the cards". Furthering the cause of mountain safety, in 1965 he set up the Search and Rescue Dog Association and, with Eric Langmuir, the Scottish Avalanche Information Service, both initiatives influenced by observing mountain guides' activities in Austria.
In 2014 he was misdiagnosed with dementia leading to being sectioned for over a year in psychiatric hospitals before a correct diagnosis of urinary tract infection was made, allowing him to return home, but bereft of memory. In the film, The Final Ascent, his remarkable recovery of memory by reading his own books is portrayed.
He was married to Catherine for ten years before the union was dissolved in the 1960s. Awarded the BEM and OBE and many honorary doctorates, he was a gregarious yet individualistic figure, well integrated in the Glencoe community and highly regarded worldwide.
A message from the Editor
Thank you for reading this article. We're more reliant on your support than ever as the shift in consumer habits brought about by coronavirus impacts our advertisers.
If you haven't already, please consider supporting our trusted, fact-checked journalism by taking out a digital subscription.