Obituary: Kristin Linklater, Scot who helped global stars find their voice
Kristin Linklater, voice and acting teacher. Born: 22 April, 1936 in Edinburgh. Died: 5 June, 2020 at Quoyloo on Orkney, aged 84.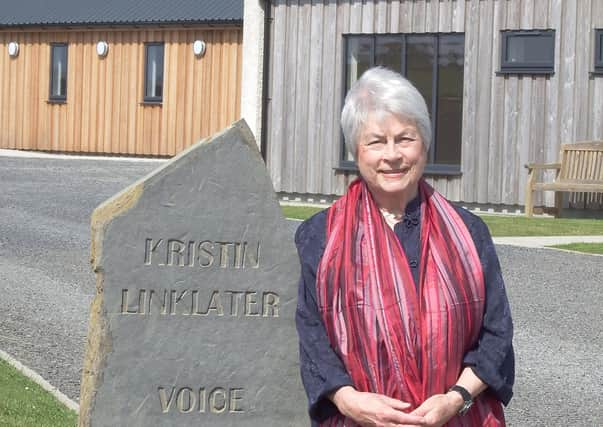 When Kristin Linklater went to the United States to offer voice classes to actors in the 1960s she thought it would be for three months.
In fact she stayed for 50 years, helping stars of the magnitude of Bill Murray, Sigourney Weaver, Sam Rockwell and Mary Tyler Moore to channel their natural voices in their acting and she ended up as Professor of Theatre Arts at the prestigious Ivy League Columbia University in New York.
The daughter of the famous Scottish novelist Eric Linklater, she had already made her mark in London, where her pupils included a young Brian Cox and Donald Sutherland. And they were among the hundreds paying tribute after her death in Orkney, where she spent much of her childhood and where in her seventies she established a teaching centre that attracted actors from all over the world.
The "Linklater Method" was enormously popular as far afield as China and Taiwan, despite them having their own ancient and fairly rigid approach to theatre arts.
On one visit to China, Linklater was shocked to find a poster of herself much the same size as a nearby poster of Chairman Mao. And just a week before her death she gave a keynote speech, via the internet, to a drama conference organised from Shanghai.
Kristin Linklater was born in Edinburgh in 1936, to Eric Linklater, the author of Juan in America and Laxdale Hall and one of the founders of the Scottish National Party, and his wife Marjorie, an actress and arts and environment campaigner. She was the second of four children – Alison became an artist, Magnus is a journalist and former editor of The Scotsman, and Andro was also a writer.
Kristin and Alison were the inspiration for the mischievous young protagonists in their father's children book The Wind on the Moon, in which the girls drink a magic potion and turn into kangaroos and must rescue their father from captivity in the land of Bombardy. It was one of Eric Linklater's most popular books.
The family were based on Orkney and Kristin attended the local primary in the village of Dounby, before going to St Leonards girls boarding school in St Andrews and then Downe House, in Berkshire, where she was head girl and where she played Romeo in an all-female production of Romeo and Juliet. Forty years later she founded an all-female Shakespearean company in Boston and played King Lear.
Linklater studied at LAMDA, the London Academy of Music and Dramatic Art, and was heavily influenced by Iris Warren, who believed in training actors' voices from inside out, rather than outside in. Linklater had a short spell as an actress with the Byre Theatre in St Andrews before returning to LAMDA and teaching there for six years. Her American students encouraged her to visit the US where, they argued, she might find a demand for her approach to voice and the emphasis on bringing out the subject's natural voice rather than adopting a more artificial theatrical voice. There was a feeling that the voice had been neglected in America in the rush to adopt "The Method", characterised perhaps in the public consciousness by the Brando mumble.
Linklater hoped to find clients for private tuition, but she was quickly taken on by the Lincoln Center for the Performing Arts in New York, and she worked with the Tony and Oscar-winning director Elia Kazan, whose films include A Streetcar Named Desire, On the Waterfront and East of Eden.
She was Master Teacher of Voice in New York University's graduate theatre programme from 1965 to 1978. During this time she also worked as vocal coach at the Shakespeare Festival in Stratford, Ontario, and the Negro Ensemble Company.
She made a conscious decision to have a child as a single parent and in 1978 she left New York, with her two-year-old son, Hamish, to live in Lenox, Massachusetts, where she co-founded Shakespeare & Company, teaching and acting there for 12 years.
In 1990 she took a teaching post at Emerson College in Boston, where she founded the Company of Women, an all-female Shakespeare company which ran workshops and staged productions of Henry V and Lear. In 1997 she moved back to New York City as Professor of Theatre Arts at Columbia University.
Linklater also wrote two influential books, Freeing the Natural Voice (1976) and Freeing Shakespeare's Voice (1992). The former has been translated into French, German, Russian, Italian, Spanish, Polish, Finnish, Korean and Chinese and has sold more than 150,000 copies.
In 2013 she returned to Orkney, where she bought an old farmhouse and createdthe Kristin Linklater Voice Centre, a residential centre offering a range of courses, with free places for Orkney residents. She continued to travel all over the world to talk and teach, but she also became very involved in local island life, put on a production of Macbeth with local actors and sang in opera at the St Magnus Cathedral in Kirkwall.
She is survived by her son Hamish Linklater, an actor who has had recurring roles in the American television series The New Adventures of Old Christine, The Crazy Ones, with Robin Williams, and Legion, with Dan Stevens; granddaughters Lucinda, Gill and Iris, who was born two days after her death; and also by her brother Magnus and elder sister Alison, who is known as Sally.
Comments
 0 comments
Want to join the conversation? Please or to comment on this article.