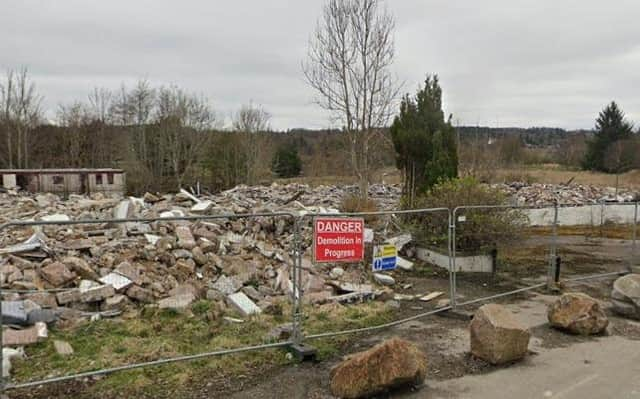 A proposal was submitted to Aberdeenshire Council to turn the "eyesore" site on South Deeside Road into a garden centre, restaurant and five homes.
Flooding from Storm Frank in 2016 forced the hotel to close its doors for good and it was ravaged by fire in February 2021.
Sadly the building was demolished just days later due to safety concerns.
Mike French and business partners Victor and Audrey Sang lodged plans to redevelop the site back in March last year.
The trio, who have owned the site for more than 30 years, initially submitted a plan to build on the site in 2021.
They wanted to transform the 18th Century corn mill building into a cafe while the C-listed antique shop was to be fully renovated.
But it was later refused by councillors despite hopes the development would be seen as a "phoenix rising from the ashes" of the north-east hotel.
However they refused to give up on the idea and submitted a second planning application just a few months later.
Their amended proposal was considered by councillors back in November but they agreed to visit the site before making a final decision.
Council planners had recommended the second proposal also be refused over concerns about flooding and overdevelopment of the site.
They also said the scale and design of the development was "at odds" with the surrounding woodland and believed the proposal would have a "negative effect" on the character and integrity of the old mill.
The application also split opinion with locals as 76 residents wrote to the council supporting the plan while 86 were opposed to it.
Members of the Kincardine and Mearns Area Committee met last Wednesday to decide the fate of the Old Mill site.
Stonehaven and Lower Deeside councillor Sarah Dickinson supported the planners views and believed the plan should be refused.
But North Kincardine councillor Catherine Victor backed the new development and urged the committee to approve it.
She said: "If we don't allow this development to go ahead we will lose the historic building that is already there because it's deteriorating at an alarming rate.
"It needs to be approved because this site has been lying derelict for quite a few years now and will lie derelict for a few more if something is not done."
However after going to a vote the refusal was carried.
Speaking after the meeting Mr French said he and his fellow developers were "disappointed" with the outcome but were looking at how to progress with the site.
He said: "We're disappointed for all the people in that area.
"People use the village hall all the time and the caravan park brings visitors to the area, but there's no facilities.
"We thought we had come up with a solution to preserve the old mill and provide a possibly iconic facility but it wasn't to be."
Mr French also said the trio were "thankful" for those who had supported the plan.