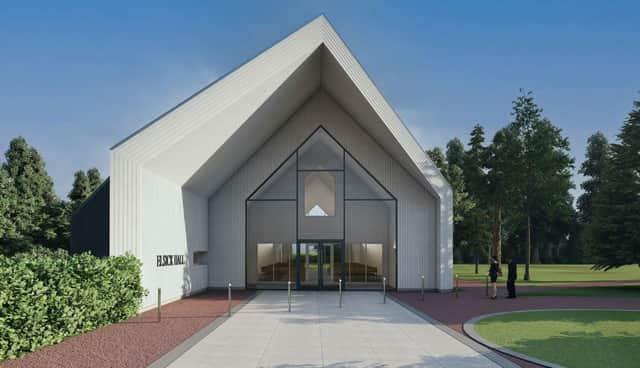 Southesk Farms Limited applied to Aberdeenshire Council for permission to build the new crematorium on the Elsick Estate near Newtonhill.
If approved, the new hall and crematorium would be located next to the walled garden of the historic Elsick House.
The new hall for ceremonies would be built on land previously used as a swimming pool. It would have capacity for 120 seats along with toilets, office space, a private family room and staff facilities.
Elsick House is currently used as a venue for weddings, corporate events and private parties. It can even be booked by guests as a self-catering holiday home.
Plans for the crematorium were first revealed back in November. However the proposal attracted two objections from neighbouring residents.
They raised concerns about air pollution and the impact any potential emissions would have on the health of locals.
North Kincardine Rural Community Council also voiced opposition to the plan, saying it would have a "detrimental" impact on roads and local traffic.
However council planners backed the application.
They said the crematorium design was a "significant visual improvement" to the swimming pool building and "respects the setting and character" of Elsick House.
The application went before the Kincardine and Mearns area committee yesterday.
Members were told that the location of the proposed crematorium was included in the masterplan for Chapelton of Elsick that was approved back in 2011.
The Elsick House site was earmarked specifically for community buildings, however councillor Shirley Burnett wasn't entirely sure about the location.
She said: "I'm pretty certain that if you asked 100 people to name a community facility, none of them would say crematorium.
"I'm absolutely puzzled as to why you'd want to put this in a town centre, whereas the other ones we have in the Shire are in a remote, peaceful location and not surrounded by housing."
Ms Burnett then suggested the committee carry out a site visit before making a final decision.
She wanted more clarity over the distance of the proposed car park from the crematorium.
"It's all very well having a drop-off area but if you have an elderly couple, both of whom might want to walk from the car park, one can't drop off the other," she explained. I want to see how far they would have to walk to get to these facilities."
The committee unanimously backed councillor Burnett's proposal.
Members will now see the Chapelton site for themselves before determining the application at a future meeting.