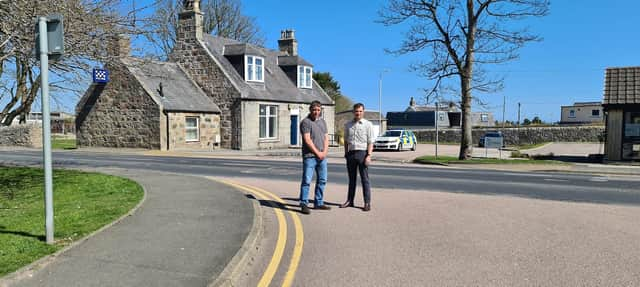 The Scottish Police Authority met last week to discuss a draft document on the future of policing.
Developed by the authority and Police Scotland, the Joint Strategy for Policing 2023 will go to public engagement, before it is finally approved in spring.
Following the meeting, Sir Iain Livingstone announced he will retire as Scotland's Chief Constable, having warned in the document that policing in its current form is "unsustainable".
Andrew Bowie, the Conservative MP for West Aberdeenshire and Kincardine, is campaigning for the retention of Portlethen station.
He previously met serving officer David Threadgold, chairman of the Scottish Police Federation's north area committee, who said the closure could send the wrong message to organised crime.
Mr Threadgold added: "Our concerns extend beyond local policing into national movements of criminals and their response to the removal of police stations in particular areas.
It's also suggested closure of Portlethen police station would lead to a decline in community engagement.
Mr Threadgold continued: "Portlethen will become a satellite of the hub in Stonehaven and the public will only get a resource should they absolutely need it.
"It will become absolutely reactive. There'll be little or no proactive work that takes place by police officers in Portlethen if this place closes."
Mr Bowie said: "Closing stations, particularly this highly visible one on the way in and out of Aberdeen, is not consistent with a key part of the strategy for 2023.
"I would suggest 'modern, visible and accessible policing to local communities' is exactly what is needed in Portlethen, and members of the SPA have agreed with me on this.
"I thank Sir Iain for the 31 years of service he will have given when he retires, but it is telling that he believes policing in its current form is unsustainable.
"This comes as no surprise given that the SNP government in Holyrood expect our police to do more for less on a daily basis.
"Whoever the new First Minister is, they have to commit to fully funding Police Scotland so we can keep local policing active and visible in critically important locations, like Portlethen."