'Save our garden' - locals camp out in Edinburgh park to protest possible housing development
Local councillors and MP Ian Murray have supported the campaign.
Locals have set up camp in a Moredun park to 'save their garden' from a possible housing development amid calls from the local MP and senior councillors for the council to abandon the plans.
Residents of the nearby high rise flats will hold a demonstration on Moredunvale Green this morning, and a petition asking the council not to go ahead with the building of 188 new homes has gained almost 1000 signatures.
Several residents have been camping in protest on the space since yesterday evening, and one has been there for almost a week.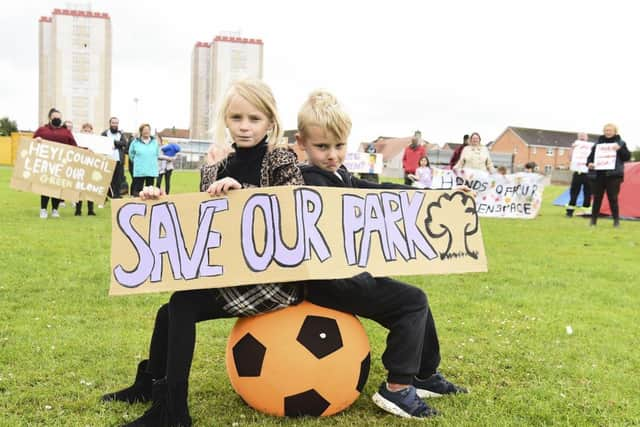 Liberton Councillors Lezley Marion Cameron and Stephanie Smith have slammed the development plans, along with MP for Edinburgh South Ian Murray.
The Moredun Multis and Maisonettes Residents' Association (MMMRA) has been running a campaign against housing development on the park land since the council first listed it as a site for development in 2016.
This has escalated recently as metal fencing appeared around a large area of the space on Thursday June 25 to allow for investigations into whether it is feasible to develop the site.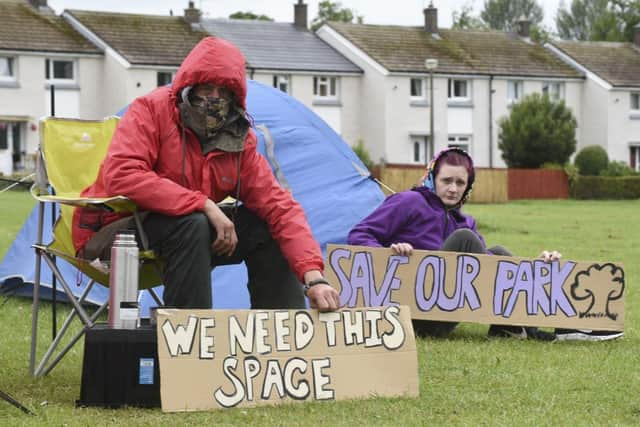 After widespread protest from locals and local politicians, part of the fencing was removed at the start of this week.
The site investigations are still due to take place, with work scheduled to begin today.
"This is the only green space we have; it is effectively the back garden for over 500 households in the high rises and helps combat social isolation," said MMMRA secretary Neil Hansen.
"It's a well used and much loved park. It's the only area where the kids can play, exercise and socialise. It's well used by dog walkers and is used for fun days and community events."
Rachael Thomson, 31, set up her tent in the park with daughters Rachael-Anne, 7, and Trinity, 3.
"I have two children and I want to try and save the green space for them," she said.
"Because we're in a high rise flat it's basically our garden they're trying to take away."
Yvonne MacGregor, 56, began camping yesterday with her 14-year-old grandson Ryan.
"I'll be camping here as long as it takes," she said.
"I just think it's disgusting they want to take away the park. It's our garden, it's where we go to socialise, or where kids go to play. I'm fighting for the park for my grandchildren."
Labour Councillor Lezley Marion Cameron said she was 'astonished' at the way the issue has been handled by the council, with local councillors given just three days notice about the fencing.
She also supports residents in their campaign against the development.
"This is an area of green space that is valued and cherished and looked after," she said.
She added: "Especially if you live in a high rise, your green space matters
Conservative Councillor Stephanie Smith said while she will not be at the demonstration due to work commitments she fully support the campaign.
"It's something I know the local people are really against, and I think it's been made even more clear as people have been stuck in their houses for such a long time that having that green space is really important," she said.
Ian Murray, Labour MP for Edinburgh South, said: "The council is already consulting on the use of brownfield only sites for development so there is no need to take away this well-used and cherished community green space.
"Residents in Moredun feel they are being ignored and it's vital to recognise this is their only green space, and there is already limited infrastructure for the size of the local population."
Residents have also raised the issue of strain on local resources in the case of new housing being built.
Mr Hansen said: "Doctors, dentists and schools are bursting at the seams as it is and parking facilities are already woefully inadequate."
Cllr Cameron said: "The council has land supply city-wide and our priority areas for regeneration and development are North Edinburgh and West Edinburgh, and in North Edinburgh with the waterfront project we've got huge areas of brownfield site the council has purchased.
"My ward and south Edinburgh general has seen a lot of housing development. People need houses but we also need infrastructure – roads schools and doctors' surgeries are all under strain."
A council spokesperson said: We're carrying out some investigations to see whether or not the site could be developed. If it can be we would then go to the community to work with them to discuss what might be possible and what they would like to see for the area.
"Their views would shape any development plans that came forward. But it's important to stress that right now, there aren't any plans. We first need to find out if development would even be possible."