Scotsman Obituaries: Ray Megson, lawyer, rugby player and referee
Ray Megson, rugby player, referee and lawyer. Born: 4 September 1945 in Sheffield. Died: 1 May 2023 in Lauder, aged 77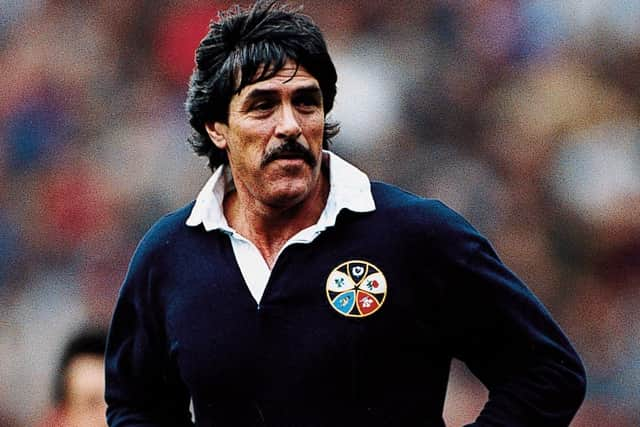 Ray Megson was a very good rugby player, a top class international referee and a successful lawyer who ran his own Edinburgh based firm for over forty five years. He was also a schoolboy international athlete, representing Scotland at triple jump in the British schools' annual contest.
As a rugby player he was an accomplished centre three-quarter stand-off, fast with an eye for a break and good all-round skills. He played at a high level with Edinburgh University and Edinburgh Wanderers, both then among the country's leading clubs, and was twice selected for Edinburgh District. A gifted '7's' player, he enjoyed success in the abbreviated game, most notably with Wanderers at the Amsterdam International Tournament in 1976. Ironically, injury sustained there in 1977 forced him to retire from playing, leading to refereeing.
In 1985 he was appointed to the International Referees' Panel and over the next 11 years officiated at ten full cap internationals and many other high level matches worldwide, including France, Japan, Australia, New Zealand and Hong Kong. David Sole, Scotland's 1990 Grand Slam captain, described him in an article as "an outstanding referee".
After setting up his own eponymous solicitor's firm in 1972, Ray built up an excellent reputation, especially in the field of criminal law defence, and established a sound client base. In 1993 he was one of the first to qualify as a Solicitor-Advocate with rights of audience in the High Court, where he appeared often in a range of serious cases including murder and rape.
Raymond James Megson was born in Sheffield to Rod and Betty. His father was a member of the Royal Australian Air Force and when Ray was very young the family moved to Sydney, where sister Rhonda was born. He had fond memories of learning to play rugby in sunshine, the start of a lifelong love of the sport.
Unfortunately his parents divorced and aged 12 he came to live with his mother in her home town of Newton Stewart, where he attended Douglas-Ewart High School. Initially that was something of a culture shock but Ray adapted well as his sporting talent developed.
In 1964 at the Scottish Schoolboys Championships at Westerlands, Glasgow, he won the triple jump event, which earned him selection for the Schools' International in Cardiff where he contributed to Scotland's 2nd place in the four-cornered match. He was also playing rugby for Wigtownshire in Stranraer and noted as a player with potential.
Although he considered attending PE college, his headmaster pointed him towards a career in law, which he began studying at Edinburgh University. Rugby played an important part in student life with Ray initially playing for the XXX club [2ndXV] and then the 1st XV. One of the strongest teams in Scotland, they twice finished runners up in the Unofficial Scottish Championship and regularly won Scottish Universities titles. Next he joined Musselburgh, whom he captained in 1969/70 before going to Edinburgh Wanderers, with whom he also came close to Scottish championship success and won various '7's' tournaments including the Edinburgh Charity Cup several times, the top try scorer in the 1974 win. He played twice for Edinburgh in 1974, against Northumberland and Cumberland/Westmoreland, attracting favourable press comment.
A shoulder injury in Amsterdam meant the end of playing, much to his disappointment, but it opened the door to a distinguished international refereeing career.
After a demanding debut in 1987 in the Wales v England international – sometimes referred to as The Battle of Cardiff – he took charge of many important fixtures, including Bledisloe Cup games in Australia and New Zealand, Home Nations matches, Hong Kong '7's finals and a Tri Nations game in New Zealand in 1996 between the All Blacks and South Africa, his final appointment. Highly regarded and admired for his knowledge, sense of fair play and fitness, he supported Referees' Societies and advocated their cause with Scottish Rugby.
Professionally he served his apprenticeship with Leith firm Boyd Jameson and shortly after qualifying set up in practice on his own account in 1972 in a Frederick Street office, a bold step and one reflecting self assurance. With his trademark moustache and dashing appearance, he became a well-known and familiar figure in courts throughout Scotland, his capability, command of his brief and eloquence earning him "the ear of the court" and respect of colleagues. For a period he was President of the Faculty of Procurators of Midlothian and also a member of the Law Society's Criminal Law Committee.
In 1976 in Edinburgh he married Kim, whom he met at a Wanderers social function and with whom he would spend more than 46 years of happy marriage, during which they had four children, Jason, Paula, Calum and Gregor. He was especially grateful to Kim for her exceptional support through latterday health issues. After living in Morningside the family moved to just outside Lauder about 20 years ago, where they remained. For a period in the early 1980s Ray acquired a smallholding in West Lothian but he decided farming was not his forte and Edinburgh again beckoned for the family. After 45 years in practice in Edinburgh he downsized to operating part time from a home office.
Family was hugely important for Ray, who regularly held court on Friday evenings at home, when he was in his element recounting and sharing tales of the week's events over some wine. He loved being in the company of his seven grandchildren, to whom he was "Grumps".
While competitive at rugby and professionally, underneath his businesslike manner was a warm-hearted gent who rooted for the underdog and enjoyed a special sense of humour.
Ray is survived by his wife, children, mother and grandchildren.
If you would like to submit an obituary (800-1000 words preferred, with jpeg image), or have a suggestion for a subject, contact [email protected]