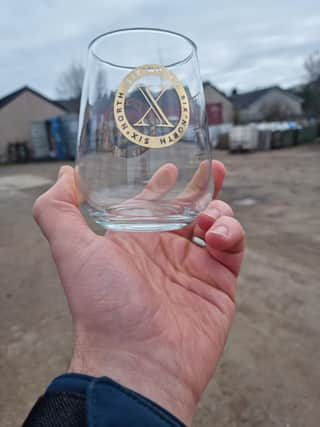 The first opportunity to taste the beers will be on Friday, March 31 at the Marine Hotel, Stonehaven.
A number of events will then be held around the UK throughout April.
The beers are available to buy on the Six Degrees North website www.sixdnorth.co.uk/ as well as at a host of independent bars and bottle shops around the UK.
Brewery founder Robert Lindsay said: "We are extremely excited to announce that April this year will see Six Degrees North celebrate turning 10 years old! As we set about blowing up balloons and ordering in some cake, we thought it would be great to brew 10 limited edition beers to mark the occasion.
"We wanted the brews to reflect the ethos of the company; embracing new styles whilst learning from historical brewing traditions and creating delicious, balanced beers with a continental flair that still reflect our own region.
"And so we decided that each of the ten one-off beers should contain an ingredient/process from a fellow producer in the North East of Scotland. The challenge was set, the beers are bold and flavourful yet, importantly, perfectly balanced.
"It was a great honour to be able to work with so many fantastic producers from the local area. We wanted to showcase the depth of talent within the local food and drink scene and these beers really do just that."
Quad - Fettercairn Distillery provided some top quality freshly emptied barrels in which to age this brew.
DH Table Beer - Vertegrow are relatively new to the local food and drink scene. 6DN chose to use mint to create a light fresh beer with a tropical feel.
Wheat - Alexander's Gin Botanicals Stonehaven resident and Marine regular, Alexander 'Fred' Stockton produces the excellent Alexander's Gin.
Berry Sour – Six Degrees North has been using fruit from Denhead Farms for a few years now, and they took their excellent raspberries and paired them with gooseberries to amplify the tartness.
Märzen Lager - The Henderson family started growing hops for 6DN back in 2018 and they now provide a base for a number of the beers.
Hazy IPA - Jumbo Rolled Oats from the Oat Co Scotland were used to add depth and body.
Saison - Unravel Tea create a range of excellent and authentic traditional teas and herbal infusions to excite the palate.
Honey Tripel – Ranald of Honey Hill Farm's heather honey comes from the Cairn O'Mount, just 5 miles from the brewery.
Scotch Mackie's Honeycomb – Mackie's are another family business that 6DN worked with on this project.
Imperial Stout Figment Coffee - Five Kingdoms Brewery's Wonderland roast was cold brewed for around 19 hours before being added to the rich chocolatey stout base and a perfect balance was found.