What is humanism? How humanist wedding and funeral ceremonies work - and humanist beliefs explained
Humanism is an approach to life that is found across the globe, and in many different cultures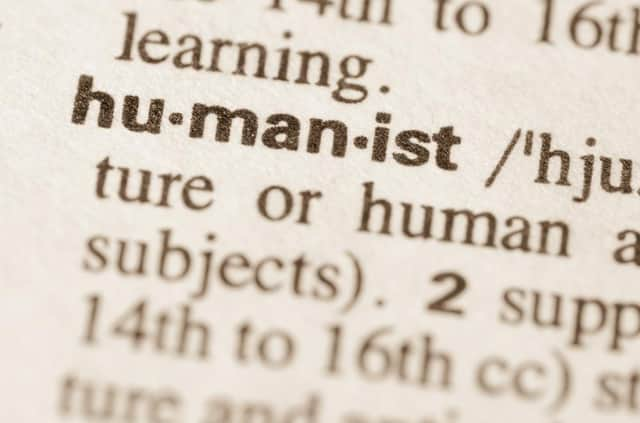 But what exactly is humanism and what are humanist wedding and funeral ceremonies?
Here's what you need to know.
Humanists believe that people have one life to live, and that there is no afterlife.
They therefore focus on being happy and making the most of their life, but also believe that they have a duty to support others.
Humanists do not believe in a god or a holy book, but value traits such as reason and rely on science in order to explain the way that things are.
Humanists UK explains that the word "humanist" has come to mean someone who:
trusts to the scientific method when it comes to understanding how the universe works and rejects the idea of the supernatural (and is therefore an atheist or agnostic) makes their ethical decisions based on reason, empathy, and a concern for human beings and other sentient animals believes that, in the absence of an afterlife and any discernible purpose to the universe, human beings can act to give their own lives meaning by seeking happiness in this life and helping others to do the same
People who share these beliefs and values are called humanists and this combination of attitudes is called Humanism.
What is a humanist wedding?
A humanist wedding is a non-religious wedding ceremony that gives couples the opportunity to marry where they want, when they want, and how they want.
Humanist weddings don't have a set script and each wedding is unique, with couples able to set the tone that's right for them, choosing their own words and music.
Humanists UK notes that humanist weddings are perfect for couples who would like:
A meaningful ceremony that isn't religious To marry outdoors or at a location that isn't licensed for civil weddings The flexibility to create a personal ceremony that is unique to them To get to know the person who will be conducting their wedding To celebrate their marriage with family and friends but without legally registering – for example, when the formalities have already been conducted abroad
However, the organisation explains that in the UK, marriage is a devolved issue and humanist marriages have legal recognition in Scotland and Northern Ireland, but not yet in England and Wales.
"In England and Wales, couples who want to have a humanist wedding will often go to the register office to take care of the legal formalities in the days before or after their ceremony," explains Humanists UK.
Humanist weddings gained legal recognition in 2005 in Scotland, and ceremonies are conducted by celebrants trained by Humanist Society Scotland.
Humanist weddings have also been legally recognised in Northern Ireland since 2018 and in since 2019.
What are humanist funerals?
Humanist funerals and memorials are non-religious ceremonies that support family and friends to mourn, alongside celebrating the person who has died.
These funerals focus on the life that person led and the relationships that they formed.
Humanists UK notes that these humanist funerals "are based on the humanist perspective that every life is individual and valuable".
The ceremonies are conducted by humanist celebrants and are a good option if the person who died wasn't particularly religious.
"Humanist funerals and memorial services offer a personal and fitting way to support families in saying goodbye to those who have lived without religion. Many thousands are conducted by our celebrants each year," explains Humanists UK.