Staff at the few businesses that are open near the New County Hotel, where three people and a dog died in a tragic blaze in the early hours of Monday morning, are reeling.
The roads around County Place in the city centre are cordoned off and police officers stationed on every junction.
Omed Hassan, who works at the European Store, close to the hotel, said he was shocked to learn of the deaths.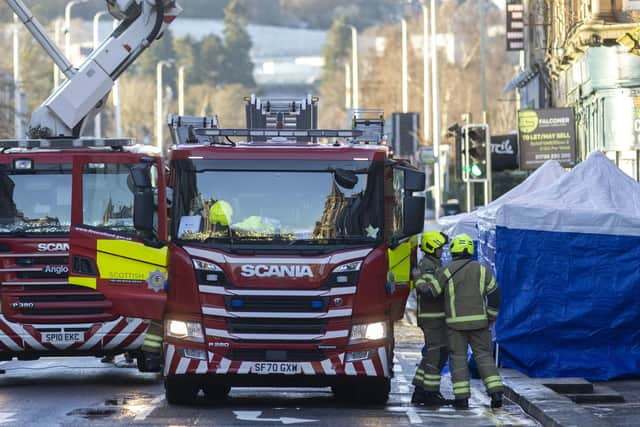 "It's bad," he said. "It is the New Year and for people to die like this as the new year starts is horrible."
On Monday afternoon, two fire engines remain on County Place, where fire fighters are accessing the top floors of the hotel from a cherry picker. At the height of the blaze, which started at 5am, nine appliances and more than 60 fire fighters were working to tackle the spread of the fire.
The cause of the tragedy is, as yet, unknown and a joint investigation has been launched by Police Scotland and Scottish Fire and Rescue. The emergency services said they would not yet reveal details of the victims – or of the blaze itself, which is understood to have started in a room on the upper floors of the building.
Police Scotland confirmed that other guests had been evacuated, as well as two people from neighbouring properties. A total of 11 people were given treatment at the scene by ambulance workers, but were not admitted to hospital.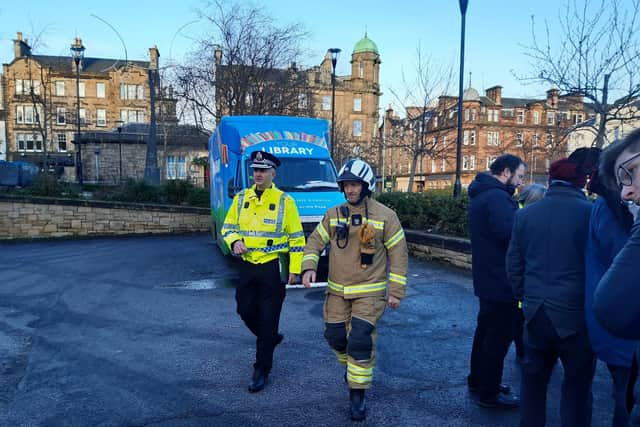 Chief Superintendent Phil Davison of Police Scotland confirmed the deaths at a press conference in Perth, but said inquiries were at a "very early stage". More information is expected to be released tomorrow.
He added: "Our thoughts are very much with the families and loved ones of those affected by this incident at this, which is a very difficult time for everyone."
Jason Sharp, area commander for Perth, Kinross, Angus and Dundee for Scottish Fire and Rescue Service, said that firefighters had worked "extremely hard in a complex and challenging environment" to prevent the fire's spread.
He said: "This was a very complex incident and tragically three people were pronounced dead at the scene."
Locals described the hotel, which is believed to have come under new ownership in recent years, as a "mix" of tourists and longer term residents. Police Scotland said it was not aware of any asylum seekers living in the building.
One resident, who was staying at the hotel temporarily after returning to Scotland from living abroad, said that she was "lucky to be alive".
The woman, who said that she and her husband had been staying in a room directly above where the fire broke out, said: "We woke to the sounds of the alarms going off and just ran, we left everything we have in the room.
"As we reached the front door you could see burning embers falling to the ground. We ran through as quickly as we could, hoping that nothing would fall on us.
"We didn't realise how close we were to where the fire started, really we're lucky to get out alive."
Tributes were paid to those who died.
Hotels organisation the Scottish Hospitality Group said: "Our thoughts and prayers are with everyone today after hearing this sad news."
Deputy First Minister John Swinney, MSP for Perthshire North, described the fatalities as "heartbreaking news".
Mr Swinney, MSP for Perthshire North, tweeted: "My sympathies with all affected by this tragedy."
Local MP Pete Wishart said the fire was "simply awful news at the beginning of the year when so many people are out celebrating".
Mr Wishart, who represents Perth and North Perthshire, added: "My thoughts are firmly with the families and friends of the victims.
He said: "When the news broke, we all hoped that everyone would make it out and would be accounted for. This is the last thing that anybody expected.
"I know the people of Perth will be devastated by this news and would like to extend their deepest sympathies to those affected by this tragedy. Can I also thank the emergency services who attended the scene in such numbers."