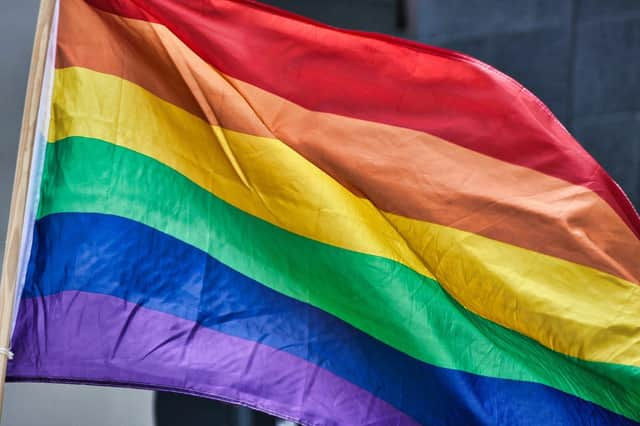 The claim that Stonewall Scotland and LGBT Youth Scotland, both of which receive funding from the Scottish Government, are campaigning for such a move was made by Margaret Lynch, an Alba party candidate for Central Scotland at the party's Women's Conference on Saturday.
It was described as "deeply homophobic and untrue" by the SNP, with Stonewall Scotland taking to Twitter to deny the claims.
Asked whether the official Alba Party position was the one put forward by Ms Lynch and whether it believed the Scottish Government was complicit, the party declined to answer.
At the centre of the controversy is a paragraph in a 'Feminist declaration' drafted by the Women's Rights Caucus at the UN's Commission on the Status of Women in March 2020 as a response to the nation states at the UN reaffirming gender equality which the caucus believed "fell short" of what was needed.
The declaration, signed by organisations such as the International Women's Health Coalition, OutRight Action International, and the Women's International League for Peace and Freedom, has been criticised based on claims one section supports the lowering of the age of consent.
The section, in full, states: "Eliminate all laws and policies that punish or criminalize same-sex intimacy, gender affirmation, abortion, HIV transmission non-disclosure and exposure, or that limit the exercise of bodily autonomy, including laws limiting legal capacity of adolescents, people with disabilities or other groups to provide consent to sex or sexual and reproductive health services or laws authorizing non-consensual abortion, sterilization, or contraceptive use."
One of the signatories is ILGA World, a global LGBT charity whose 1,614 member organisations from 158 countries and territories include Stonewall Scotland, LGBT Youth Scotland, Unite the Union, the Universities and College Union, and the LGBT arm of the Labour Party.
This link was used as evidence that the Scottish Government is directly funding organisations who want to lower the age of consent.
Responding, Stonewall Scotland took to Twitter and said: "Today a Scottish parliamentary candidate stated that we are campaigning to lower the age of consent. This is categorically untrue.
"Such claims are dangerous and irresponsible and we would urge those making or sharing these claims to stop."
Reacting, Patrick Harvie, the leader of the Scottish Greens, said the views of the Alba party should be "rejected at the ballot box" and needed to be challenged "on a daily basis".
He said: "The transphobia which has developed in Scotland in recent years, which many political parties and media outlets have either ignored or deliberately cultivated, was always going to broaden out and threaten others.
"The progress toward equality and human rights for LGBT+ people is under direct threat, and while Alex Salmond and his Alba ego-trip bear responsibility, they are by no means alone in that.
"I am far from the only person for whom being out in public life now means a daily torrent of online abuse from both sides of the constitutional divide. But this is also affecting private individuals simply living their lives, and now the globally respected organisations working for our human rights are in the firing line too.
"This dangerous agenda needs to be rejected at the ballot box, but also needs to be challenged and opposed on a daily basis, by everyone who believes in equality and human rights, whatever side of the constitutional debate they are on. "
An SNP spokesperson said: "These claims are deeply homophobic and untrue, and no party should tolerate such false and offensive statements."
Responding to a request for comment, an Alba spokesperson said the women's conference was a "great success" and defended Ms Lynch's statement.
They said: "The organisations referenced have both signed up to this demand, and both have received substantial amounts of Government funding. These are reputable organisations that make a positive impact on the lives of many in Scotland.
"If the organisations do not support what they have signed up to it is for them to say or provide clarification, it is not for women that attended our women's conference to defend concerns that women have raised based on fact."
A message from the Editor:
Thank you for reading this article. We're more reliant on your support than ever as the shift in consumer habits brought about by coronavirus impacts our advertisers.
If you haven't already, please consider supporting our trusted, fact-checked journalism by taking out a digital subscription.