Alex Salmond inquiry: complainer lambasts Holyrood committee for 'exploitation'
A woman who had brought a complaint of alleged sexual harassment by former first minister Alex Salmond has spoken of her anger over how members of a parliamentary committee have "exploited" claims against him for political advantage.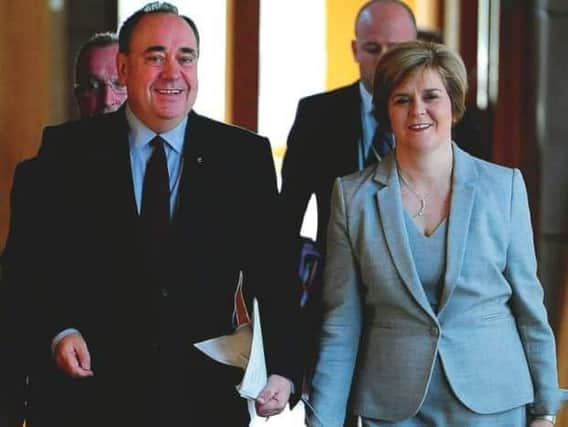 She said watching the conduct of the Holyrood committee on the Scottish Government's Handling of Harassment Complaints, had been more traumatic than the High Court trial last year, which had cleared Mr Salmond of all 13 charges.
The woman was one of nine who gave evidence against him in court, but The Scotsman understands is not one of the two civil servants who used the new controversial complaints procedure to report harassment complaints against former government ministers – the procedure which the committee is investigating.
Speaking anonymously to BBC Scotland'S Sunday Show, she said the committee inquiry was now a "political fight" which had "effectively allowed the government to get away with not being properly scrutinised on its procedures."
She said there had been a "glimmer of hope" when the committee was established "thinking they could be impartial, could properly investigate the government and contribute towards ensuring that bullying and sexual harassment in the workplace was no longer an issue, instead what has happened is they have taken your very personal experiences and they have exploited them for their own self-serving political interests, and that in and of itself is something that is really traumatic."
When asked what made it so traumatic, she said: "For example believing first hand without any real assessment that this is a conspiracy and they have turned this into a political fight when really it should be about making the workplace safe for women."
She added: "I think that they really had an opportunity to ensure they could investigate the creation of procedures that would make it safe and easy for women to come forward, and they have made it significantly harder.
"It takes a lot of courage to report sexual harassment particularly against a very powerful person. I think that the government was willing to investigate those complaints was positive but clearly they have let down those women and have a responsibility to fix that for anyone else in the future.
"It hasn't been fixed yet and what's really disappointing through the committee process is the fact that committee members have turned this into a political fight has effectively allowed the government to get away with not being properly scrutinised by members on its procedures.
"This has made it much harder for women to be believed and to come forward. I think the committee has strayed so far from its own remit that it has made any of its findings completely useless."
The woman rejected any suggestion of conspiracy against Mr Salmond and said that during the whole experience since making a complaint, "one of the hardest things is that your voice is taken away from you. When something is so high profile and you have endless commentary on this for years, it's a scary thing to speak up".
She also said that text messages between the complainers was "natural" and added: "I think, as the committee said when seeing the texts and what was in the them, they were shocked and it was clear it was women supporting other women."
Convener of the committee SNP MSP Linda Fabiani, gave a personal apology to the women involved and admitted that social media around the inquiry had been "pretty horrible".
She added: "The reality is that the parliament tasked this committee with an important job to do and we have to do that job.
"We have to get this task finished and do it in the best way that we can, because what we want to do is to make sure that women aren't afraid to come forward in the future.
"Things have obviously gone wrong, we have to find out what they were, and I hope we can make some recommendations that will be taken on board to protect women in the future".
The committee of nine MSPs has been split along party lines over key issues, and has been delayed with members accusing both the government and Mr Salmond of being uncooperative and attempting to frustrate its work.
Mr Salmond declined to appear before the committee last Tuesday over its refusal to publish some of the evidence that he wants to speak to when he sits in front of the committee. First Minister Nicola Sturgeon – whose appearance next week has also been postponed – has accused some opposition committee members of having already drawn their own conclusions before hearing her evidence.
A spokeswoman for Alex Salmond said: "Alex was acquitted on all charges by the jury last March. It is not the job of the committee or the BBC to rerun or question a jury trial.
"The Parliamentary inquiry is into the behaviour of civil servants, special advisers and Ministers around a process which was judged unlawful in the Court of Session. After Lady Dorrian publishes her written judgement Alex looks forward to presenting evidence to the committee and then seeing it published."
It is expected that Lady Dorrian's judgement on how much the committee can legally publish of Mr Salmond's submission will be released tomorrow morning and Mr Salmond could then give evidence to the committee in person next week.
A Scottish Conservative spokesman said: "Our committee members' sole motivation is to establish why the Scottish government's complaint handling process went so badly wrong, thereby failing the complainers and costing taxpayers more than £500,000.
"They share these frustrations in respect of witnesses failing to be open and honest and the SNP's cynical strategy of obstructing the inquiry."
A message from the Editor:Thank you for reading this article. We're more reliant on your support than ever as the shift in consumer habits brought about by Coronavirus impacts our advertisers.
If you haven't already, please consider supporting our trusted, fact-checked journalism by taking out a digital subscription.