Alex Salmond to return to Edinburgh Festival Fringe six years after chat show run
The former first minister will run the event alongside Tory MP, David Davis.
Alex Salmond is set to return to the Edinburgh Festival Fringe, with a new debating show alongside Conservative MP David Davis.
The show – titled 'The Ayes Have It! The Ayes Have It!' – will be his first festival show since a successful run in 2017, which eventually led to his TV show on state-owned Russia Today.
It is billed as an "oratorical feast", with debates on topics such as Scottish independence, Brexit, the House of Lords, republicanism and the right to strike. The audience will cast a verdict on the victor, either Mr Salmond's side or that of Mr Davis.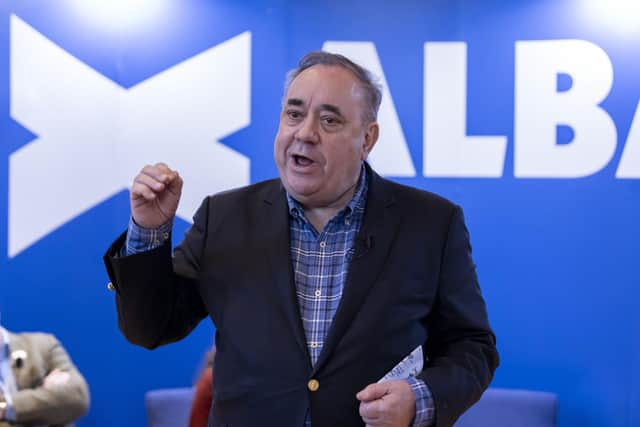 Former commons speaker John Bercow, former SNP MP Eilidh Whiteford, and current chair of ways and means, Dame Eleanor Laing, will keep a "watchful eye over the proceedings", the show's blurb states. Other so-called "celebrity debaters" are also set to be invited to take part.
The show will be directed by former SNP MP and central part of the Alba party's organisation, Tasmina Ahmed-Sheikh. Her production company, Slàinte Media, also ran The Alex Salmond Show for Russia Today.
In the official release of the show, Mr Salmond said: "There will be no quarter asked or given in these debates. The subject matters are too important for that. I have assembled a top Scottish team for the Ayes and David will lead his side for the Noes."
Mr Davis added: "Edinburgh Festival goers are far too sensible to be carried away by an emotional spasm from the Ayes. We will face Alex's team with logic, facts and fierce argument and we intend to win for the Noes, on every subject every night."
Producer of the show, Denise Silvey of Cahoots Theatre Company, said: "The last time we produced a show at the festival with Slàinte Media, we sold out every performance and had to put on some extra ones. My advice is to book early for what promises to be one of this year's epic Festival events."
Ms Silvey is also masterminding a run of shows at Prestonfield with Christopher Biggins, Cliff Richard, and Janey Godley. She was also behind Mr Salmond's first fringe show, Alex Salmond Unleashed.
Want to hear more from The Scotsman's politics team? Check out the latest episode of our political podcast, The Steamie.
Comments
 0 comments
Want to join the conversation? Please or to comment on this article.