The Ross, Skye and Lochaber MP has urged Chancellor Jeremy Hunt to introduce a new tax on share buybacks, which allows firms to funnel record profits to shareholders. Mr Hunt is due to deliver the autumn statement on Thursday and warned of a "tough road ahead" amid warnings of the longest recession in a century.
Speaking to Scotland on Sunday, Blackford insisted the poorest must not bear the brunt of former prime minister Liz Truss's disastrous mini-budget, and revealed the crisis was getting to MPs.
He said: "There is one thing that is really important in all of this, and that is we cannot have a second wave of austerity, austerity 2.0. The poor cannot pay the price for the mess we are in.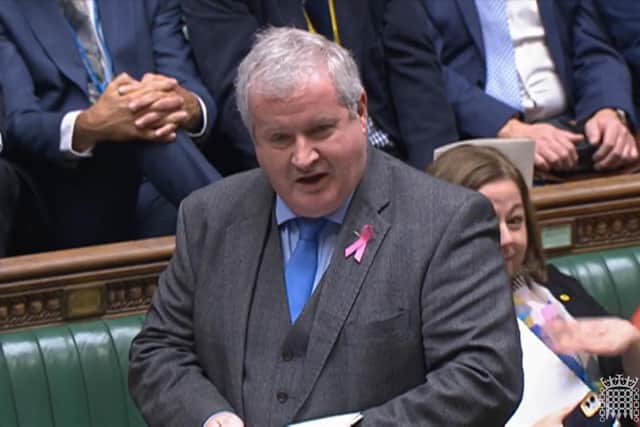 "The biggest issue for the Government is getting people through the winter. The Government has to get a grip, and make sure we do everything we can to drive down inflation and reassure everybody and the markets, but you cannot get away from the fact that a small number of companies are making excess profits."
Mr Blackford insisted he was not criticising energy companies, just trying to make sure they pay their fair share.
He said: I'm not having a go at BP or Shell, but simply because of what they do they are making excess profits. To rub insult into injury, they are buying back shares, so there is a very obvious question, why are we not taxing share buyback?
"Canada has done it, the US has done it, and if you actually set it at the rate of the windfall tax, you would raise £11 billion this year, according to the Institute for Public Policy Research (IPPR).
"It's not about being high tax. This is about saying we are in exceptional circumstances where people are making excess profit and it is right they pay their fair share."
In a recent report on share buybacks, the IPPR warned that while households struggle, "some companies are reaping extraordinary windfall rewards and passing these to already-wealthy shareholders".
BP reported earlier this month its profits more than doubled for the past three months, surging to $8.2 billion (£7.1bn), amid ratcheting calls for stiffer windfall taxes for energy producers.
Asked if he'd like to see the UK Government consult the SNP and other parties more when forming a budget, Mr Blackford claimed he'd "always work constructively".
He said: "All of us have a responsibility to act in the best interests of our country. I do want the ability to say constructively 'here is a way you can protect our citizens by raising taxes in a responsible manner'."
The party's Westminster leader also revealed the human toll of working in politics, saying the issues facing constituents "of course" get to MPs.
He said: "I expect it affects people right across the house, I hope all of us have a real sense of empathy.
"We all know that many of our constituents are struggling because they simply don't have enough cash in their pockets to pay their bills and that is gut wrenching for all of us. My wife has a phrase – 'society only as strong as its weakest link', and that has to be at the heart of everything we do.
"I get annoyed when I hear MPs talking about welfare. It's not welfare, it's social security."
Mr Blackford was also scathing in his comments about Kwasi Kwarteng after the former chancellor blamed Ms Truss for the mini-budget.
The Spelthorne MP said he told Ms Truss to "slow down" her radical economic reforms or risk being out of No. 10 within "two months", and refused to apologise for the financial turmoil unleashed by his budget.
Mr Kwarteng also criticised the then-prime minister's "mad" decision to sack him as chancellor for implementing her tax-cutting agenda, in a bombshell first interview since his ousting.
Mr Blackford said: "That's astonishing. He was the chancellor, whether he felt he was under pressure from the Prime Minister or not, he's the man who stood up and delivered that budget that crashed the economy.
"To stand up and blame someone who is supposed to be his friend and colleague, he should have a bit more dignity."
The Liberal Democrats are meanwhile calling for a mortgage protection fund in the budget, as well as more funding for healthcare and education.
Party Treasury spokesperson Sarah Olney said: "This Conservative Government has lurched from calamity to chaos and taken the British people for a ride. Millions are already struggling to pay a Conservative property penalty worth hundreds of pounds, thousands of people are facing endless NHS wait times and pupils across the country are not getting the education they deserve.
"The Conservatives have worked our economy into the ground and left our public services on the brink.
"Ministers must use next week's autumn statement to launch a mortgage protection fund, targeted at those most at risk of losing their homes, to offer struggling households a lifeline up to £300 a month. We also need to see our NHS and schools protected from any savage cuts the Chancellor and Prime Minister might be planning."
Earlier this week Mr Hunt suggested the autumn statement will show the UK can "pay our way" following the mini-budget.
Speaking on Friday, Mr Hunt said: "When we produced a fiscal statement that didn't show how we were going to bring our debts down over the medium term, the markets reacted very badly and so we have learned that you can't fund either spending or borrowing without showing how you are going to pay for it and that is what I will do."
The Chancellor met with Prime Minister Rishi Sunak this week to discuss the budget amid GDP figures showing the UK economy shrunk by 0.2 per cent between July and September.