Pundits have also pulled out of presenting the Final Score programme with the show also cancelled.
Jason Mohammad said he will not be presenting the BBC's Final Score programme on Saturday.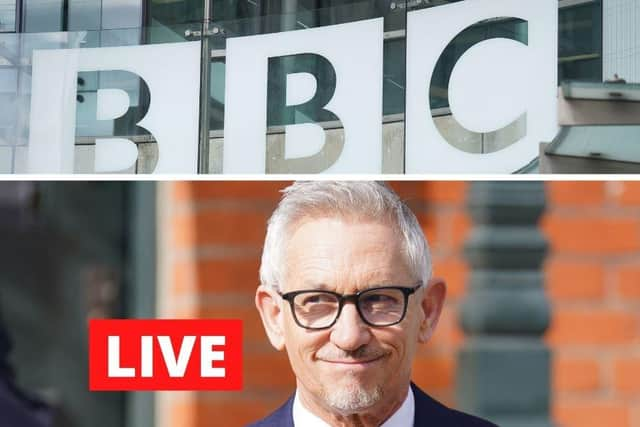 Pundit Glenn Murray also said he had pulled out of appearing on Football Focus and Final Score on Saturday.
Sports reporter Marc Webber tweeted: "As Final Score reporters, we have decided to stand down from our duties today in solidarity with Gary Lineker. As a result, no Final Score will be broadcast today.
BBC has pulled its Radio 5 Live Sports coverage, saying there had been a change of schedule.
We'll have live updates and the latest news regarding football programming on the BBC.
RECAP: Football Focus dropped as Alex Scott pulls out in support of Gary Lineker | Final Score cancelled | BBC 5Live coverage pulled
Show new updates
The UK's immigration proposal
While Gary Lineker will feature in all the headlines -it is important to remember what this is all about
The UK's current immigration plans , if enacted, will mean that anyone who arrives on a small boat will have their asylum claim deemed "inadmissible" – the Home Office won't even consider someone's claim even if they have came from a country where they are in danger, or a war-torn nation.
Said people will be removed either to their own country or a "safe third country"
The UNHCR says that the bill, in its current form, "compels the home secretary to deny access to the UK asylum system to those who arrive irregularly" and branded the legislation, if passed, as an "asylum ban"
Good morning and welcome to our live blog
According to reports Football Focus will not air today.
Former England footballer Ian Wright has said on his podcast that he is "out" and "gone" if the BBC "get rid" of Gary Lineker.
In an episode of Wrighty's House, aired on Friday before Lineker was told to step back from presenting Match Of The Day (MOTD), Wright called the tweet row "the perfect distraction" for the Government.
In the Friday episode of Wrighty's House, the podcast's host said: "I'll tell you something. If they do – the BBC get rid of Gary Lineker – I'm out, I'm gone. I'm not staying there. On his own platform he should be able to say what he wants to say."
Explaining the row, Wright said: "He wrote a tweet criticising the Government about everything that's happening, the human rights issues and everything here and it's the perfect distraction for this Government, man.
"Gary's tweet was the headline news, bro."
He went on: "They need Gary Lineker to distract everybody because for me it is a human issue, it's not political.
"They've got no empathy. The most vulnerable ones are always the ones that suffer, they're the ones that suffer and it starts with words.
Glenn Murray confirms he has pulled out of Final Score today
Bristol Rovers have confirmed that they will not be talking to the BBC today in solidarity with Gary Lineker.
Writing on Twitter, the League One team said it "won't be talking to the BBC before or after today's game. '#WeStandWithGary"
BREAKING: Jason Mohammad said he will not be presenting the BBC's Final Score programme on Saturday.
He tweeted: "As you know, Final Score is a TV show very close to my heart.
"However – I have this morning informed the BBC that I will not be presenting the show this afternoon on BBC One."
Will players still talk to the BBC?
A spokesman for the Professional Footballers' Association said: "We have been informed that players involved in today's games will not be asked to participate in interviews with Match Of The Day.
"The PFA have been speaking to members who wanted to take a collective position and to be able to show their support for those who have chosen not to be part of tonight's programme.
"During those conversations we made clear that, as their union, we would support all members who might face consequences for choosing not to complete their broadcast commitments.
"This is a common sense decision that ensures players won't now be put in that position."
BBC TV listings
The BBC TV listings are now showing Bargain Hunt at midday, when Football Focus had previously been listed.
Final Score remains listed - however Jason Mohammad said he will not be presenting the show.