The presenter faced some social media backlash after intervening when Stanley Johnson was described as a "wife-beater" in the latest BBC QT episode in London on Thursday.
Journalist and panel member Yasmin Alibhai-Brown had highlighted the 82-year-old's alleged history of violence as "on the record".
Ms Bruce interrupted to make a point of order, telling Ms Alibhai-Brown and viewers: "I'm not disputing what you're saying, but just so everyone knows what this is referring to, Stanley Johnson's wife spoke to a journalist, Tom Bower, and she said that Stanley Johnson had broken her nose and that she'd ended up in hospital as a result.
"Stanley Johnson has not commented publicly on that. Friends of his have said it did happen but it was a one-off."
Many, including Labour MP Kate Osborne and chief executive of Women's Aid Farah Nazeer accused Bruce of downplaying the issue, with others on social media hitting out at the BBC host for her intervention.
Nazeer said following the episode airing: "At Women's Aid we were shocked last night to see the Question Time presenter Fiona Bruce state, in response to a comment that Stanley Johnson was a 'wife-beater', that 'friends of his said it did happen, it was a one off.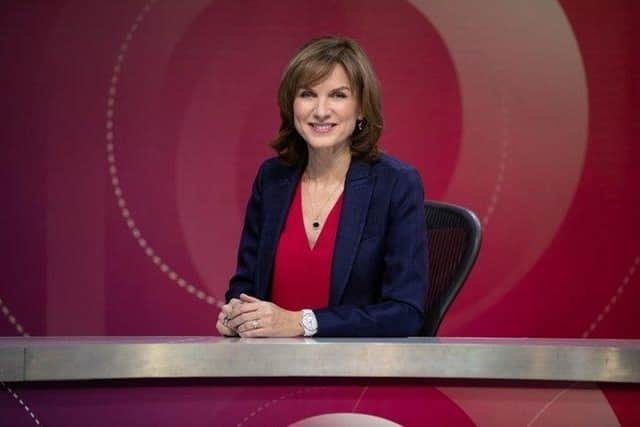 "This comment was unnecessary and irresponsible. We know at Women's Aid that domestic abuse is rarely, if ever, a 'one-off', with the vast majority of abuse being a pattern of behaviour that includes different forms of abuse… Even if abuse is an isolated event, it would have still been domestic abuse, and this should never be minimised."
Responding to complaints, the BBC issued a statement which said: "Domestic abuse is abhorrent, and we would never wish to suggest otherwise.
"When serious allegations are made on air against people or organisations, it is the job of BBC presenters to ensure that the context of those allegations – and any right of reply from the person or organisation – is given to the audience, and this is what Fiona Bruce was doing last night.
"She was not expressing any personal opinion about the situation."