Greg Dyke, the BBC director-general between 2000 and 2004 and ex-FA chairman, said the broadcaster was "mistaken" in standing Lineker down.
He told BBC Radio 4's Today programme that the precedent at the corporation is that "news and current affairs employees are expected to be impartial and not the rest".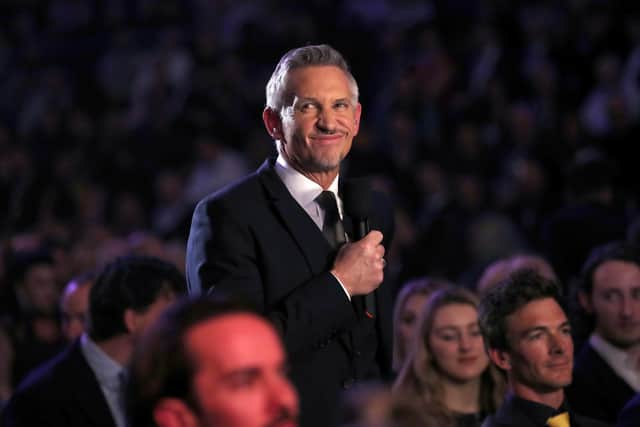 "If you start applying the rules of news and current affairs to everybody who works for the BBC, where does it end?", he said.
He added: "There is a long-established precedent in the BBC that is, that if you're an entertainment presenter or you're a football presenter, then you are not bound by those same (impartiality) rules.
"The real problem of today is that the BBC has undermined its own credibility by doing this because it looks like – the perception out there – is that the BBC has bowed to Government pressure.
"And once the BBC does that, then you're in real problems.
"The perception out there is going to be that Gary Lineker, a much-loved television presenter, was taken off air after Government pressure on a particular issue."
Former England footballers and MOTD regulars including Alan Shearer and Ian Wright announced on Friday that they would be boycotting the show in solidarity with Lineker.
The BBC said the show would "focus on match action without studio presentation or punditry", saying it understood the position of its presenters.
Lineker, 62, became embroiled in a row over impartiality after comparing the language used to launch a new Government asylum seeker policy with 1930s Germany on Twitter.
The broadcaster said it had "decided" Lineker would take a break from presenting the highlights programme until an "agreed and clear position" on his use of social media had been reached.
Richard Ayre, former controller of editorial policy at the BBC, said Lineker might have presented his last MOTD.
Speaking on BBC Breakfast, he said: "It is an irreconcilable position, I think, between the BBC guidelines and Gary who, perfectly understandably, feels that he has a right as an individual to express his views on any issue, however politically contentious it may be.
"And the BBC takes a different view because its guidelines lay down particular rules for people who are really high-profile BBC personalities, and I don't think it's likely that in the coming days they're going to be reconciled."
He added: "He's terrific and it will be very sad if he goes, but frankly the BBC and its reputation is bigger and more important than any individual, even Gary."
Mr Ayre insisted there was no hypocrisy in relation to the BBC not disciplining Lord Sugar, who has publicly aired political views.
He said the corporation's guidelines refer to people with "a particularly high BBC public profile", and there was "quite a gulf" between Lineker and Lord Sugar.
BBC director-general Tim Davie – who warned staff about their use of social media when he took on the role at the end of 2020 before guidelines on their use were updated – was asked by BBC News why Lineker had not been sacked.
Mr Davie replied: "Well I think we always look to take proportionate action and that's what we've done."
He said he would not "add to" the corporation's current statement on the matter but that there had been "very constructive discussions".
Reacting to Shearer and Wright's boycott, the BBC boss added: "I absolutely respect people's right to make that decision, and BBC Sport have to look at the programme they will produce for the weekend as normal."
The Daily Express reported a group of 36 Conservative MPs and peers had signed a letter to Mr Davie, demanding a full and independent investigation into Lineker's remarks as well as a full apology "without reservation" from the presenter.
Before the BBC announcement, former Manchester City defender Micah Richards and ex-footballer Jermaine Jenas – who were both not due to appear this weekend on MOTD – also backed their fellow pundits.
The PA news agency understands the Professional Footballers' Association (PFA) will fully support any players who do not want to fulfil media duties with the BBC after Premier League matches in solidarity with Lineker and the other pundits – who are former England international players.
A number of players contacted the PFA seeking advice, and the union has subsequently spoken to all Premier League clubs to establish a collective position.
An online petition calling for Lineker to be reinstated in his post, organised by The Daily Mirror on Friday, reached 100,000 signatures in under 10 hours.
Philippa Childs, head of Bectu, which represents thousands of BBC workers, said the Lineker decision was "deeply concerning" and "will give the appearance that they have bowed to political pressure from ministers".
The row was first sparked by Lineker's response on Twitter to a Home Office video in which Home Secretary Suella Braverman unveiled the Government's plans to stop migrants crossing the Channel on small boats.
The ex-England striker wrote: "There is no huge influx. We take far fewer refugees than other major European countries.
"This is just an immeasurably cruel policy directed at the most vulnerable people in language that is not dissimilar to that used by Germany in the '30s."
Current BBC guidelines state staff need to follow editorial guidelines and editorial oversight on social media in the same way as when doing content.
Lineker is a freelance broadcaster for the BBC, not a permanent member of staff, and is not responsible for news or political content so does not need to adhere to the same rules on impartiality.
Despite this, last year he was named as the BBC's top-earning on-air talent for the fifth consecutive year. He was paid between £1,350,000 and £1,354,999 in 2021/2022 for MOTD and Sports Personality Of The Year.