The former prime minister said the claim was "strictly for the birds", despite being under investigation for allegedly lying to Parliament over lockdown breaches.
In an interview with Tory MP Nadine Dorries, who Mr Johnson is believed to have recommended for a peerage, he said he thought their mid-pandemic gatherings were "within the rules".
He insisted he had to be "respectful" to the cross-party Commons Privileges Committee that is undertaking the inquiry into him.
"But I'll just repeat what I've said before, and I hope it's obvious to everybody, that anybody who thinks I was knowingly going to parties that were breaking lockdown rules in No 10, or then knowingly covering up parties that were illicit that other people were going to, that's all strictly for the birds," he added.
"And if anybody thinks like that, they're out of their mind."
Mr Johnson, speaking to his diehard loyalist for her new TalkTV show, insisted Downing Street was "thinking desperately" about Covid-19 testing and the vaccine rollout at the time.
"We all thought what we were doing – or certainly, I thought what we were doing – was within the rules. And what we certainly thought was that we were working blindingly hard on some massive priorities for the country," he added.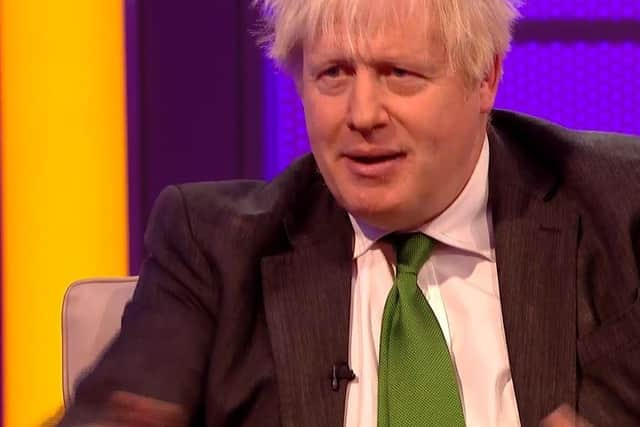 The former prime minister, forced out of office by the Conservatives after a series of scandals, is expected to give evidence to the inquiry in the coming months.
He repeatedly told the Commons there were no rule-breaking parties in Downing Street, and that the rules had been followed at all times.
But the Metropolitan Police issued 126 fines for breaches of Covid rules, including to Mr Johnson himself, for offences spanning a series of gatherings in 2020 and 2021.
The Privileges Committee has been sifting through a mound of written evidence handed over by Rishi Sunak's Downing Street.
If the committee rules Mr Johnson did lie to Parliament and a suspension of more than 10 sitting days is approved, he could face a challenging by-election in his Uxbridge and South Ruislip seat.
Also in the extracts released ahead of the full broadcast of the interview with his former culture secretary, Mr Johnson claims "it is literally true that Brexit helped save lives" with the vaccine rollout.
The claim, which comes amid signs that Brexit support is waning around the third anniversary of the UK leaving the European Union, is contested.
Mr Johnson said leaving the European Medicines Agency meant the UK's Medicines and Healthcare products Regulatory Agency (MHRA) was "totally free to decide how fast to approve the vaccine".
"We wouldn't have been able to do that vaccine rollout so fast," he said.
"And you know, it is literally true that Brexit helped save lives. And people's eyes bulge a bit when you say that, but it happens to be true."
However, at the time, the UK was still in the transition period out of the EU and MHRA chief executive Dr June Raine said: "We have been able to authorise the supply of this vaccine using provisions under European law."