The former prime minister stands accused of not being truthful with MPs over the parties held in Downing Street during lockdown, something he insisted having no knowledge of.
Later pictured at numerous leaving events raising a glass, Mr Johnson could be facing the end of his time in Parliament unless he is found not to have misled MPs.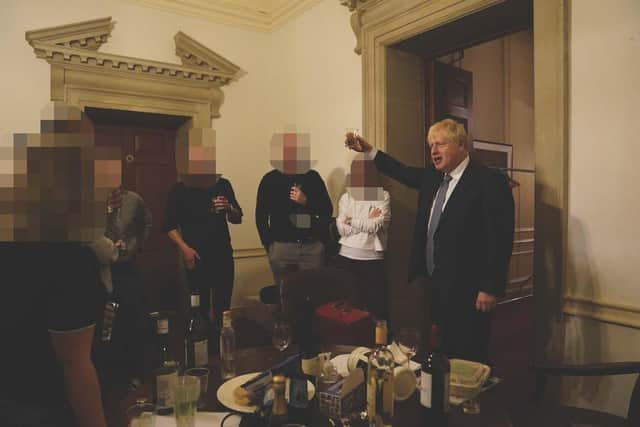 What is Boris Johnson's defence?
In his submission, Mr Johnson admits misleading Parliament, but denied doing so "intentionally or recklessly". Instead, he argues nobody warned him or advised against attending the events, and he could only rely on the advice of officials.
Mr Johnson said he believed it was his "duty" as prime minister to "say a few words of thanks" to those departing, and all the events were for work.
He did not deny saying that one event was "probably the most unsocially distanced gathering in the UK right now", but claimed the "old, cramped London townhouse" of No 10 meant breaching social distancing was unavoidable.
The group of MPs undertaking the inquiry said his new legal argument "contains no new documentary evidence".
What is the Privileges Committee?
The Committee of Privileges is the House of Commons select committee appointed to conduct inquiries into issues related to parliamentary privilege, investigating when there is a breach.
They began their investigation in June 2022, following the end of those from the Met and senior civil servant Sue Gray. Usually chaired by Labour MP Chris Bryant, he recused himself after questions were raised about his suitability given previous statements he had made about Mr Johnson's conduct. Now run by Harriet Harman, the majority of its MPs are Conservatives.
Who are the key names in Johnson's dossier?
Martin Reynolds, Mr Johnson's principal private secretary, who emailed 100 Downing Street staff inviting them to drinks outdoors. Mr Johnson cites him as a source of what the rules were.
Lee Cain is also mentioned, the former Downing Street communications director, who had a leaving do attended by Mr Johnson on May 20, 2020.
Another communications director also comes up, with Jack Doyle giving out prizes at a Christmas party in 2020. Then there is the prime minister's former senior aide Dominic Cummings, who Mr Johnson has urged the committee not to treat as a "credible witness" because of his "animosity towards me".
What happens if the committee finds Boris Johnson misled Parliament?
If Mr Johnson is found to have misled Parliament, he could be facing the end of his parliamentary career. Failing to convince the committee otherwise could see MPs recommend a suspension of more than ten days, or even resulting in the former prime minister being outright expelled from the Commons.
This would spark a high-profile by-election in his Uxbridge and South Ruislip seat, which Mr Johnson is already projected to lose. However, any penalty would then be voted on by MPs across the Commons, not just the committee, leaving Rishi Sunak with a difficult decision of whether to whip his MPs on the matter, or keep a rule breaker in the party.
Will Mr Johnson and his supporters accept the findings?
The former prime minister has already questioned the committee, saying it was going beyond its "remit" to consider breaches of guidance as well as law, arguing this was "obviously inappropriate, impermissible, and unfair".
One of his closest allies, fellow Tory MP Conor Burns, has also raised concerns about the impartiality of the Labour chair of the privileges committee, Harriet Harman.