The former prime minister insisted in his written evidence to the Privileges Committee inquiry published on Tuesday that he believed the statements he made "at the time" over his denial of 'Partygate'.
Submitting a 52-page defence dossier, his report was initially sent back by the committee due to "typos and inaccuracies". In his legal argument, Mr Johnson accepted his denials turned out not to be true, but insisted he corrected the record at the "earliest opportunity".
He now faces a gruelling evidence session before the Privileges Committee on Wednesday, who could find Mr Johnson in contempt of Parliament.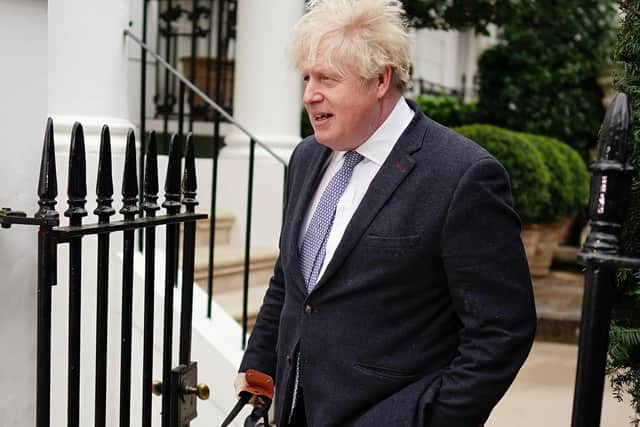 "But when the statements were made, they were made in good faith and on the basis of what I honestly knew and believed at the time. I did not intentionally or recklessly mislead the House on December 1, 2021, December 8, 2021, or on any other date. I would never have dreamed of doing so.
"It is, of course, true that my statements to Parliament that the rules and guidance had been followed at all times did not turn out to be correct, and I take this opportunity to apologise to the House for that.
"As soon as the Sue Gray investigation and the Metropolitan Police investigation had been concluded, I corrected the record. I believed – and I still believe – that this was the earliest opportunity at which I could make the necessary correction.
"It was not fair or appropriate to give a half-baked account, before the facts had been fully and properly established, including into many events about which I had no personal knowledge."
The Uxbridge and South Ruislip MP claimed "there is no evidence at all that supports an allegation that I intentionally or recklessly misled the House", despite opposition claims he was the person making the rules.
Mr Johnson added: "There is not a single document that indicates that I received any warning or advice that any event broke or may have broken the rules or guidance."
The former PM also rejected the committee's belief the evidence strongly suggested breaches of coronavirus rules would have been "obvious" to the then-prime minister. He called the inquiry's allegation "illogical", arguing that some of those who attended the events "wished me ill and would denounce me if I concealed the truth".
"Far from achieving a 'cover-up', I would have known that any deception on my part would lead to instant exposure," he wrote. "This would have been senseless and immediately self-defeating."
Mr Johnson said it was "implausible" he would have known the parties photographed and "immortalised" by his official photographer were rule-breaking. The former prime minister also sought to undermine the integrity of the Privileges Committee's interim report, labelling it "highly partisan".
The report suggested breaches of guidance would have been obvious to Mr Johnson, "despite the fact that the committee has not yet heard any evidence from me", he wrote.
The former prime minister also claimed the committee "has gone significantly beyond its terms of reference" by alleging it had been obvious to him the guidance was not followed, while previously being concerned with the regulations.
"It is not clear what subsequently transpired to embolden the committee to seek unilaterally to expand its mandate. It is obviously inappropriate, impermissible, and unfair," he wrote.
Mr Johnson also claimed it "remains unclear" to him why both he and Prime Minister Rishi Sunak were fined for breaching lockdown laws, over an incident that saw his Cabinet colleagues claim he was "ambushed by a cake".
He wrote: "I have accepted the conclusion of the police that my participation in the gathering in the Cabinet Room on my birthday, which I knew nothing about in advance, was unlawful. However, to this day it remains unclear to me – and I believe the Prime Minister may feel the same – how precisely we committed an offence under the regulations.
"I have never been provided with any rationale by the police, in particular how some individuals that attended did not receive a fixed penalty notice. We had a sandwich lunch together and they wished me happy birthday. I was not told in advance that this would happen.
"No cake was eaten, and no-one even sang happy birthday. The primary topic of conversation was the response to Covid-19."
There was also a defence of the numerous leaving parties held in Downing Street, something he insisted did not break the rules. Mr Johnson explained: "I might raise a glass to honour a colleague, but that was it.
"At the time I was recovering from a serious illness, I was desperately worried about the state of the country, and I was going back to my flat to continue working.
"When I looked around the room, I did not think anyone was breaking any rules or guidance – on the contrary, I thought that we were all doing our job."
If Mr Johnson fails to convince the committee he did not deliberately mislead the Commons, he could be found to have committed a contempt of Parliament. A suspension of more than ten days could result in a high-profile by-election in his Uxbridge and South Ruislip seat.
The full House of Commons would vote on any recommendations. SNP MP John Nicolson labelled Mr Johnson "one of the foremost exponents of post-truth politics".
He said: "They saw a prime minister who was mocking the truth as he's done throughout his political career. We know he's been sacked several times for lying by different employers.
"A phrase has crept into the body politic and it's called post-truth politics. [Former US president Donald] Trump did it. Johnson did it.
"You just spread untruths, you spray the public arena with untruths, so eventually people just think you're in it to be dishonest, I'm in it to be dishonest, none of us can be trusted.
"It's a success for practitioners of post-truth politics. But it's terrible for the rest of us.
"And your leader was one of the foremost exponents of this school of political thought."
Lib Dem deputy leader Daisy Cooper said: "Britain's Berlusconi strikes again. After countless lies, scandals and failures, it's time to put an end once and for all to this Conservative soap opera."