Britain's economy is no longer on the brink, inflation along with energy prices are tumbling and, with tax receipts far higher than expected, Mr Hunt even had more money to play with. Despite this, he had repeatedly warned of "tough choices", with repeated briefings the UK Government would not spend its way out of the crisis.
But when it came to delivering the budget, the UK Government were big spenders, splashing out £21 billion a year, all funded by borrowing.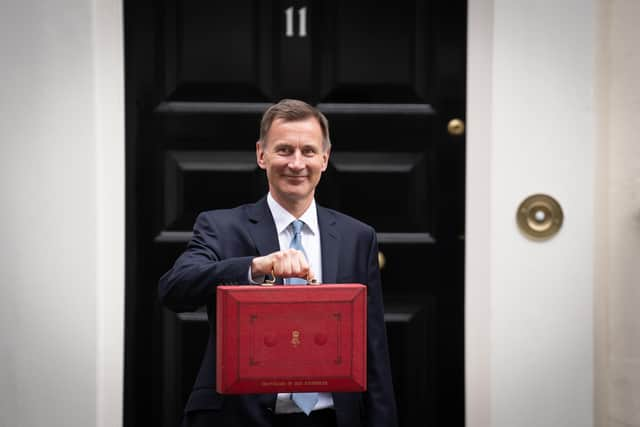 This saw a U-turn on energy support, with the existing cap maintained despite ministers saying it would rise as recently as a week ago.
Such a move will be a popular one, despite SNP figures saying to go further, as will increased support for childcare south of the Border – an issue that has long been an afterthought in the Treasury.
This forms part of Government efforts to get more people back to work, with reforms to benefits for people with disabilities, along with abolishing the limit on tax-free pension savings.
Ministers want people to work for longer, but the latter, one of the key "rabbits" in the Chancellor's hat will only really help the richest, costing £835 million annually to benefit 10,000 of the very highest earners a year.
As for labour shortages, Mr Hunt argued there were seven million not working, with one million vacancies. The problem is, the OBR forecast his changes only getting 110,000 back working by 2027.
Fundamentally, this was a budget with intention, but no real time for the benefits of any changes to be felt by the general public.
Real living standards are expected to fall 5.7 per cent between now and 2024, when the next election is scheduled to take place. The public is facing the biggest drop in living standards on record, with things not expected to return to pre-pandemic levels until 2028.
With the OBR saying the policies bring benefits without boosting growth, the UK Government is running the very real risk that its Budget does not do enough for those that need it, and they go into the next election having overseen a drastic fall in living standards, with tax benefits only for more affluent pensioners.
Supporting motorists by freezing fuel duty will be popular, but no extra support for nurses, doctors and teachers will not. That is a political choice and one that will not end the constant strike action.
The Institute for Fiscal Studies explained prices are not going down, they are just going to "go up more slowly". Britain has avoided a technical recession, but it appears unlikely people will feel it.
Following Rishi Sunak's breakthrough on Brexit, and the popularity, at least among his own MPs of the "stop the boats" slogan, the UK Government has had a strong fortnight.
But this Budget is unlikely to build on it. The language may be more positive, but even big spending is not making a dent in the misery that lies ahead.