Mark Kent, chief executive of the Scotch Whisky Association (SWA), is demanding an urgent meeting with the Chancellor to discuss the impact of the changes.
He called for the duty rise to be reversed, telling Mr Hunt: "With the right support, with a reversal of the tax rise, we are confident the industry can continue to deliver for the UK economy."
Scottish Secretary Alister Jack is said to have conceded that the rise in alcohol duty was "not what I wanted for the Scottish industry".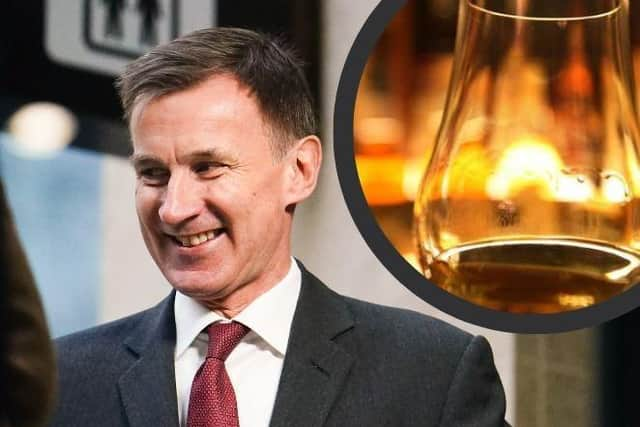 Mr Jack is reported to have lobbied the Chancellor against the increase, but said that "this time the lobbying hasn't been successful".
Speaking on BBC Radio Scotland's Good Morning Scotland programme, the Chancellor said: "We have been working very closely with the Scotch Whisky Association and we have frozen alcohol duty until August."
The UK will then introduce "big reforms" to the alcohol duty system, which will mean duty is linked to the strength of the drink.
Mr Hunt said this approach would be "beneficial to whisky distillers", and added: "In real terms this means we will have the lowest level of duty for over 100 years, so we are keeping duty levels low.
"We will continue to engage with the industry and we want to do something that will mean they are successful and prosperous going forward."
However in a letter to the Chancellor, Mr Kent complained about the impact the duty rise would have on "this iconic product".
The SWA said the increase will mean taxes account for 75% of the cost of an average-priced bottle of Scotch – saying for a £15.22 bottle a total of £11.40 will go to the taxman through duty and VAT.
Mr Kent told the Chancellor: "The tax rise breaks the pledge made by the UK Government to 'ensure the tax system is supporting Scotch whisky'.
"This is a commitment the industry takes seriously and our member companies want to see it fulfilled."
He said it will be the "largest duty rise since 1981", and comes at the time when "the industry is facing significant domestic headwinds, including the soaring costs of energy".
Mr Kent also said a reduction in duty for drinks sold on draught would "increase the tax discrimination experienced by distillers" by "widening the gap" in tax between spirits and products such as beer and cider.
"This was a fundamental flaw in the duty reforms published by HM Treasury due to be implemented in August which we have repeatedly pointed out," the SWA chief executive insisted.
He added that measures in the Budget had compounded the problem and would mean "the new system will be a broken system, disadvantaging the Scotch whisky industry from the outset".