The Chancellor said the measures he set out in the Commons will have a "transformational" impact on the economy, easing labour shortages which have been holding back growth.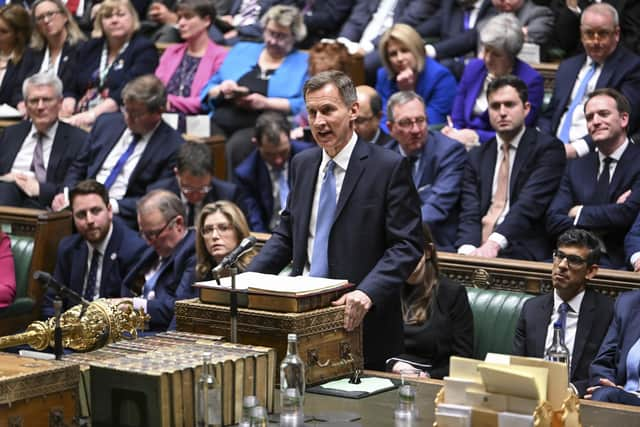 "A huge amount of money, giving around £3,000 of cost-of-living support to a typical household, including uprating benefits with inflation, one-off payments to people on low incomes of up to £900.
"We've extended the energy price guarantee at £2,500 for another three months, we've frozen the rise in fuel duty — these are cost-of-living measures that show we are a country, and indeed a Government, that wants to help people on low incomes through difficult times."
The measure is primarily aimed at NHS consultants who have been leaving the health service because they say the pension rules mean it is not worth them carrying on.
However, it faced heavy criticism, with the Resolution Foundation (RF) think tank saying it was "hugely wasteful", costing around £80,000 per job.
It said a tax giveaway on such a scale could see some workers choosing to retire early, or using their now uncapped pensions savings to avoid inheritance tax.
"It's a big victory for NHS consultants but poor value for money for Britain," said RF chief executive Torsten Bell.
Jeremy Hunt said it was "impossible" to know how many doctors would be encouraged to return to work or take on extra shifts following his Budget decision to lift the cap on the tax-free lifetime pension allowance.
The Chancellor claimed that scrapping the tax-free cap on the lifetime pensions allowance could help to reduce the £3 billion spent per year on locum and agency staff in the NHS.
He told BBC Breakfast: "The other options, if we had a scheme that was just for doctors, it would actually be more aggressive because what we've announced doesn't help the very wealthiest doctors.
"It still keeps in a limit on the amount you can put in tax-free every year, but most importantly, it is something we can introduce in two weeks' time and we can deal with a problem.
"The NHS at the moment spends about £3 billion a year paying for locum doctors and agency nurses because of these staffing shortfalls. This will help to reduce that, it will free up more resources.
"The British Medical Association, who you might imagine I'm not on their Christmas card list, has said this is potentially transformative for the NHS and it means doctors will not now leave the NHS because of the way pension taxes work, and I think that is a very important step forward."
In a separate interview with BBC Radio 4: "What we want to do is solve the issue for doctors.
"It is impossible to know the exact number, but what we do know is what doctors are telling us.
"We do know that we have a shortage of doctors and we know we have a very big backlog, and that is why we've decided this is a very important measure to get the NHS working."
He said the lifetime allowance measure would also help people to see a doctor more quickly.
Speaking later on BBC Radio 4's Today programme, Mr Hunt said the cost-of-living support package "dwarves any of the other single measures that we've done".
The Chancellor also accused Labour of shifting their position "overnight" on scrapping the lifetime pension allowance threshold after the opposition party said they would reverse the Budget policy if they win power at the next election.
Jeremy Hunt, asked on Sky News whether the NHS needed more nurses rather than consultants earning more than £100,000, said: "We need more nurses and we are recruiting many more nurses into the NHS.
"But yes, I think if you talk to anyone in the NHS, they will say doctors leaving the workforce because of pension rules is a big problem.
"It is something, incidentally, that Labour advocated last September.
"(Shadow health secretary) West Streeting said we should get rid of the cap on pensions, the lifetime allowance.
"He seems to have changed his mind overnight on that one. He said it was crazy and it would save lives to get rid of that cap.
"Well, he was right in September when he said that."
Dr Vishal Sharma, a cardiologist and British Medical Association (BMA) pensions committee chairman, has welcomed "decisive action" taken by the Chancellor which he said will make a difference to the number of staff leaving the NHS.
Dr Sharma told BBC Breakfast: "The NHS has really been struggling, so we've been losing doctors ever since pension rules started to be tinkered with.
"And over the last sort of 10 or 12 years, the number of hospital consultants that have taken early retirement have tripled, and for GPs it has been nearly four times.
"And we're really heading towards a sort of precipice where huge numbers were going to go unless things changed.
"So it's really welcome that the Chancellor's listened to our concerns and actually taken some decisive action."