In an effort to remove barriers to work, Mr Hunt promised up to 30 hours a week of free childcare for eligible households in England with children as young as nine months, rather than just three and four-year-olds as under the current system.
The phased policy, which will be fully introduced by September 2025, will be worth up to £6,500 a year for working families. It will cost £4.9 billion in 2027/28, raising employment by 60,000 that year, as well as increasing the hours worked by mothers already in work.
Mr Hunt also pledged an expansion in wraparound care at the start and finish of the school day for parents with older children and changes to staff-to-child ratios in England to align with Scotland.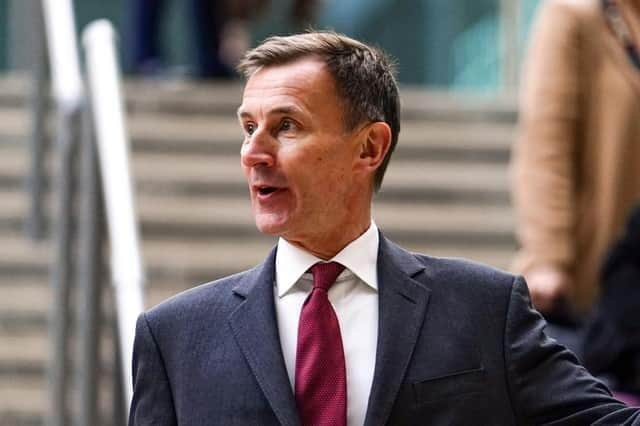 In Scotland, parents can currently get up to 1,140 hours of funded early learning and childcare a year – around 30 hours a week in term time – for three and four-year-olds. Some two-year-olds are also eligible on a means-tested basis.
SNP leadership candidate Humza Yousaf has already pledged to extend free childcare to one and two-year-olds if he becomes First Minister. He said he will use his first Budget to expand free provision, with a goal of offering 22 hours a week throughout the year.
He also announced plans for a £25 million annual "helping hand fund" which would offer parents returning to work a £500 loan towards childcare costs.
Responding to Mr Hunt's Budget, Mr Yousaf said: "Under the SNP's progressive leadership, Scotland is leading the way on early years education and childcare - now the Tories are playing catch up. As your First Minister I will introduce a £25 million fund to help parents with the initial costs of childcare so they can get back into work and accelerate the rollout of free early learning for all one and two-year-olds for up to 22 hours a week, all year round."
Kate Forbes, Mr Yousaf's main leadership rival, said she would use all consequentials – the money Scotland receives as a result of tax and spending decisions that do not apply north of the border – to "deliver on the people's priorities, particularly focusing on tackling the cost of living crisis and poverty".
She added: "That includes expanding eligibility for childcare, and expanding the provision of childcare. We shouldn't have to use funding to mitigate the Tory cost of living crisis, we should have the powers to deal with the root causes."
Scottish Conservative finance spokeswoman Liz Smith said: "The move towards 30 hours of free childcare for one and two-year-olds is a huge boost for families and the economy – and it's essential that the SNP Government follow suit on this now they've been given the funding.
"The cost of childcare is a major impediment to new parents returning to work, so this measure will really stimulate economic growth."