Forced to move some ministers around following the sacking of his disgraced former party chairman Nadhim Zahawi the Prime Minister expanded on this by creating four new Government departments aimed at boosting economic growth and addressing the energy crisis.
His first act was to put former trade minister Greg Hands in as party chairman – a man who said Mr Zahawi was safe in the job three hours before he was sacked.
Speaking in London, Mr Sunak said: "I think we've seen over the last year, in particular, the impact that happens to people's bills at home when energy policy doesn't work properly, when we're reliant on imported energy from hostile countries.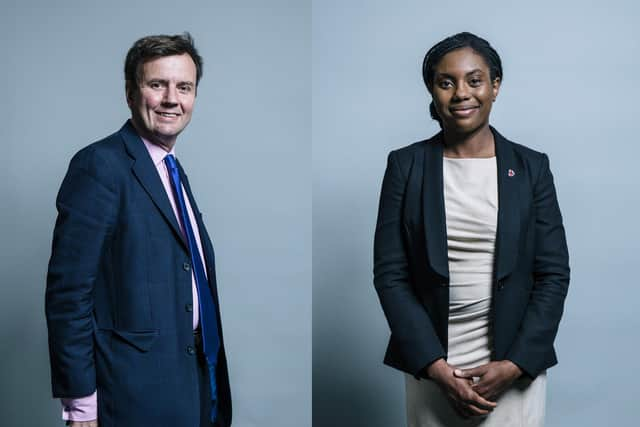 "That's why the creation today of a new department focused specifically on energy security and net zero is so important."
Having served four of the past five prime ministers, Mr Hands will be a popular appointment, liked among London Tories and across the party. Crucially, he is also a close ally of Mr Sunak.
Mr Hands said he was "excited" to get started in his new role.
He tweeted: "I joined the Party in 1986 – a ward chairman in 1992, a councillor in 1998, a group leader in 1999, an MP in 2005, a minister in 2011 – an honour to chair it in 2023! The work starts right away."
Downing Street admitted the changes would not be a "silver bullet" to address the problems facing the UK, but said the moves have been "worked on for some time".
Mr Sunak pointed to the tangible benefits of his reforms, which are believed to have largely blindsided departmental officials after being drawn up by a close circle in Number 10 and the Cabinet Office.
He said the focus of the new energy department would "mean that we can reduce people's energy bills". "That's so important," he said. "It means we can produce more energy here at home, giving us more independence and security, and it means we can transition to cleaner forms of energy as we hit our net-zero ambitions and create jobs in the process, as we're seeing here today".
Whitehall officials were privately seething over the changes. Several told The Scotsman it was unacceptable to learn about them from a newspaper briefing, rather than being told themselves.
But the main element of the reshuffle was the sweeping changes to how Whitehall operates, with the business, trade and culture departments restructured into four different ministries.
Grant Shapps, who had been business secretary, will now be the energy security and net zero secretary.
Mr Sunak had promised during the Tory leadership campaign to re-establish an energy department, and has been forced to act now after pressure from Labour and Tory MPs over soaring prices for households.
Downing Street hopes the move can provide clearer focus on energy prices, as well as ways to secure more energy from domestic nuclear and renewable sources.
Kemi Badenoch, who was international trade secretary, will now lead the joint Department for Business and Trade. The move is a blow to Ms Badenoch, a former leadership contender on the right of the party, already given a lesser job than her allies hoped for.
Lucy Frazer joins the Cabinet as culture secretary in a department that has been shorn of its responsibility for digital technology, but will instead focus on the creative arts and sport.
Michelle Donelan moves from culture to the new Department for Science, Innovation and Technology, which ministers hope can help promote the Prime Minister's vision of turning the UK into a new "Silicon Valley".
One Tory MP told The Scotsman while they appreciated the intent to implement a more long-term vision for Britain, it was "a bit pointless when we won't be in power to do anything with them".
The reshuffle failed to address the status of Dominic Raab, amid the ongoing investigation into bullying allegations against the deputy prime minister, who remains in post.
Some Tory MPs believed the reshuffle to be the perfect opportunity to move him out, ending questions about Mr Sunak ignoring bad behaviour.
Mr Raab is being investigated by senior lawyer Adam Tolley KC over bullying allegations, with dozens of officials thought to be involved in eight formal complaints, claims he denies.
Asked about Mr Raab's status on Tuesday, the Prime Minister said: "The independent adviser is conducting his investigation; I can't prejudge the outcome of that investigation. It's right that it concludes.
"But as people have seen from how I've acted in the past, when I'm presented with conclusive independent findings that someone in my Government has not acted with the integrity or standards that I would expect of them, I won't hesitate to take swift and decisive action.
"That's what I've done in the past. But with regard to this situation, it's right that we let the independent process continue".
Responding to the reshuffle, the Liberal Democrats claimed it would cost £60 million, enough to pay for almost 25 million free school meals.
Liberal Democrat Cabinet Office spokesperson Christine Jardine said: "Rishi Sunak is looking weaker by the day, and this rudderless reshuffle is the latest proof. This reshuffle will cost the public millions while failing to change the trajectory of this Government in crisis.
"Rather than fritter away tens of millions of taxpayers' cash on costly vanity projects, Sunak should spend the money where it's most needed. This cash could fund 25 million free school meals."
Meanwhile, Labour hit out at Mr Sunak, accusing him of failing to prioritise industrial strategy amid the splitting up of the Department for Business, Energy and Industrial Strategy (BEIS).
Shadow business secretary Jonathan Reynolds said Mr Sunak's "decision to remove the industrial strategy from his Government's priority list shows quite clearly that he has no plan to drive growth in our fantastic industries".